Mother's Day is almost here and we are celebratingwith our love for cloth diapers!
Mother's Day is coming up and do I have a treat for you moms (and soon to be moms) out there. Ok, if you don't cloth diaper then you probably don't understand how awesome this event really is. You're probably saying: "Where are the massages?" "Where are the chocolates?" "Where is the jewelry?" But if you ARE a cloth diapering mom then you speak my language. Fluffy gifts for Mothers Day would make me squeal with delight! That said, I'm happy to announce the
Mother's Day Cloth Diaper Giveaway Hop
hosted by
Daily Mothering
! Nearly 100 blogs have linked up to bring you dozens and dozens of exciting cloth diaper giveaways.
Enter my giveaway below and then hop to the other blogs listed at the bottom of this post to enter their fluffy giveaways too!
Each blog has a cloth diaper prize valued at $15 or more, and many blogs have prize packs worth over $100. And, don't forget to enter the
GRAND PRIZE
giveaway at Daily Mothering for your chance to win this amazing
$1300 Cloth Diaper Prize Pack
!
Now on to our awesome Adventures In Fluff prizes. I've decided to spread the love with lots of fluffy prizes.
The GRAND PRIZE
will be open to the US only.
ADDITIONAL PRIZES
will be open to both the US and Canada (can't leave out our lovely Canadian readers). All prizes below contain some awesome gifts provided by our wonderful sponsors that any fluffy mom would be excited to receive (I know I would). And the prizes are ...
GRAND PRIZE
(open to the US only)
***VALUE: $102.69***
GroVia
- Prize: Curious About Cloth Kit (Includes: 2 Diaper Shells, 2 Stay Dry Soaker Pads, 20 BioSoaker Pads, and 1 Wetbag
(winner selects boy, girl, or neutral kit) Retail Value: $59.99
GroVia is super generous to offer the Grand Prize Winner the Curious About Cloth Kit. This kit is sure to get anyone started and hooked on their awesome Hybrid All-In-Two diaper system. This is actually one of my favorite diapers at the moment. I love the fit and the snap in soakers are the best I've seen with their PUL backing. Click here to read my complete Review of the Grovia Hybrid AI2 Diaper System. In addition to their hybrid system GroVia also has All In One diapers, newborn diapers, toddler training pant diapers, and a wide array of cloth diapering accessories. To get more information you can visit GroVia's Website, GroVia's FaceBook Page, or check out GroVia on Twitter.
Mum Mum's Crafts
- Prize: Happy Baby Booty Spray, Happy Baby Booty Balm Mini Squeeze Tube, & Happy Baby Wipe Cubes. Retail Value: $18.75


SoftBums
- Prize: Omni Shell with Snaps and a Super DryTouch Pod (winner selects diaper print/color) Retail Value: $23.95
_________________________________________________________________________
_________________________________________________________________________
ADDITIONAL PRIZES
(open to the US and Canada)
Changing Diapers
- Prize: "Changing Diapers - The Hip Mom's Guide To Modern Cloth Diapers" Book. Retail Value: $17.95
Mommy Loves Maddy
- Prize: One-Size Organic Bamboo Pocket Diaper with Bamboo Insert

(winner selects diaper print/color) Retail Value: $18.00
Mommy Loves Maddy is run by a super sweet Canadian WAHM that I met last year. I've been lucky enough to try out a few of her products including her Newborn Minky Diaper Cover and her OS Organic Bamboo Pocket Diaper w/ Bamboo Insert (which I'm still working on a review for). The diaper cover was one of my favorite covers for Linc in the newborn stage. So soft and cute. I just wanted to rub his booty all day long.
I'm excited to see how the pocket diaper works out as well.
What I love most about Mommy Loves Maddy is that she's always coming up with new products and I can't wait to see what she comes up with next. For more information you can visit the
Mommy Loves Maddy Etsy Shop
or
Mommy Loves Maddy on Facebook
(Facebook fans get 10% off).
KAEL&KAED
- Prize: $20 Gift Certificate to KAEL&KAED
KAEL&KAED is run by a super awesome Canadian WAHM. I was so excited to test out her wet bags and love how perfectly it matches Linc's nursery. It's actually one of my favorite wet bags because it has a snap handle that I can attach to my diaper bag or stroller. Nothing better than saving room in my diaper bag. I also love all her cute prints! I'm a sucker for cute prints. Check out my KAEL&KAED Wet Bag Review here. She not only creates stock and custom wet bags, but also has a huge selection of stock and custom hazelwood jewelry, hemp toddler belts, and more. Linc has one of her hazelwood teething necklaces on right now. He's so cute in it! I'm excited to say that KAEL&KAED is sponsoring a $20 gift certificate to their store for one of my lucky readers! To get more information on her products you can visit KAEL&KAED on Facebook or shop at the KAEL&KAED Etsy Shop.
Couture Fluff
- Prize $15 Gift Certificate to Couture Fluff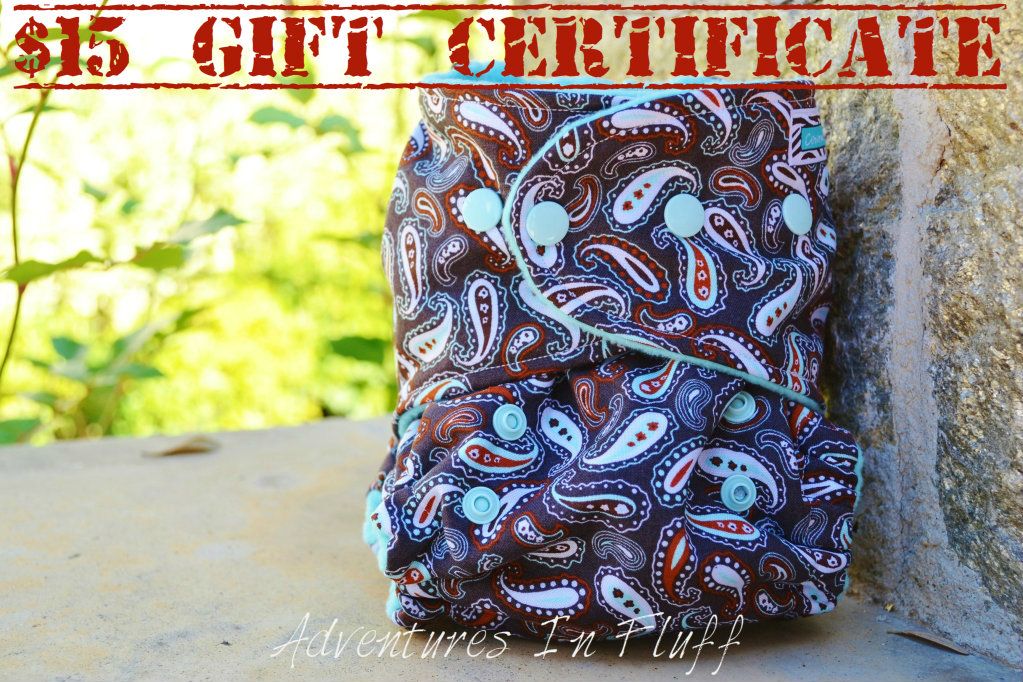 I just recently came across Couture Fluff in my quest for the perfect All-In-Two cloth diaper. Let me tell you that Couture Fluff wins hands down for the squishiest, plushest, cutest All-In-Two diapers that have touched Linc's bum. Tanya's a WAHM that creates some of the cutest stock and custom All-In-Two diapers that I've seen. My head spins just looking at all the fabric options in her Couture Fluff Flickr Fabric Gallery. Check out my Review of the Couture Fluff All-In-Two Diaper for more information and an up close video review. Couture Fluff is offering one lucky reader a $15 Gift Certificate to purchase anything in her shop. In addition to All-In-Two diapers, Couture Fluff also carries fitted diapers, hybrid diapers, diaper covers, and more! To get more information on her products you can visit Couture Fluff's Website, Couture Fluff on Facebook, or Couture Fluff's Gallery Blog.
GOOD LUCK!!!
a Rafflecopter giveaway