This being my first child in cloth diapers I've had to open my mind to new products that work better with cloth and my fluffy routine. One of those products is diaper rash cream. All the diaper rash creams that I had used with my girls are now on the no-no list in the cloth diapering world, so I set out to find some new options. I needed to find a diaper rash cream that would not create build-up on Lincoln's diapers causing them to repel and no longer be absorbent. I found a couple brands that I registered for and received as gifts at my baby shower and thought I was set with enough butt paste to last me a year. Diaper rash cream ... Check!
About two weeks before Lincoln was born though, a friend of mine contacted me about a new item that she was just about to add to her product line,
Mum Mum's Crafts
. Mum Mum's Crafts is a product line made up entirely of handmade, eco-friendly products, that are perfect for those of us that have skin sensitivities, but can also be used by anyone wanting a product that is both gentle on not only you, but also the environment. Her products include mineral makeup, lotions, lip balms, deodorant, facial care products, soap, and more. Being a mom and avid cloth diaperer herself, she began developing baby products and that included a cloth diaper safe diaper rash cream that she developed while pregnant with her third child. Her Happy Baby Booty Balm is just now ready to present to the public and I was honored to be asked to test out the goods. It was perfect timing with Lincoln about to make his debut.
I received two tiny sample containers of the Happy Baby Booty Balm. My first thought when I opened it was "Hmmmmm... It's green". I wasn't expecting that. All funny thoughts about the color quickly went away after I examined it closer though. The smell of the booty balm is simply delicious!!! It's sweet smelling, but not like candy. It's natural smelling, but not woodsy. It's the perfect blend that makes me want to lather my whole body in it just so I can smell it all day long. Being that the sample is so small though, covering myself in it was not an option. I guess Lincoln's booty would have to do.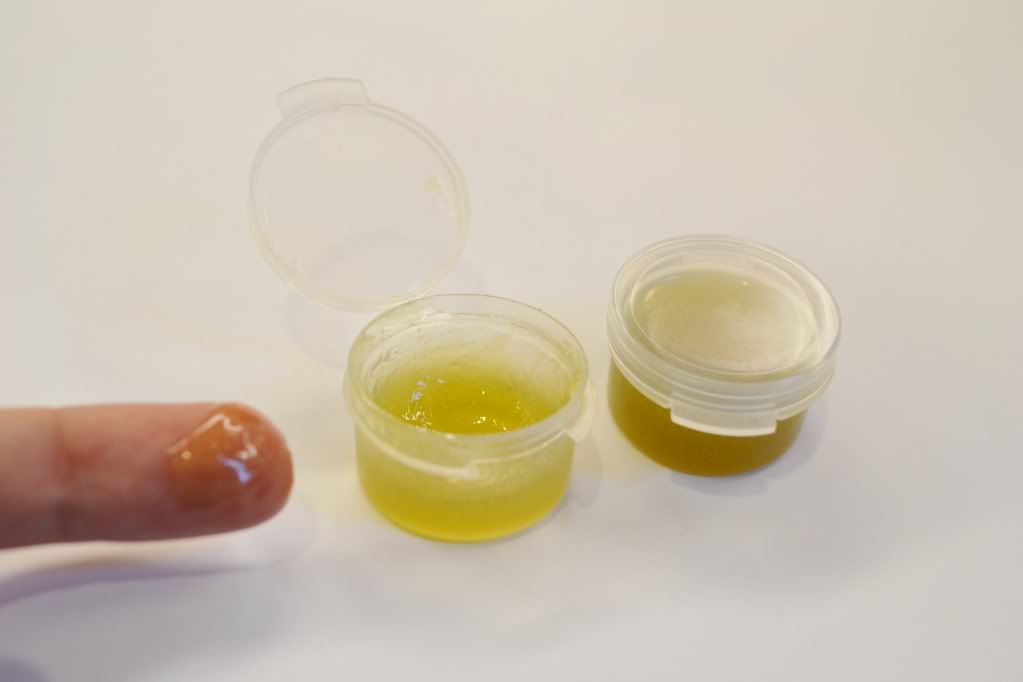 My samples - Each container lasted two weeks
I started using the Happy Baby Booty Balm from day one of using cloth diapers on Lincoln. With every change I wipe him clean from front to back and then dry him completely using a dry cloth wipe. After he is completely dry I smear a small dab of the Happy Baby Booty Balm on my finger and spread it over his bum area. It smells so great every time I use it and I love how thin and clear it is unlike your typical diaper rash cream. I use the Happy Baby Booty Balm as a daily preventative care solution. In the event that I do get a slight redness on Lincoln's bum, I have another cream I put on for the next change or two and then I go straight back to using the Happy Baby Booty Balm. It's a great system for us and has kept Lincoln's butt looking smooth and clear from the start.
As for the specifics of the balm itself ... It comes in a cute little tin that you can take with you everywhere, and holds 1.2oz of balm. The balm itself is made with a base of coconut oil and lanolin along with a medley of herbs, essential oils, and more that give it that sweet organic smell, feel, and look. You won't find anything in this balm that isn't made in nature. Listed below are the specific ingredients.
Ingredients: Cocos Nucifera (Coconut) Oil, Lanolin, Arctium lappa (Burdock Root) Extract, Echinacea Purpurea Extract, Althea officinalis (Marshmallow Root) Extract, Calendula Officinalis Extract, Olea Europaea (Olive Leaf) Extract, Symphytum Officinale (Comfrey Leaf) Extract, Plantago Major (Plantain) Extract, Carapa guianensis Nut (Andiroba) Oil, Emu Oil, Olea Europaea (Olive) Fruit Oil, Cera Alba (beeswax), Tocopherol, Lavandula Angustifolia (Lavender) Oil, Anthemis Nobilis (Chamomile) Flower Oil
If you would like to purchase Mum Mum's Crafts - Happy Baby Booty Balm (or any of her other products), you can find them at her
Etsy Shop
, or
Hyena Cart Shop
. The
Happy Baby Booty Balm
goes for $9.75 + Shipping. Also be sure to check out Mum Mum's Crafts on
Facebook
,
Twitter
, and
Mum Mum's Blog
, for the latest news on new products and current specials. Just a heads up that there is currently a special for 10% for all Mum Mum's Crafts Facebook fans.
**This product was given to me for the purpose of a review, but the review is comprised completely of my own opinions and was not influenced by any other outside source.**