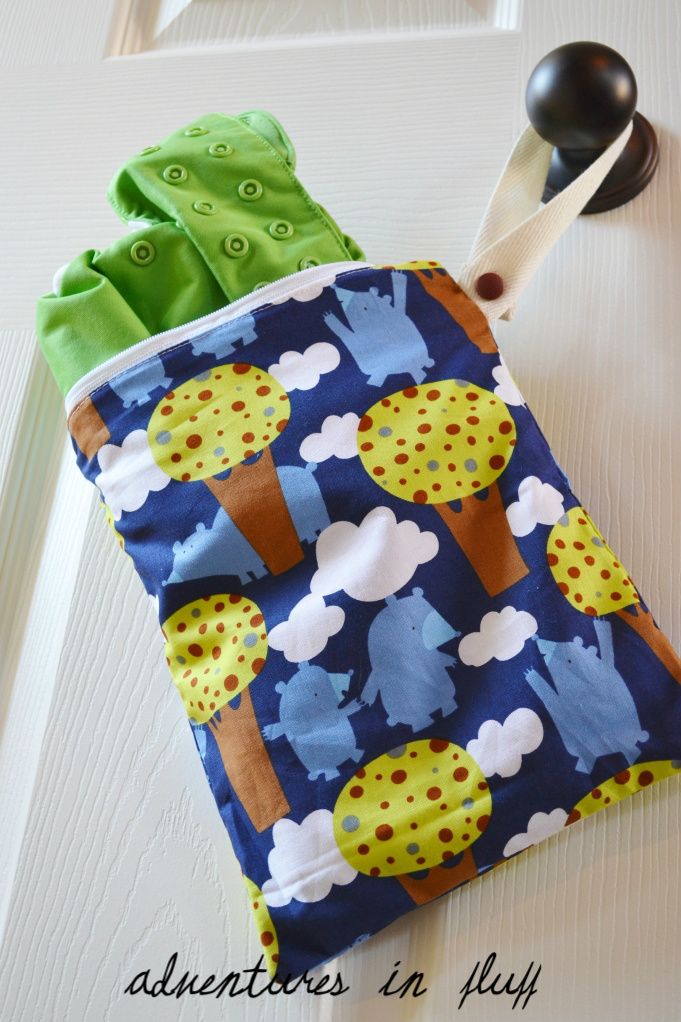 If you read my post last Monday then you'll already know that wet bags were #9 on my
Top 15 Cloth Diaper Must Haves
list. Sure you could use a Ziploc or plastic grocery bag, but then you lose out on a couple of the key reasons why you would use a wet bag in the first place. So that brings me to the question, "What is a wet bag and why do I need one?". Well let me tell you ...
A wet bag is a waterproof bag that you use to store your dirty diapers in while on the go. They come in several different sizes and styles. The large ones are great to use at home instead of a diaper pail while the small ones are great for short trips to run errands. Normally they have a waterproof lining, a decorative exterior fabric, zippered closure, and if you're lucky they also have a snapped loop handle so you can hang it anywhere. The super awesome part ... you can still use these after you're done cloth diapering. Heading to the beach or pool? Throw your wet swimsuit in here when you're done. Use it as a toiletries travel bag. How about a chick looking trash bag for your car? The possibilities are endless. As if that wasn't enough to convince you of the importance of a wet bag, think of all the plastic you will be keeping out of the landfills by not using Ziploc bags or plastic grocery bags. You just use your wet bag then throw it in the wash with your diapers. That's it!
Now on to the good stuff. My latest love. My
kael&kaed
small wet bag...
KAEL&KAED is run by Tasha, a sweet mom of two little boys, Kael & Kaeden. I met Tasha last year through the new cloth diaper line
LUXbutt
of which she is a co-owner of. It was then that I found out that she not only helped to design a fabulous cloth diaper line, but she also had her own WAHM business of "trendy handmade (baby) things", called KAEL&KAED. I love all her products which include hazelwood jewelry, snack bags, bandana bibs, belts, hair ties, and of course Wet Bags. They're all so original and fun looking with a personal organic touch to them. I also love that they're made in Canada. Ok, I know I'm not Canadian, but a lot of my readers are and it's great to show off a product that they can buy locally. That said I was so excited when Tasha gave me the opportunity to test out one of her wet bags and I'm so excited to tell you all about it.
Some of the great custom fabric options available.
When I received the wet bag in the mail I actually gasped. I don't know if Tasha scanned my blog ahead of time or if it was just meant to be, but the wet bag seriously looks like it was made just for Lincoln. I mean ONLY for him. It matches his room exactly. I don't think I could have picked a wet bag that would match his room any better. It was amazing and I LOVE it!!! That's the main reason I love KAEL&KAED (and Tasha of course). You can get a completely custom item made just for you that nobody else will own. There's something about that special touch that just makes you love that item that much more. Click here to see some of the current
KAEL&KAED Custom Fabric Options
.
The fabric isn't the only reason I love this wet bag though. I also love that it has a snapped loop handle on it. Is that the technical term??? I don't know. Whatever the technical term is, I love them. The handles are great if you run out of room in your diaper bag and you want to attach it to the outside of your diaper bag. You can really hang it just about anywhere though. You can hang it on a door handle, on your stroller, on a hook, or better yet, make your kids hold it if they're an older toddler (it is their dirty diapers anyway). So many great reasons to have a handle. Better yet, the handle has a snap so you can easily open and close the handle if you need to wrap it around something (like your diaper bag strap). I noticed that a lot of major wet bag brands don't have this strap, or don't have the snap, and I really appreciate that this one does.
I also love the craftsmanship of this wet bag. It's made just as well, if not better than some of my other name brand wet bags that I own. It's that keen eye that guarantees that the product you're getting is in perfect condition when you get it. The outside is made with 100% cotton and the inside layer is made from water resistant PUL. I love that all edges are hidden and sewn in between the layers of fabric. It creates a super clean look and a leak proof design. I've had this wet bag filled with super wet diapers and wipes, smooshed in my overstuffed diaper bag, and sometimes upside down, without a leak to be found.
So what would I change about the wet bag? Not much, but I do have one request. I'd like to see the small size just a tiny bit bigger. I love all the other size options and there seems to be an option for just about any occasion, but there seems to be a larger jump from the small to the medium than all the other sizes. I'd like the small to be around 9x11. That would give me plenty of room to fit two cloth diapers. Right now I can fit two if I really squeeze them in there, but I'd like just a bit more room. Sure I could go for a medium, but I'm picky (just ask my husband). Just in case you were wondering, these are the sizes available.
Small - 8x10 - $16/$20 (fits 1-5 diapers)
Medium - 12x14 - $21/$25 (fits 5-8 diapers)
Large - 14x17 - $26/$30 (fits 8-12 diapers)
Jumbo - 17x21 - $31/36 (fits 12-15 diapers)
So there you have it. I love the KAEL&KAED wet bag and would recommend it to anyone. You can find
KAEL&KAED products on Etsy
. She has both ready made items as well as custom slots. In addition to the Etsy site, I also like to keep my eye on her
KAEL&KAED Facebook page
. That's where you'll find the latest and greatest products as well as some great discount deals. She also previews products there quite often, so sometimes you can snag up some really cute products before they ever hit the Etsy store (that's how I got my hazelwood necklace from her). Speaking of great discount deals, KAEL&KAED is offering
15% off Custom Wet Bags
for all Adventures In Fluff Readers using the
Coupon Code "WET15"
. This code will expire May 31st, so don't wait too long. She books up fast. To redeem the coupon code, just e-mail Tasha at
kaelkaed@gmail.com
.