In honor of the 2012
Real Diaper Week
, I've decided to kick off my Cloth Diapering 101 series. I'll be periodically adding to this series from time to time so keep your eyes peeled. First up ... All In One Diapers!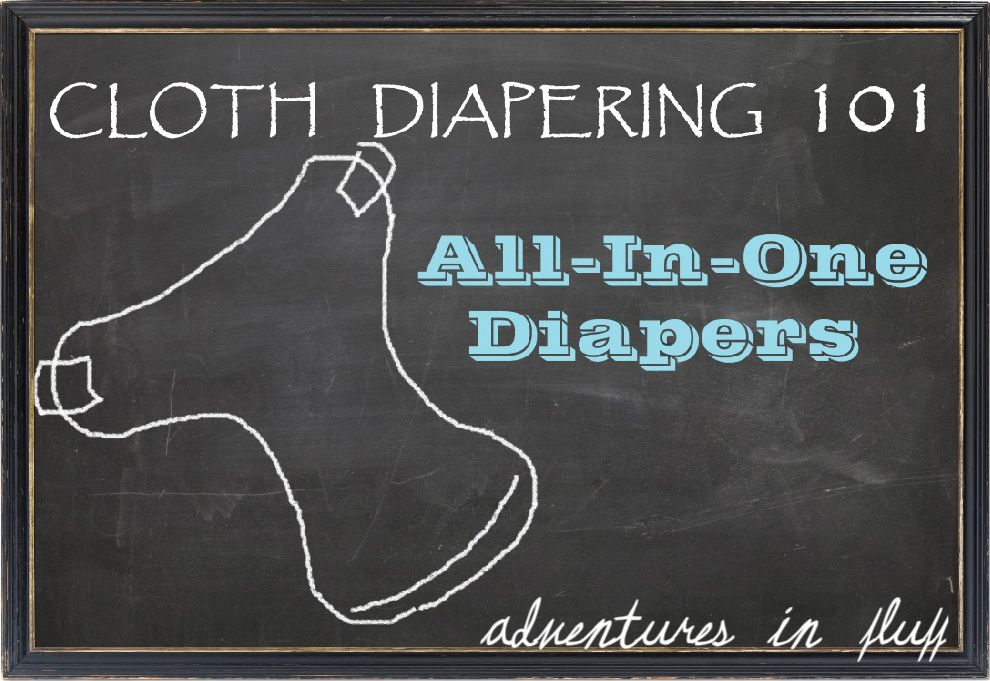 All In One cloth diapers (also known as AIO's) are just that. They are diapers that have everything you need all in one. They are about as close to a disposable diaper as you are going to get. No need to worry about inserts, pins, or covers. All you have to do is put the diaper on, take it off when it gets dirty, and then throw it in your diaper pail. That's it! Although AIO diapers vary between manufacturers, all AIO diapers have two things in common. The first is a waterproof or water-resistant exterior (or hidden layer under a decorative fabric) consisting typically of PUL or TPU. The second requirement for an AIO diaper is an absorbent interior attached soaker (this is the portion that soaks up the pee). Some soakers are completely sewn in resembling a disposable diaper. Some soakers are partially sewn in resembling an insert attached on one or both ends. Although each manufacturer has their own way of fulfilling these two requirements, you will always see them present. Listed below are some of the pros and cons of All In One diapers as well as some examples of All In One diapers. These are by no means all the options available. They are just a few that I have tried or are popular in the cloth diapering community.
**Please note that these pros and cons are typical but by no means an absolute. Some All In One diapers do not fit into the typical mold.
Pros
Easy on / Easy off system (Hook & Loop closure makes them even easier)
Daddy, Grandparent, & Childcare friendly
No need for covers, inserts, or pins
Normally a trim fit
Cons
Takes a long time to dry
Not as easy to fully clean all layers
Not as easy to adjust absorbency
Most expensive cloth diaper option
Examples
BumGenius Freetime
BumGenius Elemental
Bummis Tots Bots Easy Fit
Bum-Ware Extreme All In One
GroVia All In One
Kissaluvs Marvels One Size All In One
-
*First Glance Review*
Ragababe Easy All In One
-
*Full Review* *First Glance Review*
Swaddlebees Simplex All In One (Sized 2.0 & One Size)
Thirsties Duo All In One
This post is a part of the Real Diaper Week 2012 blog hop. If you would like to read other great posts about cloth diapering then feel free to hop around to these other great blogs. Better yet, join in on the fun and link up your own post. Cloth diapers are reusable, eco-friendly, non-toxic, economical, simple, stylish, fun, healthy, and modern. Basically they are Real Simple. Real Diapers. Read up and have fun!