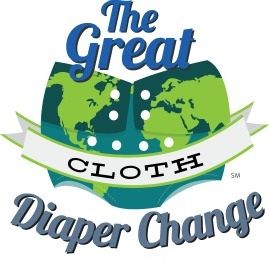 The Great Cloth Diaper Change is coming in less that a week !!! Are you going?
Wait ... let me back up just a bit. maybe you don't know what The Great Cloth Diaper Change is. Leading up to Earth Day (April 22nd) the
Real Diaper Association
(a non profit cloth diaper advocacy group) is hosting Real Diaper Week spanning from April 16th - April 21st. Real Diaper Week aims to educate the masses about cloth diapers using this year's theme "Real Simple. Real Diapers." Each day they along with many other cloth diaper advocates (including yours truly) will focus on one area of advocacy to help shed light on the ease and great benefits of cloth diapering. The end of the week comes to a close on April 21st with The Great Cloth Diaper Change. The Great Cloth Diaper Change is a world-wide event that's goal is to get into the Guinness Book Of World Records for the most cloth diapers changed at one time. Locations are hosted all over the world that you can go to participate in this great event. Last year there were 127 locations and 5,206 participants. This year there are already over 292 official locations planned so we're sure to break last years record!
So That brings me to my original question ... Are you going??? I still have yet to finalize the location I'll be going to, but I have narrowed it down to two. I'll either be at the Vacaville location or the Roseville location in California. I know, I'm a slacker. I should have this figured out by now. Regardless of the location, I can't wait! My sister and I are making a mini vacation of it since it'll be a 3 hour trec for us. Might as well enjoy the sights of our state's capital, Sacramento, while we're there. Now the big question. What diapers will I be using for the change? Oh my, that's still up in the air, but I'm pretty sure I'll be changing Linc from a Chelory All In Two to a Ragababe Easy All In One. I'll also be supplying my sister some diapers since I'm still working on converting her to cloth. So far it looks like she'll be changing my nephew Max from a SoftBums Echo to a GroVia Hybrid All In Two. You do remember that
GroVia is giving a free diaper to those that change into a GroVia diaper at The Great Cloth Diaper Change
right??? It's all up to her though. I'll let her make the final decision. That's the fun part!
Day 1 (April 16th):
Real Simple Real Diapers Outreach – Cloth Diapering 101
Day 2 (April 17th):
Real Simple Real Diapers Waste Reduction – Waste Reduction, Environmental benefits, Elimination Communication (diaper-free baby)
Day 3 (April 18th):
Real Simple Real Diapers Savings – Cost savings, diapering on a budget, cloth diaper banks or support organizations
Day 4 (April 19th):
Real Simple Real Diapers for Babies – Health benefits, cloth diapers in hospitals, or cloth diapers in day cares
Day 5 (April 20th):
Real Simple Real Diapers Reuse – Reuse, traveling with cloth, cloth diapering at night
Day 6 (April 21st):
Great Cloth Diaper Change 2012 – Attend and invite a friend to a local GCDC event!