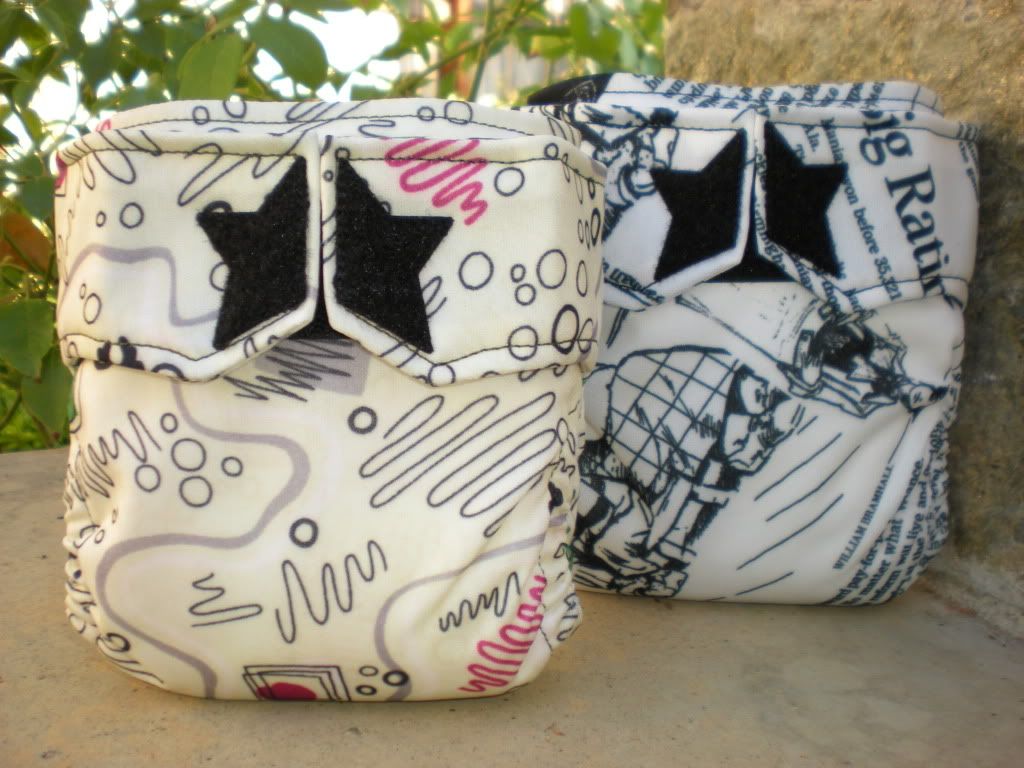 If you've been following my blog for awhile now, then you know already that I LOVE my Ragababes. In August I wrote a
"First Glance Review"
going over all the features of this amazing diaper. Please check it out if you want to read my write up, see some pictures, and view a video about this amazing diaper. I don't want to be a broken record, so I'm just going to post my "Performance Review" here and tell you why I love this diaper so much. Believe me, once you try it you too will know the Raga-LOVE.
_________________________________________________________________________________
PERFORMANCE REVIEW
I started using this diaper on Lincoln when he was 2 weeks old at around 8lbs 4oz just after he lost his umbilical cord. It was by far my favorite newborn diaper not only fitting the best, but also being the best at containment, most absorbent, and cutest. Now at 8 weeks and 13 1/2 lbs, I'm still using my newborn size diaper in addition to the size smalls. I'm hoping it will last another 2 or three weeks before I have to sadly retire my little newborn Ragababe.
Lincoln at 2 weeks (8lbs 4oz) Size NB / 6 weeks (11lbs) Size Small / 8 weeks (13.5 lbs) Size Small
Ease Of Use:
♥♥♥♥
♥

- These diapers are so easy to use and idiot proof. They are an AIO diaper so no stuffing and un-stuffing unless you decide to stuff the optional pocket with a doubler. It's a hook and loop closure so easy on and easy off. It's also a sized diaper so no need to worry about adjusting the rise of your diaper. The laundry tabs are also extremely easy to use. They're easy to bend and in a good location to secure while taking the diaper off your baby.
Adjustability & Fit:
♥♥♥
♥
♥
- These diapers gave Lincoln an amazing fit. I don't have another diaper that fits as great as this one does. It's a sized diaper though so the only adjustability that you have is in the waist. This wasn't a problem with Lincoln, but I could see it might be a problem with babies of different shapes and sizes.
Leak Protection:
♥♥
♥♥
♥
- I've yet to have a leak or blow out with this diaper !!!
Wash Routine:
♥♥♥
♥
♥
- Very easy to wash and dry. The laundry tabs are very strong so I don't have a problem with them coming apart while in the wash or dryer. I've had no wear on these diapers in the 2 months that I've used them except for lint in the hook and loop portion, but it's easy to take out. I'm also amazed at how fast these diapers dry for an AIO diaper. They're my second fastest drying AIO, just behind my Tots Bots Easy Fit.
Bang For The Buck:
♥♥♥
♥
♥
- $26 - $28 may seem like a lot to some, but with how awesome these diapers are I would gladly pay that price any day. This diaper is a sized diaper though so you will have to size up. Not to worry though. As long as you take care of your diapers, Ragababe diapers have a GREAT resale value so you'll be able to recoup most of your money back before buying the next size up.
The Look:
♥♥♥♥♥
- I fell in love with the look of these diapers the minute I saw them. I love the cute little star on the front and the super hip patterns. I'm also a lover of clean lines and a trim diaper and Ragababe delivers with both. Not to mention these diapers look (and are) super well made. I even got my husband to love these diapers when I showed him the pattern "Money". I told him it's Lincoln's Vegas diaper. He's rollin' in the dough.
Lincoln @ 6 weeks (11lbs) in a Size: Small
** Please note that while I aim to provide the most thorough and honest reviews possible, this review is based on my own preferences and experiences. Each baby is different and each parent has different likes and dislikes. What works for one may not work for another, so keep that in mind while doing your research.
_________________________________________________________________________________
If you would like to purchase Ragababe Easy AIO diapers for your little one, then please visit their Website to view what is currently stocking in the Ragababe Store, or check out their Stocking Schedule to see what will be stocking soon. Make sure to "Like" their Facebook Page too. You'll get a heads up on future stockings while at the same time meet up with other awesome Ragamoms & Ragadads.
**This review is comprised of my own opinions and was not influenced by any outside source. The product was purchased by myself and was not given to me or asked to be reviewed by any outside source. No advertising was purchased in order to feature this product. **