Ragababe "Easy" All In One Diaper
Print: Squiggles (NB) $25.95
Print: Newspaper (SM) $27.95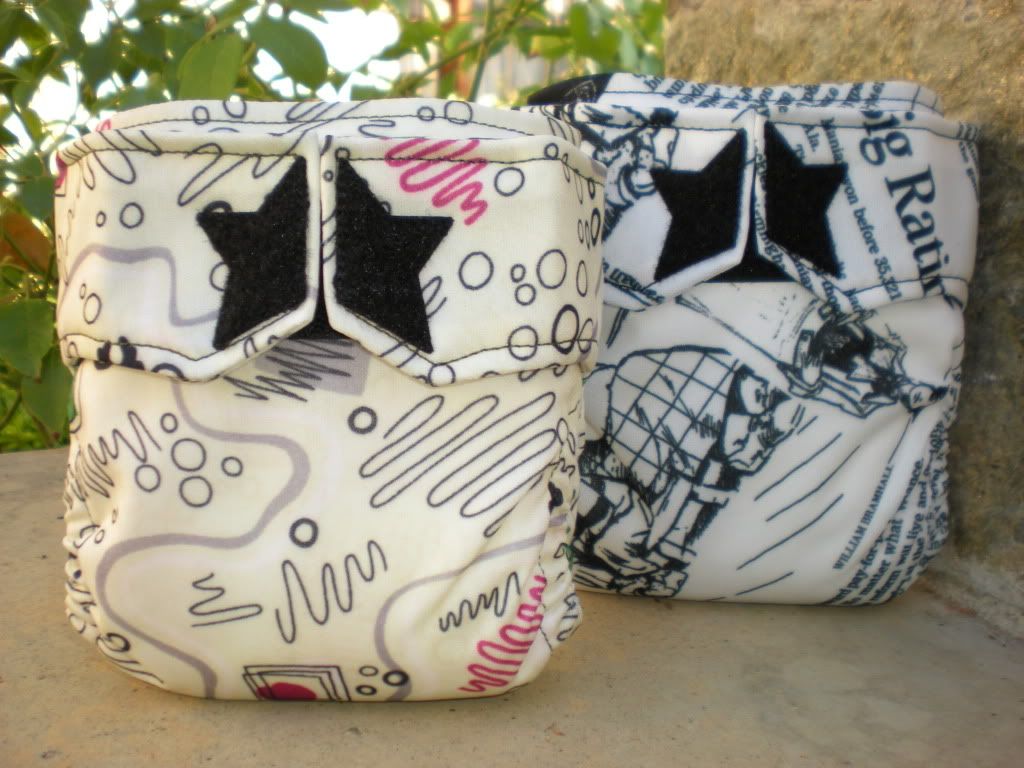 Hook & Loop Star Tabs
Out of all the diapers I've purchased already, I am most excited to try out the
Ragababe Easy All In One
diaper! Ragababe AIO's are trim, cute, and easy to use. I've also heard so many great reviews about this diaper and just know they are going to live up to their reputation. I purchased two of these diapers and let me tell you ... it was a rush. Currently Ragababe is on a stocking schedule so you have to watch for when the diapers you want to purchase go on sale. The three that I wanted went on sale at different times and they sold out in 5 min! My heart was pounding just hoping that my purchases went through fast enough so I got to try these diapers out.
Cute Ragababe Labels on Back
The Ragababe Easy AIO Diapers are a sized diaper. They come in Newborn ( 6-15 lbs), Small (9-20 lbs), Medium (14-30 lbs), and Large (23-40+ lbs). I ordered both the Newborn and Small sizes to try out. I just know I'm going to love this diaper too, so I'm sure a medium size is in my future (the most popular size and hardest to snag). I like the idea of a sized diaper because I feel the fit will be a lot better even though I will have to spend more on diapers sizing up. I think it's just worth it to buy sized diapers if that's what keeps the leaks away.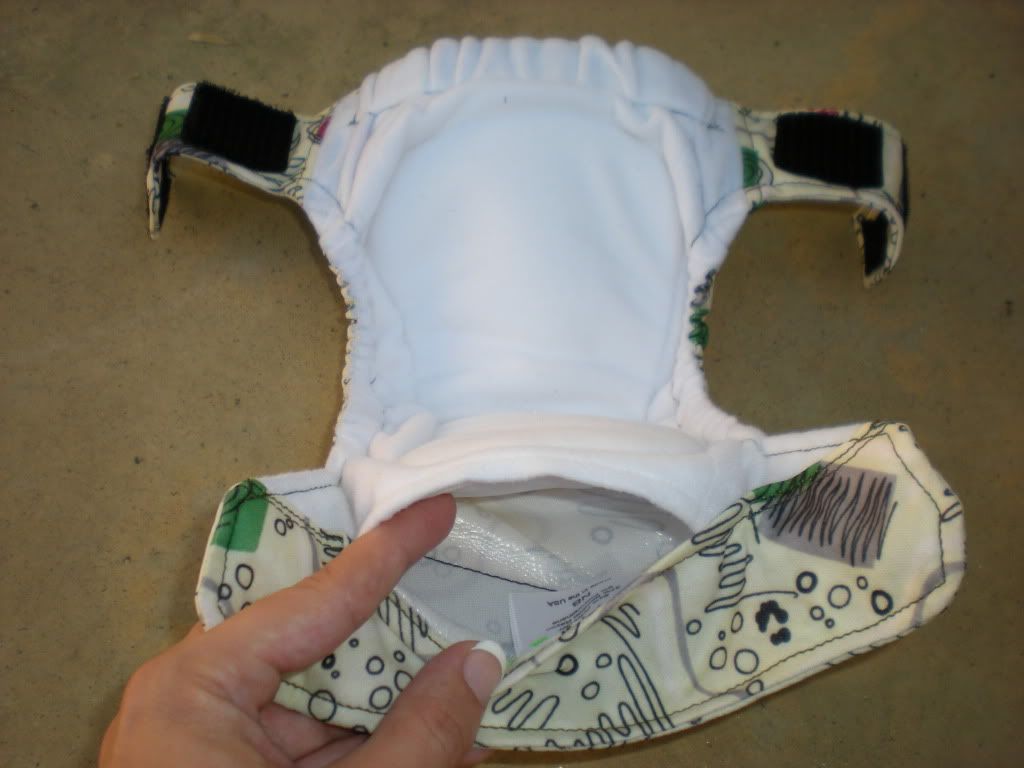 Pocket in Front
Like the name says, Ragababe "Easy" AIO Diapers are an All in One diaper. That means that the diaper includes both the waterproof exterior and an absorbent soaker sewed in making it soooooo easy to use. The outside fabric is a polyester PUL and comes in a slew of cute prints and colors. I wish I had a girl so I could try out the Hearts pattern. It's to die for. Even the solid colors are great. They're bright, vibrant, and hip. The interior of the diaper has suede cloth lining (which means the diaper will not pill like some other diapers that have fleece lining), and a sewn in soaker consisting of three layers of bamboo rayon. Yay! Bamboo means a super trim diaper fit. What's great about this diaper is that it also has a pocket opening so that you can stuff the diaper with additional inserts to get more absorbency. The pocket also helps to get the diaper cleaner while washing in the washing machine as well as dry faster when in the dryer.
Some other great features of the Ragababe AIO diaper are that they have a hook and loop closure which is strong and easy to use. Not only that, but they even made the hook and loop look super cute. All Ragababe diapers have a star on the front made out of the loop material. It's both cute and functional. Their laundry tabs are also easy and convenient to use and seem to be very strong. I also like the wide elastic band at the back of the diaper. It definitely looks like it's going to deter any wicking or blowouts from the back of the diaper.
Insert, Doubler, & Liner
As far as additional accessories, all Ragababe AIO diapers come with a liner made with two layers of organic cotton sherpa. This will help to make messes easier to clean up as well as keep staining on the liner. They also will add a LITTLE bit of absorbency to the diaper. In addition to the liner you can also purchase inserts and doublers to go with your diaper. Inserts come in three sizes (S, M, L) and are made with two layers of organic cotton sherpa and two layers of bamboo rayon. This is what you would use for nighttime or your heavy wetter. Doublers come in only one size (also can be used as a newborn insert), and are made with two layers of organic cotton sherpa and one layer of bamboo rayon. These are for your medium wetter. Ragababe is also working to color coat the snaps on these inserts and doublers so that it's easier to sort them out. Anything to make things easier with a baby is much appreciated.
Now that I've gotten you all excited about the Ragababe Easy AIO diapers, it's time for the bad news. Ragababe is only selling on a limited stocking schedule. They have their
stocking schedule
with which prints, colors, and sizes they will be releasing on their website. It's also good to watch their
Facebook page
to get a heads up on future stockings. Sales go fast ... and I mean REALLY fast. Diapers are usually sold out in five minutes. It's really a rush though and I've been lucky to get the diapers I wanted both sales that I purchased on. The company did just move to a new facility though and they are hoping to have diapers more easily attainable in the near future. Until then, check the schedule and set your clocks. It's a race!
Hope you enjoyed this first glance review of the Ragababe diaper. Don't forget to join me again this fall after I've had a chance to try these diapers on our newest addition and give a performance review on how they worked for us. Till then keep joining me for more first glance reviews, DIY projects, and lots of info on how I've started out on my cloth diaper journey and how you can too. These are just peeks into my
Adventures In Fluff.
**This review is comprised of my own opinions and was not influenced by any outside source. The product was purchased by myself and was not given to me or asked to be reviewed by any outside source. No advertising was purchased in order to feature this product. **