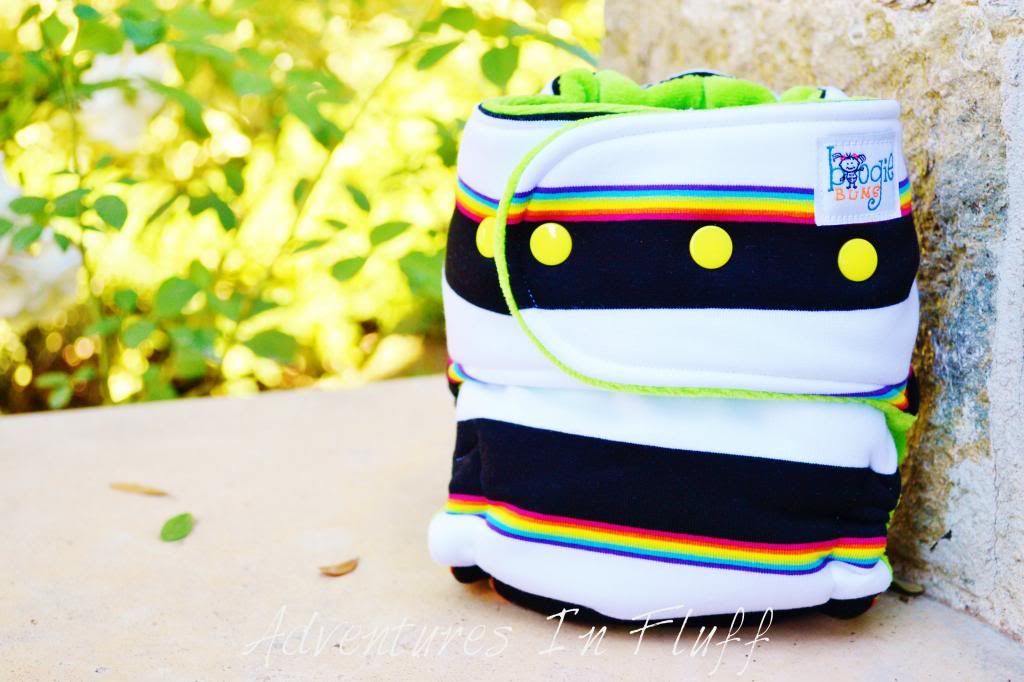 Diaper Features:
Sizing: This is a one-size diaper fitting babies from 10-35+ lbs via a fold down rise.
Closure: Snap closure with 3 snaps per wing and crossover wings

Construction: Turned & Topstitched (serged is also available)
Exterior: Knit Cotton (Woven Cotton also available)
Interior Lining: Cotton Velour (Organic Bamboo Velour also available)
Hidden Layers: Poly Fleece
Soaker: Snap in petal soaker with two petals. Each petal is made with one layer of cotton velour or organic bamboo velour on top, two layers of heavy organic bamboo fleece. A doubler is also included to fit between the petals. *Update: Soakers are now snake style instead of petal style. Same materials are used*
Manufactured: Florida, USA
Approximate Retail Value: $30
Ease Of Use:
♥♥♥♥
♥

- This diaper is pretty typical as far as ease of use for a fitted. Snaps do take time but after awhile I've gotten used to it. The fact that this diaper has a great stretch in the wings really helps when putting it on my wiggle worm. I also like that the soaker is a petal style soaker that I don't need to fold. I will say that she does have a new soaker that you do need to fold. That's not bad, but I personally like petal style.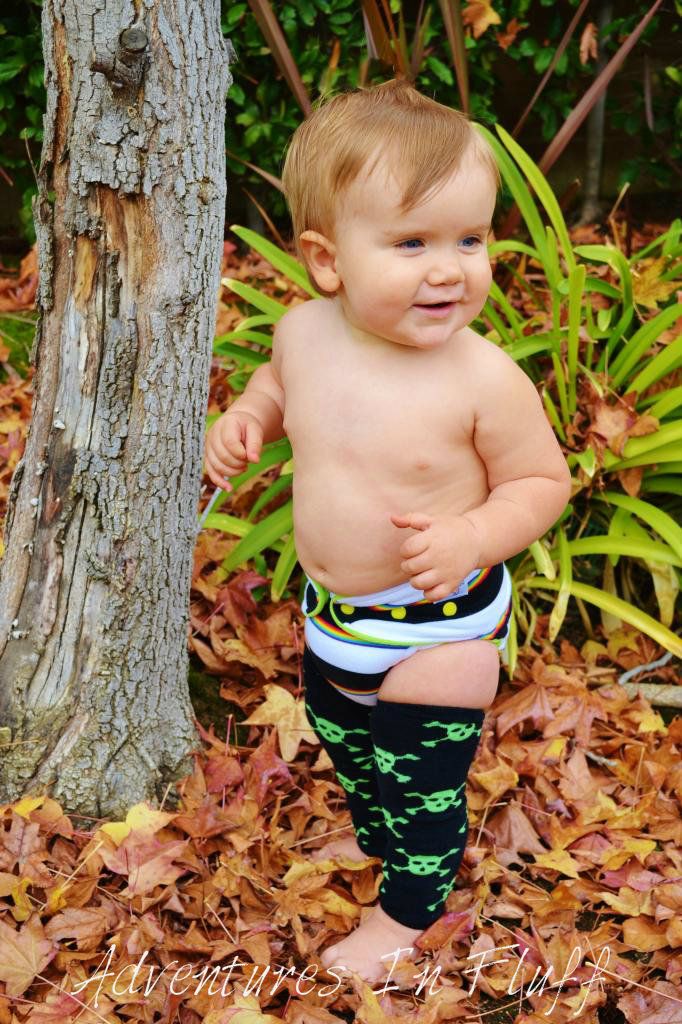 Adjustability & Fit:

♥♥♥♥

♥

- I love the fit of this diaper! The stretch is awesome and it really seems to hug Linc like a glove with room to spare. I love when a diaper gives me some wiggle room because as you all know by now, I have quite the chunky little man. This is a slightly fluffy diaper, but not overly fluffy. I guess it just comes with the hybrid diaper territory. Most hybrids are pretty fluffy. As for the one-size feature of this diaper, I think it would have no problem fitting a child all the way up to potty training. It does get pretty large.
Leak Protection:

♥♥♥♥♥

- This diaper is awesome as far as absorbency!!! I love that I can have Linc run around in it without a cover with no fear of getting me or my furniture wet. No it is not waterproof, but it's pretty darn close. For full protection you will need a cover. I can go hours during the day without a cover and he will only get a slight cool feeling on the front. During the night I cover this with a PUL cover and we have no leaks. That's 12 hours of protection on my heavy wetter that eats the whole night long.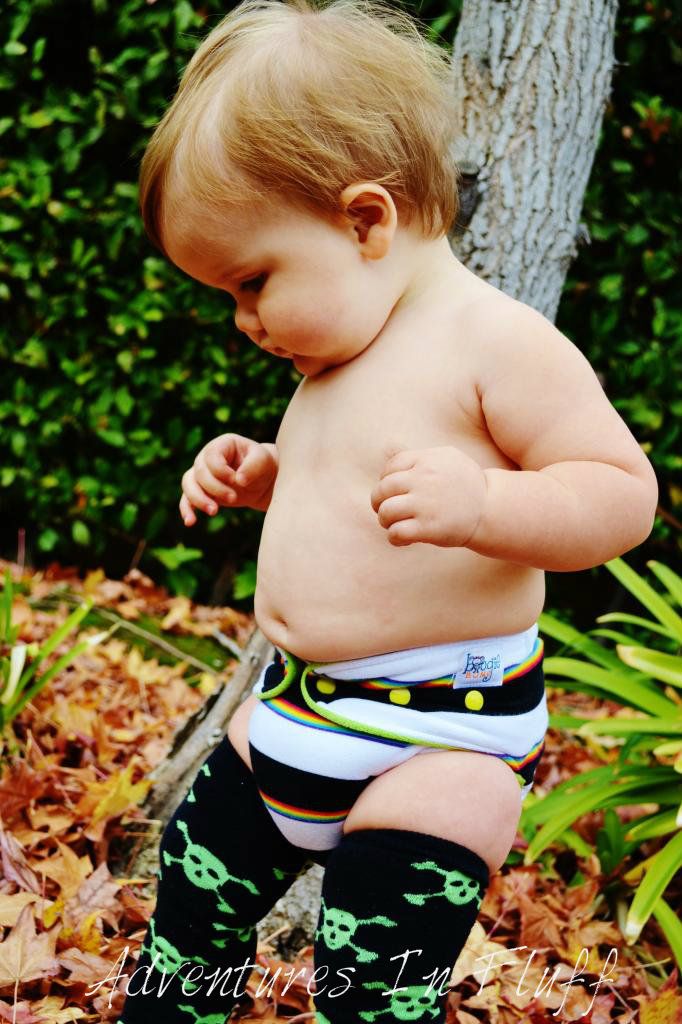 Wash Routine:

♥♥♥

♥♥

- My wash routine is fairly easy. I throw the diaper in the wash with the soaker snapped in and then it gets thrown in the dryer. For some reason although the soaker has two snaps, it never fails that this soaker comes un-snapped in the wash. The does leave me with the extra step of snapping it in again. This soaker also takes awhile to dry at approximately 105 minutes due to the way the soaker is sewn with a half moon seam at the top. *Please note that this rating is based on the soaker design that I received. She currently ships diapers with a snake style soaker which would dry faster and may or may not come un-snapped in the wash.*
Bang For The Buck:

♥♥♥

♥♥

- $30 is a little above average for a WAHM fitted diaper, but not by much. It's also a one-size diaper so you do get a lot of use out of it and it's also great quality and super cute! Worth it? Yes it is.
Quality & Durability:
♥♥♥♥
♥
- The quality and durability of this diaper is actually really great! All the seams were perfect, the snaps work great, and the materials seem to be top notch. The only reason I didn't give it a perfect score was because the stitching came out of my little label tag on the outside.
The Look:

♥♥♥♥♥

- I LOVE the look of this diaper!!!! I had no hand in picking the colors for this diaper, but let me tell you I gasped when I saw it. Not only was it in a print that I had always wanted, but the snap colors and interior lining matched up perfectly! I actually ran this diaper in to show my husband because I was so excited, and I never do that.
In Conclusion:
I would highly
recommend
this diaper to anyone that wants a high quality fitted, that's cute, one-size, and can be used without a cover. It might not be the best newborn option, but as soon as your child gets a little bigger this diaper is awesome!

_________________________________________________________________________________
** Please note that while I aim to provide the most thorough and honest reviews possible, this review is based on my own preferences and experiences. Each baby is different and each parent has different likes and dislikes. What works for one may not work for another, so keep that in mind while doing your research.**
During this review process Linc was 12 months old, 27lbs, and a heavy wetter.
If you would like to purchase one of these diapers for your little one, then please visit

the boogieBUMS Hyena Cart shop. You can also find boogieBUMS on Facebook.
**Just a heads up. booogieBUMS
is sponsoring an awesome prize for the
Merry Fluffy Christmas Giveaway Event. Check back here from December 1st - December 7th for your chance to win.**
**This product was given to me for the purpose of a review, but the review is comprised completely of my own opinions and was not influenced by any other outside source.**