Riley & Reagan's dolls all dressed and ready to go!
Well, we're at it again! I love to throw parties and the girls love to have play dates, so you can bet I was super excited to be hosting another event for
MommyParties
! This time we were fortunate to be able to test out some super cute toys perfect for the girls and their friends. MommyParties sent us a complete kit to throw a party play date for the girls and 10 of their closest friends between the ages of 4-7. This was perfect for us since Reagan just turned 5 and Riley is just about to turn 7 so their friends fit right into this age range. MommyParties gave me some great ideas for food and games, so we just ran with it and had a blast!
Unfortunately life happens so we had to postpone our party by a week. Riley and Brian were sick and parties are no fun with sickies. Because of the date change we lost a few guests, but we still had a good turn out and the kids had a blast. I set up the dinning table with the Pinypon dolls, PinyPon Caravan, and Nenuco Newborn Doll. Each child got to play with and take home one of the Pinypon dolls. They also got to play with the Caravan and Nenuco doll that we were sent to test out. After play time we served lunch and then the girls decorated cupcakes. The grande finale of the party was the prizes. I had each of the girls names written on pieces of paper. Riley then picked names for the two winners which got to take home their very own Nenuco doll and Pinypon Caravan. They were so excited. Such a fun time for both the kids and the mommies.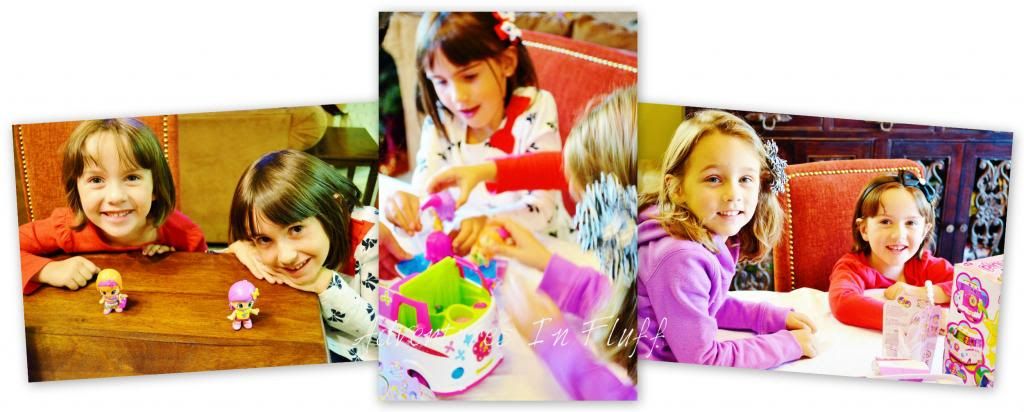 What Is It? Pinypon is a miniature figurine doll that you can mix and match their hair, heads, upper body, lower body, and accessories. In addition to the dolls, you can also buy other accessories such as the Caravan we received, or other items such as a mall, hotel, apartment, or car. Kids can collect dolls and exchange pieces with friends to create their perfect doll.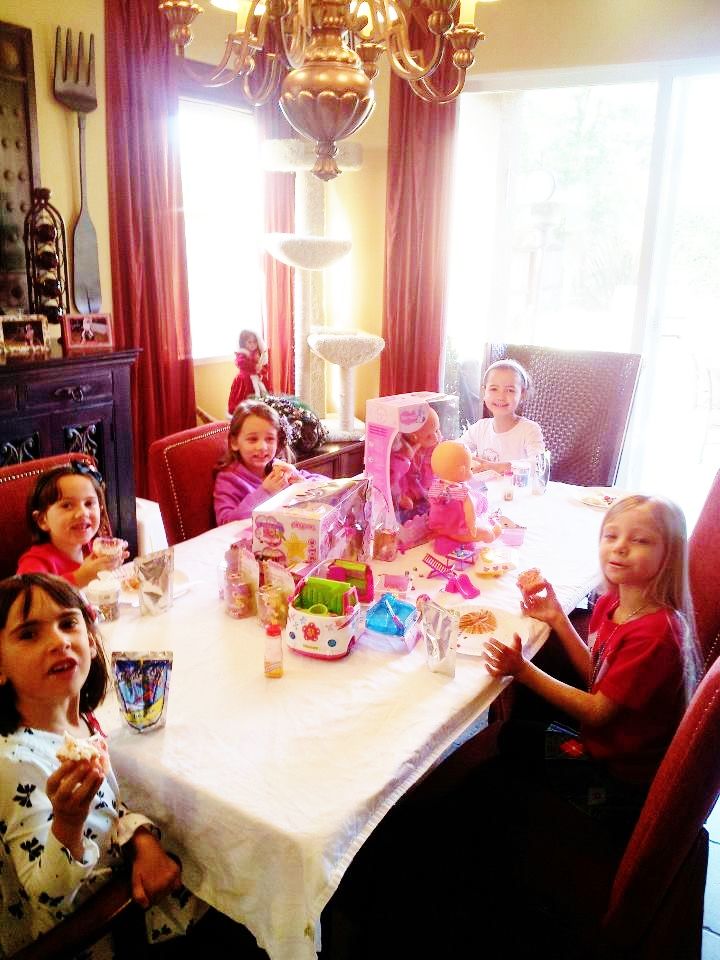 What I Thought: The dolls are super cute! They have an anime feel to their design and come in super bright, fun colors. The toys look very well made and great quality. I also like the price. Each doll is about $4, or $20 for a set of 10. Seems like a good deal to me! My only negative feedback comes from the fact that I have a smaller baby at home who loves to put things in his mouth. These toys have some small accessories, and when I say small... I mean really small. That's part of the cute and fun factor, but with a baby it makes things difficult.
What The Girls Thought: The girls loved them! They all had so much fun playing with both the dolls and the caravan. They loved switching up the pieces and especially loved playing with their dolls on the caravan with all the small accessories. What could be more fun than having a tea party with super tiny plates, cups, and even mini straws. The highlight was the shower though. The caravan actually has a shower that really works when water is added. I'll admit that it took another mom to figure it out, but once we did the kids had a blast washing their dolls. My only complaint was the time it took to stick all the stickers on and figuring out where they all went. Once they were on it looked awesome though. The girls only complaint was that it was slightly difficult to put their dolls back together once they took them apart. My 7 year old had an easier time than my 5 year old. With my help the pieces went together nicely though and after using them a few times they snapped on and off a lot easier. This was my 7 year old's favorite toy.
What is it? The Nenuco Newborn Doll is a soft plastic doll that your children can hold, dress, feed (water from a sippy cup), and pacify. When the baby is done eating your child can put them on the potty and the doll will pee.
What I thought: I like the soft plastic used for the doll so it isn't super hard, but it's still completely waterproof. One of the legs was bent in from the packaging, but after being out of the box for an hour, it went back to normal. I did find the doll a bit messy with the water, but at least it's just water. My only recommendation would be to provide a cloth diaper with the doll. This way the child could feed the baby without them being on the potty. Luckily I have lots of cloth diapers on hand. LOL!!!
What The Girls Thought: The girls are going through an elimination fascination phase so they think this doll is awesome!!! What could be more fun than holding your own little baby, feeding them, and then putting them on the potty? My girls could do this over and over and over... and they did. I'll just have to keep my eye on them and make sure they don't give the baby juice. I wouldn't want any mold to grow in there. This was my 5 year old's favorite toy at the party.
I would love to thank MommyParties, Pinypon, & Nenuco for this great opportunity and would totally recommend these products. The girls had a great time and can't wait to get their new toys out again tomorrow.
For more information on Pinypon and Nenuco you can visit the following links: