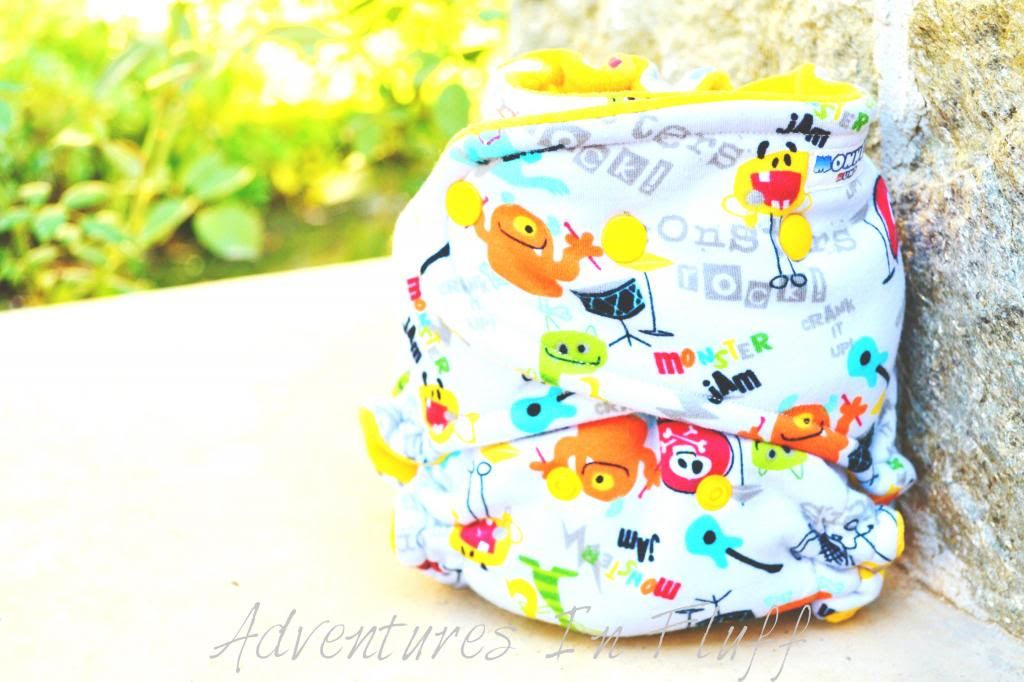 Diaper Features:
Sizing: One Size diaper fitting babies from 9-30 lbs via a snap down rise.
Closure: Snaps (3 on each wing) with crossover wings
Exterior: Cotton Knit (Woven Cotton is also available)
Interior Lining: Cotton Velour (Organic Bamboo Velour is also available)
Hidden Layers: Poly Fleece
Soaker: Each diaper comes with two separate contoured snap in soakers. Both soakers snap separately into the diaper shell so you can use one or both soakers. Each soaker is made of two layers of organic bamboo fleece, and one layer of cotton velour or organic bamboo velour to match the interior lining of the diaper.
Manufactured: USA
Approximate Retail Value: $21 (higher prices for more expensive fabrics)
Ease Of Use:
♥♥♥
♥
♥

- These are pretty typical as far as ease for a fitted diaper. Most fitted diapers will have three snaps on each wing and snap in soakers. I do like that I don't have to fold the soaker, but the fact that there are two soakers attached by one snap each means that they can shift easily. I then have to line them up which isn't always easy with my crazy boy.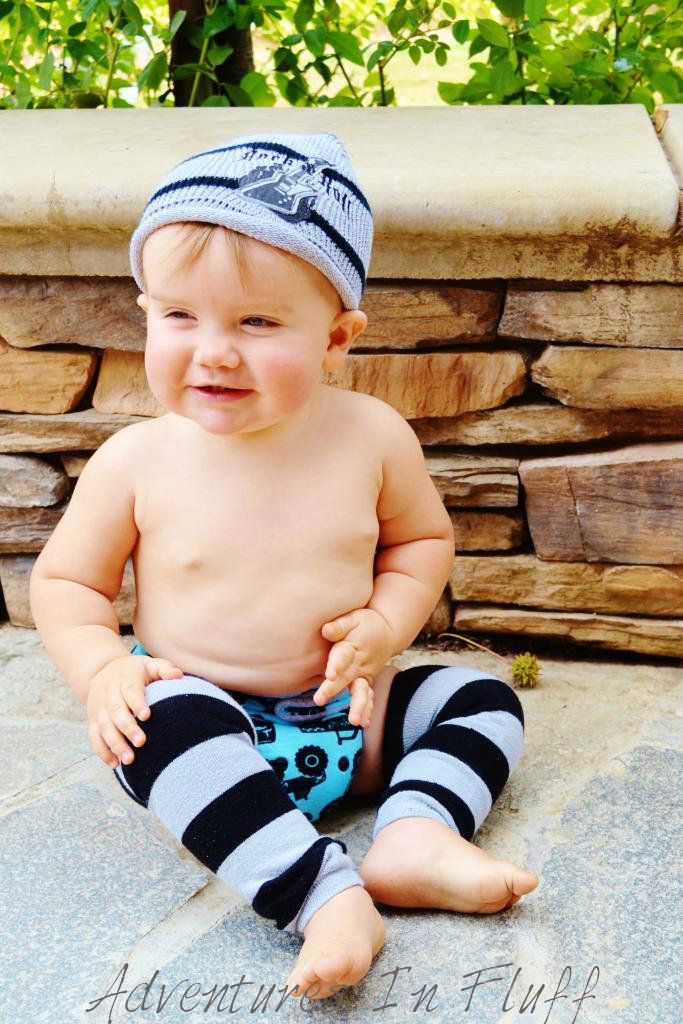 Adjustability & Fit:

♥♥♥♥♥

- I love the fit of these diapers!!! I get an awesome snug fit on the legs and have room to grow on the waist. That's saying a lot with my chunky big guy. Not only that, but this diaper also gets really small so it can also fit a smaller baby as well. Yes, it's a one-size diaper so the fit isn't perfect on a newborn, but it is doable. The rise is still a bit high and the diaper a bit bulky, but I do like that you can remove one of the inserts to create a trimmer diaper for a smaller baby. As for the size of the diaper, it's slightly large and fluffy, but not overly large and fluffy. It still fits nicely under a cover.
Leak Protection:

♥♥♥♥

♥

- This diaper works really well as far as leak protection. I can easily let Linc run around the house in this diaper without a cover on and have no fears of finding a sopping wet diaper anytime soon. This is all thanks to the fact that this is a hybrid diaper. That means it has a fleece barrier hidden inside that helps to keep the moisture inside the diaper. It's not waterproof, but it will keep the diaper drier on the outside longer than a regular fitted diaper. I would also feel ok running a super quick errand in this diaper without a cover. I've also used this diaper at night with a cover and have had no leaks. That's about a 12 hour time span. *Please note that this diaper does require a cover to be waterproof.*
Wash Routine:

♥♥♥

♥♥

- These are average on wash routine. They do dry fast (about 75 min in my dryer), but the inserts come undone in the washer. This means that I have to spend the time to locate and re-snap in the inserts after washing. It doesn't take long, but it is an extra step.
Bang For The Buck:

♥♥♥♥

♥

- At $21 these diapers are on the low side for a WAHM fitted hybrid diaper. No, they aren't the cheapest fitted diapers that you can find, but for the quality and cuteness these are a great deal. Plus they're a one-size diaper so that's another plus.
Quality & Durability:
♥♥♥
♥
♥
- The quality of the diaper shell is really nice. All the seams are even and straight and the materials look to be of a high quality. That being said I do have a bit of difficulty with the snaps. They do snap, but they don't always click in as secure as I would like them to. I also noticed that the bamboo on the soakers was shrinking more than the velour which created curled edges. It's not really a function issue, but more an aesthetic issue.
The Look:

♥♥♥♥♥

- These diapers are super cute!!! I'm pretty sure that the designer and I are on the same wavelength because every print that she chooses is totally my style.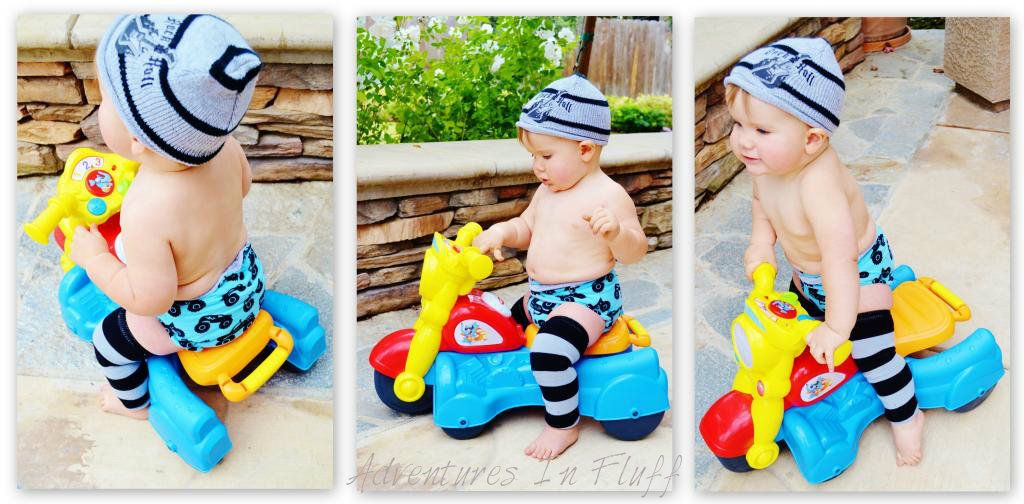 In Conclusion:
I love this diaper! I would recommend it to anyone that wants a one-size fitted diaper that is super cute and will hold in moisture for a long time. I do wish the snaps would click in better, but that's my only big hang up on them. I will warn you though. If you go check out her shop, you will want to buy. These diaper prints are tooooooo cute!!!!!! I just fell in love with the monster trucks print as soon as I saw it and yep, I just had to buy it. Linc totally rocks the monster trucks.
_________________________________________________________________________________
** Please note that while I aim to provide the most thorough and honest reviews possible, this review is based on my own preferences and experiences. Each baby is different and each parent has different likes and dislikes. What works for one may not work for another, so keep that in mind while doing your research.**
If you would like to purchase one of these diapers for your little one, then please visit the Monkey Rump Diapers Hyena Cart Shop. You can also find Monkey Rump Diapers on Facebook.
**Just a heads up. Monkey Rump Diapers
is sponsoring an awesome prize for the Merry Fluffy Christmas Giveaway Event. Check back here from December 1st - December 7th for your chance to win.**
**One of these products were given to me for the purpose of a review, but the review is comprised completely of my own opinions and was not influenced by any other outside source.**