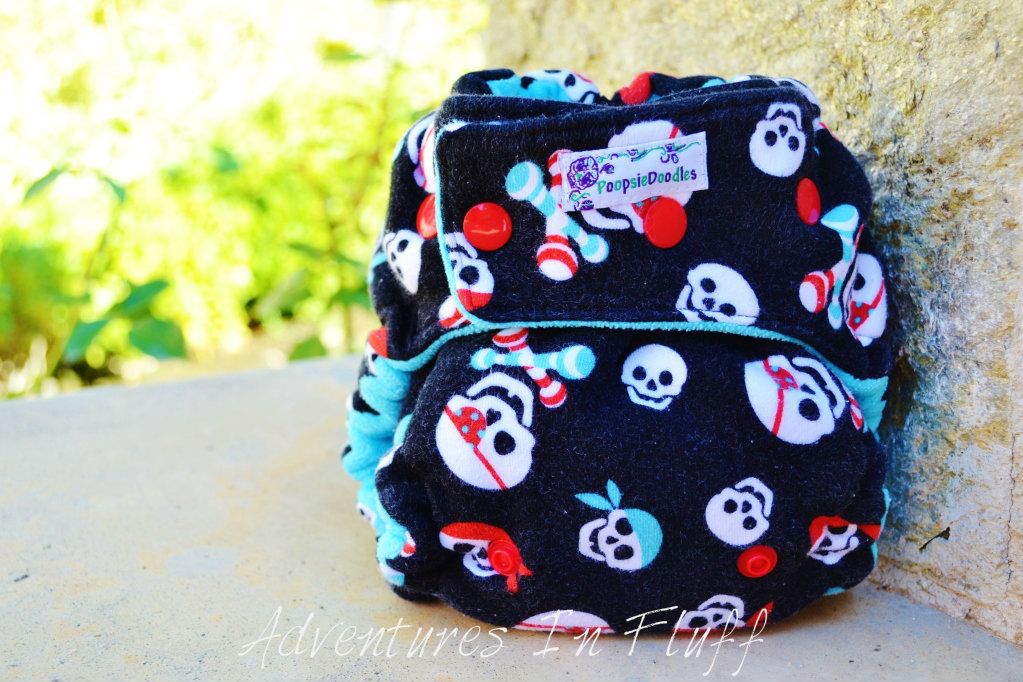 Did you know that September 19th is National Talk Like a Pirate Day? Well I didn't know either till this year and by then it was too late. I totally should have posted this review on that day. This is totally a cute pirate diaper. "Arg!!! Put me on yer booty!" Haha! Or how about "Arg!!! This here booty is loaded!" Hehe. Ok, enough with the diaper pirate booty talk. I just fell in love with this pirate diaper as soon as I saw it. I actually have a swim diaper with the exact same print on it. Needless to say I had to buy this diaper as soon as I saw it. Check out my review below to see how it's been working out for us.
Diaper Features:
Sizing: One Size fitting babies from 10-40 lbs via a fold down rise
Closure: Snaps (3 snaps per wing) and crossover wings
Exterior: Cotton Knit
Interior Lining: Cotton Velour
Hidden Layers: Organic Bamboo Fleece
Soaker: Snap in layered petal soaker consisting of cotton velour and organic bamboo fleece. There is one petal soaker and one booster soaker included.
Manufactured: USA

Approximate Retail Value : $26
Ease Of Use:
♥♥♥
♥
♥

- This diaper is pretty easy to use. It does have three snaps on each wing which can be time consuming, but that is pretty typical for a fitted diaper. What is a little complicated is the soaker design. While I love the soaker design, it does take some practice and understanding. When using this diaper for a newborn you will only use the small petal soaker snapped into the back. When using this diaper for a larger baby you will use both the large soaker and the small soaker. The large soaker will snap into the front of the diaper (on the fold down rise snaps) and the small soaker can snap into the back of the diaper or the backside of the large soaker. It's also a little strange having a soaker snapped into the front, but once I got used to it I loved it.
Adjustability & Fit:

♥♥♥♥

♥

- This is one of the few one-size diapers that I've reviewed this month that will actually fit a newborn. Now I'm not usually a fan of the fold down rise, but I love this one. You know why? It's because they actually put snaps on the front to hold the fold down rise in place. Yay! What an awesome concept! With these snaps you can actually get three rise settings. Fully open will give you a size large. Folded down just enough to see the inside snaps will give you a size medium. Folded down and snapped secure with the front snaps will give you a size small. I also love that there are two soakers so that you can have a large soaker for your bigger baby or a small soaker for your smaller baby. This eliminates a lot of the bulk that you get with one-size diapers on a smaller baby. That being said, I do wish that this diaper had a bit more stretch on the waist. Linc's on the last snaps before he needs hip snap covers and if this diaper had just a bit more stretch then I might be able to get this diaper around a bigger baby. This diaper also has a short rise so if you have a baby with a very large rise then this diaper might not be for you.
Leak Protection:

♥♥♥♥

♥

- This diaper is pretty good as far as leak protection. It does take awhile to fully break in so make sure you fully prep it before judging the absorbency of this diaper. By the time it was fully prepped, Linc would only feel damp on the outside when he wet in this diaper without a cover. At night both diaper testers were able to wear this diaper all night long with a PUL cover with no leaks at all. **Please Note: This diaper does require a cover in order to be waterproof**
Wash Routine:

♥♥♥

♥♥

- This diaper is ok as far as wash routine. I just leave the soakers snapped in and throw them in the washing machine and then the dryer. This saves me the time to find and match up the soakers after the dry cycle is complete. These diapers do take awhile to dry though. It doesn't matter if I leave the soaker snapped in or I unsnap it. It's still going to take this diaper about 105 minutes in the dryer to completely dry.
Bang For The Buck:

♥♥♥

♥♥

- At $26 this diaper is pretty average in price compared to other WAHM fitted diapers. It is a one-size diaper though so that's a plus!
Quality & Durability:
♥♥♥♥
♥
- I think the quality and durability of this diaper is pretty good. The inserts are a little flimsy, but it doesn't affect the function of the diaper. They just shift and curl more than other inserts. Otherwise I think this diaper looks pretty great.
The Look:

♥♥♥♥♥

- I like the look of this diaper. The prints are super cute and I love her snap and cotton velour inner lining combos. I also love the trim fit of this diaper. It's very nice.
In Conclusion:
I would totally recommend this diaper to those looking for a great one-size fitted diaper that doesn't have a super high rise baby. I personally like the low rise, but if you prefer a high rise diaper then this might not be for you. This is also a great diaper if you're looking for a super cute print and great absorbency. Who isn't???

_________________________________________________________________________________
** Please note that while I aim to provide the most thorough and honest reviews possible, this review is based on my own preferences and experiences. Each baby is different and each parent has different likes and dislikes. What works for one may not work for another, so keep that in mind while doing your research.**
For more information on the diaper testers, please check out my post,

"
Meet the Diaper Testers
".
If you would like to purchase one of these diapers for your little one, then please visit Poopsie Doodles on Hyena Cart. You can also find Poopsie Doodles on Facebook.
**Just a heads up. Poopsie Doodles
is sponsoring an awesome prize for the September Fitted Diaper Event Giveaway. Check back here from September 28th - October 12th for your chance to win.**
**This review is comprised completely of my own opinions and was not influenced by any other outside source. I purchased the above diaper on my own and was not compensated in any way for this review.**
So you can easily keep track of the September Fitted Diaper Event, I will add a link to each of the posts below. No need to worry if you've missed one of the reviews. I've got ya covered!