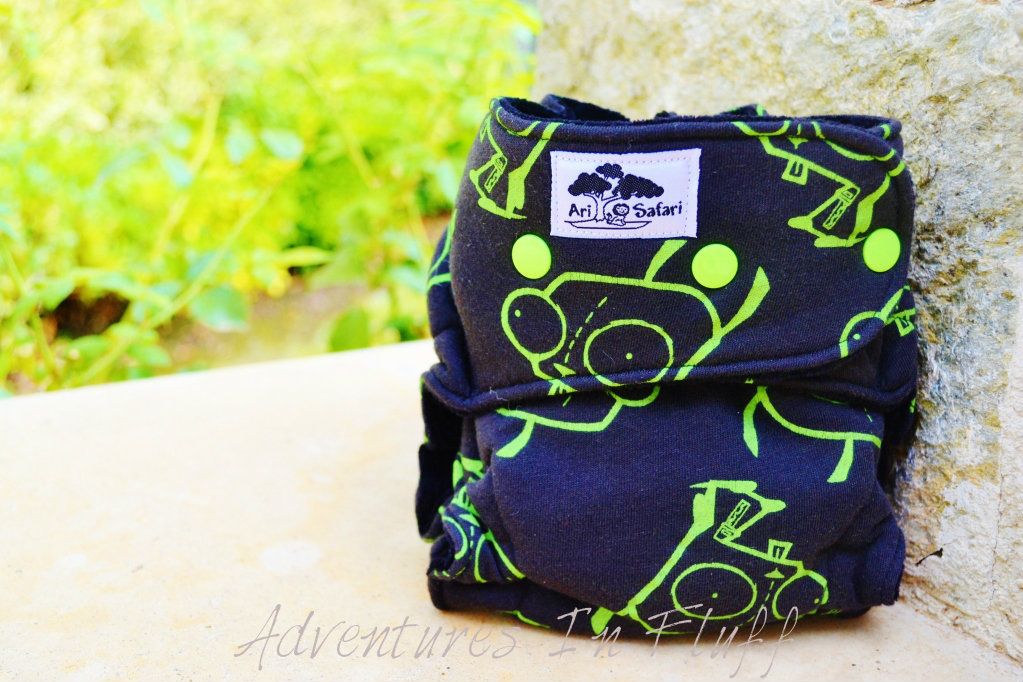 I first heard of Ari Safari in a diaper stalking group that I'm in. Mommas help other mommas stalk hard to get diapers so that they up their chances of getting one. Everyone in the group seemed to talk highly of them so I decided to keep my eye out for a to die for print. Well it didn't take long before I saw this super cute print with Gir from Invader Zim on it. Ok, I admit I don't think I've ever seen this cartoon before, but the character looks awesome! Anyways, I love this diaper! Check out why below.

Diaper Features:
Sizing: One-Size fitting babies from 12-35 lbs via a fold down rise.
Closure: Snaps (3 snaps per wing) and crossover wings
Exterior: Cotton Knit
Interior Lining: Cotton Velour
Hidden Layers: Poly Fleece
Soaker: Snap in petal soaker made up of cotton velour and organic bamboo fleece
Manufactured: USA

Approximate Retail Value: $24
Ease Of Use:
♥♥♥♥
♥

- This diaper is pretty easy to use. It does have three snaps on each wing which can be time consuming, but three snaps is pretty typical with fitted diapers. The soaker is a little long too which means I have to fold it a bit. I wish it was just a little shorter so I didn't have to fold it. Other than that this diaper is super easy.
Adjustability & Fit:
♥♥♥♥
♥
- I love the fit of this diaper on Linc. It fits him perfectly with room to spare. The stretch is great with a snug fit yet comfortable. I also love the size of the diaper. It's not too bulky and not too trim. I'd say it's just right. As far as smaller babies this diaper is pretty good. It fits awesome on a small baby, but I just wish that there was a
separate
doubler to use so that it wasn't so bulky when folding down the rise of the diaper.
Leak Protection:
♥♥♥♥
♥
- This diaper is great as far as leak protection. When Lincoln wets in this diaper it just feels cool to the touch. I have no worries about letting him go coverless during the day and with a cover I've never had a leak at night. I might even think of doing a quick run out of the house without a cover on Linc in this diaper. It's
definitely
great on leak protection.
*Please note: This diaper does need a cover to be waterproof.*
Wash Routine:

♥♥♥♥♥

- This diaper is super easy to wash. I just throw it in the washer with the soaker still attached and then into the dryer. This eliminates the time it takes me to search for the soaker after it's dry and snapping it back in. I also love that the soaker is attached with two snaps. That means it won't twist and turn while in the wash and drying machine. It stays right in place. Love that! I also love that this diaper only takes 75 minutes to dry. Not bad for a fitted diaper!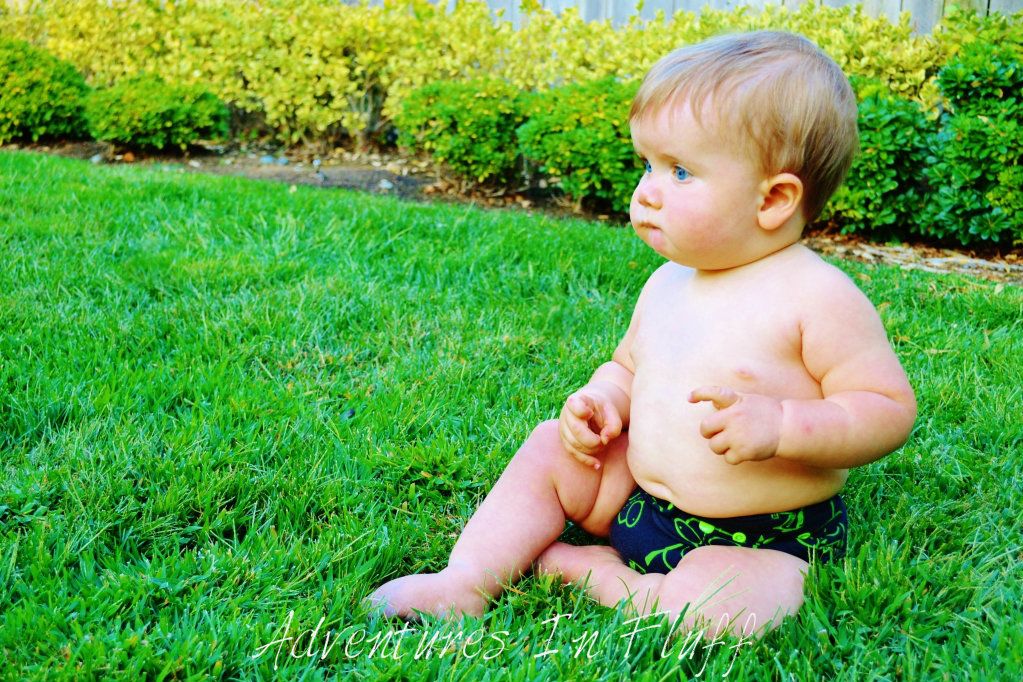 Bang For The Buck:

♥♥♥

♥♥

- At $24 this diaper is priced pretty average for a WAHM fitted diaper. At least it's a one-size diaper so you don't have to worry about sizing up.
Quality & Durability:
♥♥♥♥♥
- The durability and quality of this diaper is great. I've had no problems with it at all.
The Look:

♥♥♥♥♥

- This diaper is super cute!!! I always love the prints she offers and the snaps and lining always match up great. Just look at this super cute diaper I bought. I just couldn't pass it up. I also love that it's not overly bulky so Linc doesn't look too huge in the booty department.
In Conclusion:
I LOVE this diaper!!!! I love the fit. I love the absorbency. I love the quality. I love the look. Yes, I do wish the soaker was shorter, but other than that it's awesome!!!! I would recommend this diaper to anyone looking for a good quality fitted diaper, that will last awhile without a cover, that works great at night, and is super cute.

_________________________________________________________________________________
** Please note that while I aim to provide the most thorough and honest reviews possible, this review is based on my own preferences and experiences. Each baby is different and each parent has different likes and dislikes. What works for one may not work for another, so keep that in mind while doing your research.**
"
Meet the Diaper Testers
".
If you would like to purchase one of these diapers for your little one, then please visit Ari Safari on Hyena Cart on scheduled stocking days. You can also find Ari Safari on Facebook.
**This review is comprised completely of my own opinions and was not influenced by any other outside source. I purchased the above diaper on my own and was not compensated in any way for this review.**
So you can easily keep track of the September Fitted Diaper Event, I will add a link to each of the posts below. No need to worry if you've missed one of the reviews. I've got ya covered!