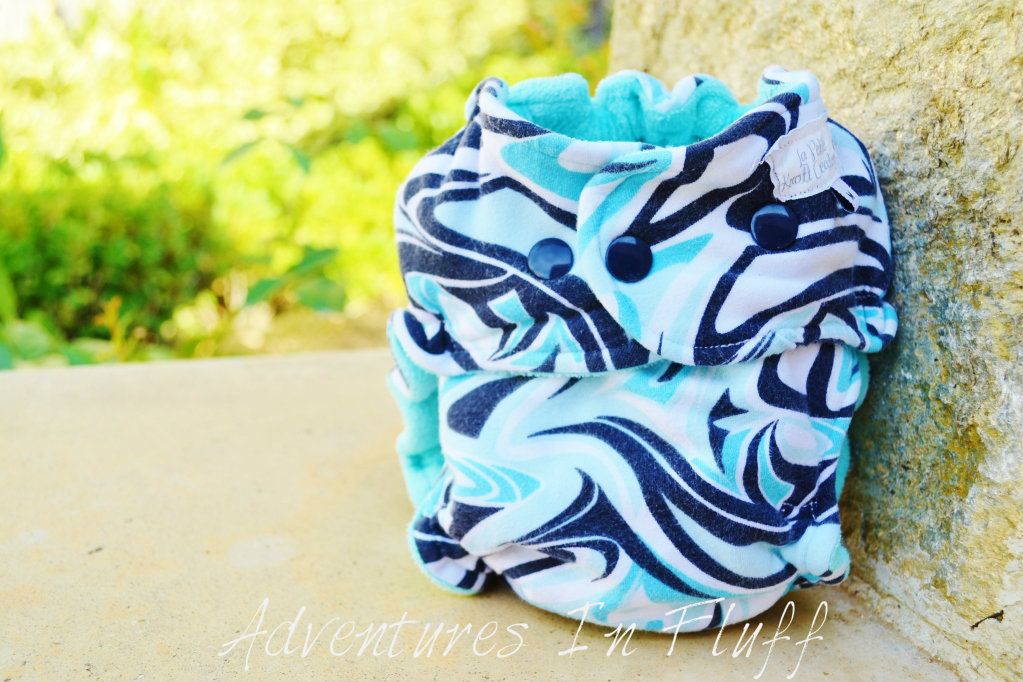 This super cute ocean wave diaper came from a super sweet mom all the way in Canada. I can't believe she was able to get this diaper made and answer all my questions in time before her newest addition came to their family. I bet her baby has the cutest bum on the block! Well I know my little man does. I really wish I lived at the beach with this diaper or at least a little bit closer. This diaper reminds me of the ocean waves and it would look awesome on Linc while he plays in the water and sand. Hopefully my little growing machine stops growing so fast so this diaper will fit him next summer when we hit up the beach again.
Diaper Features:
Sizing:
Sized
NB (5-15lbs), Small (14-25lbs), Medium (23-35lbs), & Large (30-40lbs). Also comes in One-Size with fold over snaps (8-35+lbs)
Closure: Snaps (2 snaps per wing) with Crossover Wings or Snapless (to be used with pins or a Snappi)
Exterior: Turned and Topstitched in Cotton Knit Prints
Interior Lining: Organic Bamboo Velour or Cotton Velour
Hidden Layers: Organic Bamboo Fleece
Soaker: Diapers come with two soakers which snap into the diaper shell individually so you can customize your absorbancy. Each soaker has two layers of organic bamboo fleece and a top layer of organic bamboo velour or organic cotton velour to match the diaper interior. Soaker edges are serged together.
Manufactured: Canada

Approximate Retail Value: $18-$27
Ease Of Use:
♥♥♥
♥
♥

- This diaper is pretty easy to use. I love that it only has two snaps on each wing so snapping is a lot faster than most other fitted diapers. I also love that this is a sized diaper so I don't have to worry about rise settings at all. I will say that this diaper would be a lot easier if the diaper had more stretch though. It would be easier to wrap and snap.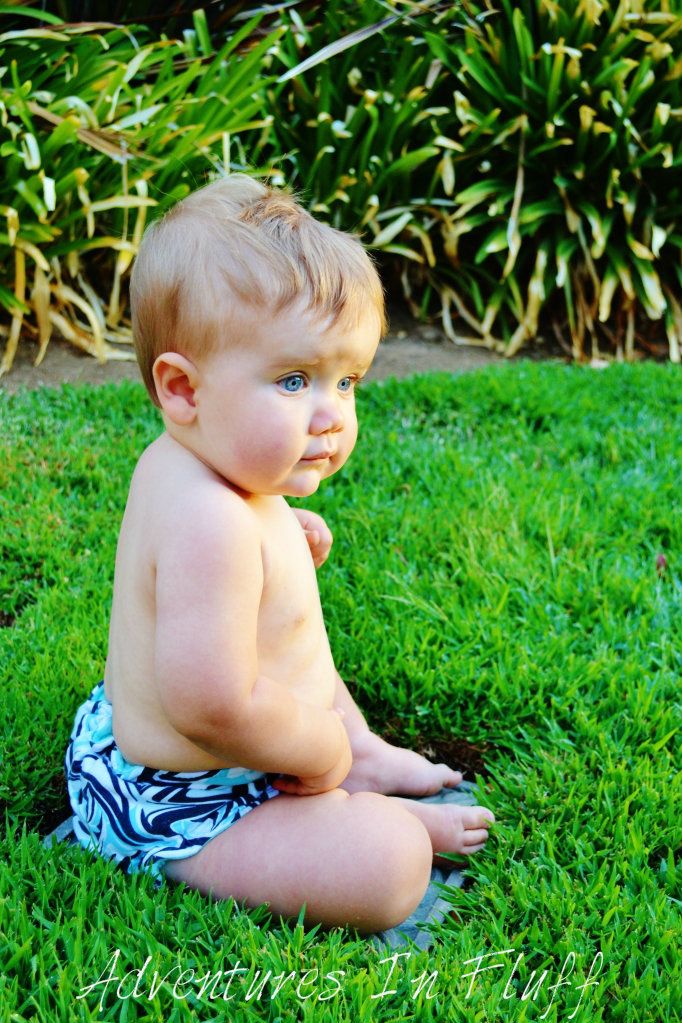 Adjustability & Fit:

♥♥♥

♥♥

- This is a sized diaper so you really don't need to worry about adjustability, but even so I do like the adjustability of the soaker. You can easily switch it up to use one or both soakers. The fit of this diaper seems ok. It fits well on the waist as well as the legs, but there really isn't a lot of stretch to it which is weird since this is a knit fabric. I'm also thinking that Linc might need to move up to the next size since he's so chunky. That might be the problem. Tester #2 had a problem with the stretch as well.
Leak Protection:

♥♥♥

♥♥

- The absorbency on this diaper is average. I tested this diaper out during the day without a cover several times and after Linc pee'ed the diaper would feel wet or soaked on the outside. Not a problem if you're keeping a close watch on your child's bum at home, but my husband didn't appreciate getting wet sometimes. Haha! It did work well at night though. Both testers were able to use this diaper the entire night with a PUL cover and had no leaks at all. **UPDATE: The owner is going to start using a much more heavy duty bamboo fleece for the soakers in her diapers so they will be much more absorbent**
Wash Routine:

♥♥♥

♥♥

- This diaper is ok as far as wash routine. I just leave the soakers snapped in, throw it in the wash, and then throw it in the dryer. This saves me the time of hunting down and snapping my soaker back in when the wash is done. I will say that this diaper did take awhile to dry though. On average it took about 105 minutes in the dryer.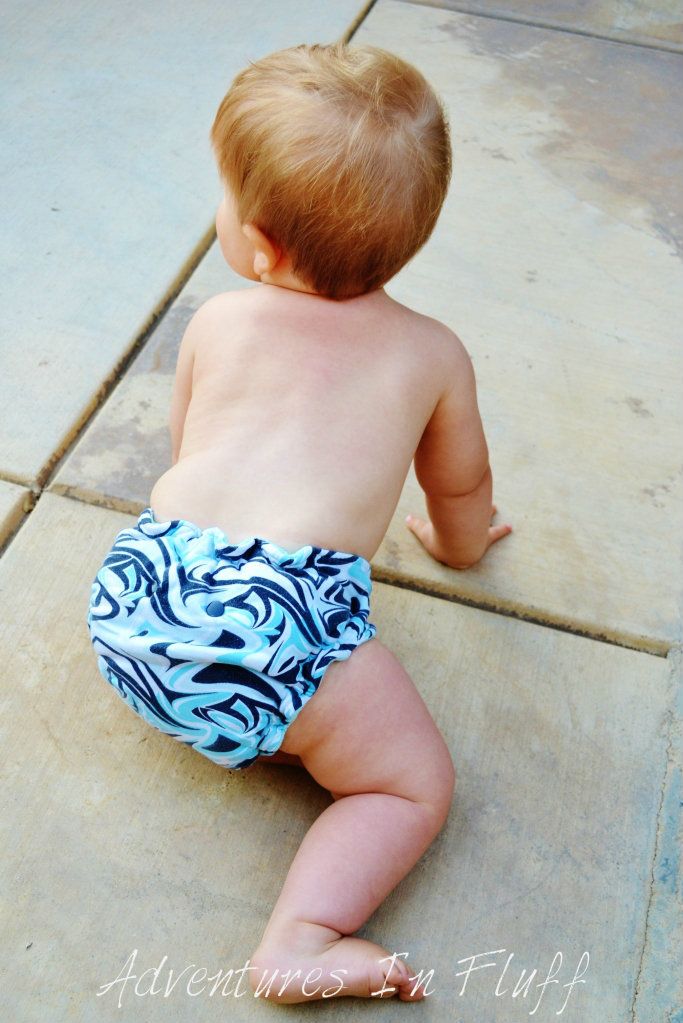 Bang For The Buck:

♥♥♥

♥♥

- These diapers are pretty average in price for a WAHM fitted diaper. They are sized though so you will need to size up when you're baby grows. She does have a OS diaper though.
Quality & Durability:
♥♥♥
♥♥
- For the most part this diaper seems pretty good as far as quality and durability. There was a little uneven stitching on the top, but nothing really noticeable. My main problem was with the snaps. They weren't lined up straight on the front panel and the snaps on the wing didn't match up with the snaps on the front panel. The snaps on the wings were too close together to snap the snaps every other snap, but too far apart so I got a little bulge snapping every snap. This could easily be fixed by the seamstress on her snap pattern. *After
analyzing
this again I think it's not that the snaps don't line up... it's just that there really isn't any stretch so it's hard to pull the wings to the second snap. **UPDATE: The owner is going to revise her snap pattern to remedy some of the snap problems**
The Look:

♥♥♥♥

♥

- I like the look of these diapers. She has some really cute prints available and I like the way the legs and back ruffle. I also like the trim design. The print I have reminds me of the ocean.
In Conclusion:
I would recommend these diapers to those looking for a super cute diaper in a custom sized fit. I can't wait to see the upcoming changes that the owner has in store for us. She's going to be updating the snap design as well as the absorbency.
_________________________________________________________________________________
** Please note that while I aim to provide the most thorough and honest reviews possible, this review is based on my own preferences and experiences. Each baby is different and each parent has different likes and dislikes. What works for one may not work for another, so keep that in mind while doing your research.**
For more information on the diaper testers, please check out my post,

"
Meet the Diaper Testers
".
If you would like to purchase one of these diapers for your little one, then please visit

the La Petite Krott Creations store on Hyena Cart or La Petite Krott Creations on Etsy. You can also find La Petite Krott Creations on Facebook and Twitter.
**Just a heads up. La Petite Krott Creations
is sponsoring an awesome prize for the September Fitted Diaper Event Giveaway. Check back here from September 28th - October 12th for your chance to win.**
**This product was given to me for the purpose of a review, but the review is comprised completely of my own opinions and was not influenced by any other outside source.**
So you can easily keep track of the September Fitted Diaper Event, I will add a link to each of the posts below. No need to worry if you've missed one of the reviews. I've got ya covered!