I first heard of Bunnzoo Diapers when I won two of their pocket diapers in a blog giveaway. Although I've started stearing clear of pocket diapers, I ended up loving them and the way they fit Lincoln. So when I started planning my September Fitted Diaper Event, I naturally went to Bunnzoo to see if they wanted to participate. I was hoping for a fitted diaper that fit just as great as their pocket diapers. Well the first samples I got ended up being pockets. then the second set of samples ended up being pockets too. Finally on the third shipment I received fitteds. Look at this super cute puppy print! Anyways, long story short... you can expect a review of the Bunnzoo Pocket Diapers in October with an AWESOME giveaway! Till then check out my review of their fitted diapers below.
Diaper Features:
Sizing: One Size fitting babies from 10-35 lbs via a snap down rise
Closure: Snaps (4 on each wing) - Hook and Loop is also available
Exterior: Woven Cotton
Interior Lining: Microfleece
Hidden Layers: Microfiber, Zorb, & Shamwow
Manufactured: NE, USA

Approximate Retail Value: $15-$19
Ease Of Use:
♥♥♥
♥
♥

- Most fitted diapers I've tested have three snaps on each wing which is time consuming in itself, but I can handle it. This diaper on the other hand has four snaps per wing. I kind of wish she would eliminate two of those so I could get this diaper on my wiggly baby a bit faster. I love that I don't have to worry about a separate soaker though. It makes up for the time it takes me to snap the wings.
Adjustability & Fit:

♥♥♥

♥♥

- I love the fit of this diaper on my chunky monkey! First off, I love that they use a snap down rise. I find that you get a lot more adjustability that way vs a fold over rise. This particular diaper actually has four size settings and Linc isn't even on the biggest setting yet since it has such a high rise. I also love that the diaper is so trim between the legs. Linc's just starting to really move and I love that there isn't a lot of bulk between the legs to slow him down. The waist of this diaper also gets pretty big so there is still room to grow before Linc maxes out the width. As for this diaper fitting a newborn, this diaper is ok. There were still leg gaps on my newborn model while wearing this diaper on the smallest setting. This diaper also doesn't have crossover snaps, yet the waist did fit ok on my newborn model.
Leak Protection:

♥♥♥

♥♥

- This diaper is ok as far as leak protection. Linc was able to wear this diaper during the day without a cover and felt wet on the front after he went pee. I would keep a close eye on this diaper if you are going to have your baby go coverless. Both testers used this diaper at night with a PUL cover and both leaked so I would not recommend this diaper for nighttime use unless you have a very light wetter. *Please note: This diaper does require a cover to be waterproof*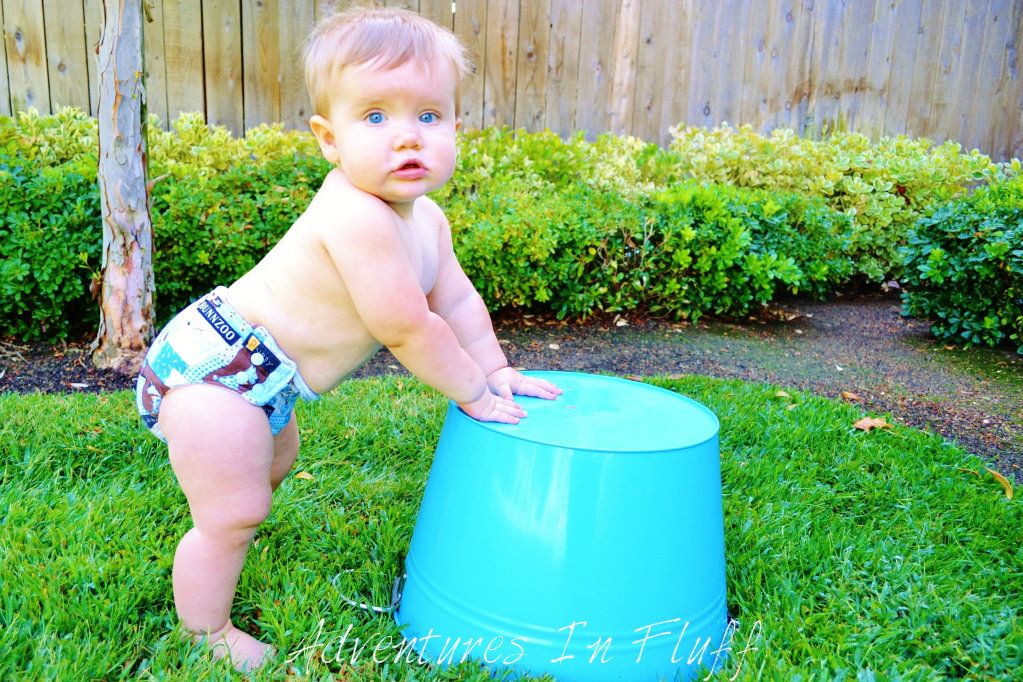 Wash Routine:

♥♥♥

♥♥

- Because these diapers have the soaker entirely sewn in I don't have to worry about keeping track of a separate soaker when washing. I just throw this diaper in the washer and then into the dryer. On the flip side, because the soaker is sewn entirely into this diaper, it does take awhile to dry (approximately 105 min).
Bang For The Buck:

♥♥♥♥

♥

- These diapers are pretty well priced for a fitted diaper. Most are about $15.50 with a few less and a few more than that. It's also awesome because they're a one size diaper so you don't have to worry about sizing up through the years.
Quality & Durability:
♥♥♥
♥♥
- For the most part these diapers seem to be put together well. I have a few of her pockets and then this fitted diaper, but unfortunately the front seam on the fitted diaper came out. It looks like the woven cotton outer layer was cut too short. It doesn't affect the function, but it's all frayed at the top. Now I've been so crazy this month that I haven't even notified the company about this flaw. I'm sure if I did she'd send a new one out ASAP because she's pretty quick about that stuff, but I just haven't had the time.
The Look:

♥♥♥♥

♥

- There are a lot of cute prints in the Bunnzoo store and I really love the nice trim design of this fitted diaper. It's one of her latest and greatest new designs. There is no bulk between the legs so it's easy to get a cover over and even trim enough to put pants over.
In Conclusion:
I would recommend this diaper to those already past the newborn stage that want a cute well priced fitted for their light to average wetter. This is also great for those looking for a nice trim fit for their baby.
_________________________________________________________________________________
** Please note that while I aim to provide the most thorough and honest reviews possible, this review is based on my own preferences and experiences. Each baby is different and each parent has different likes and dislikes. What works for one may not work for another, so keep that in mind while doing your research.**
For more information on the diaper testers, please check out my post,

"
Meet the Diaper Testers
".
If you would like to purchase one of these diapers for your little one, then please visit

the Bunnzoo Diapers website. You can also find Bunnzoo Diapers on Facebook.
**Just a heads up. Bunnzoo
is sponsoring an awesome prize for the September Fitted Diaper Event Giveaway. Check back here from September 28th - October 12th for your chance to win.**
**This product was given to me for the purpose of a review, but the review is comprised completely of my own opinions and was not influenced by any other outside source.**
So you can easily keep track of the September Fitted Diaper Event, I will add a link to each of the posts below. No need to worry if you've missed one of the reviews. I've got ya covered!