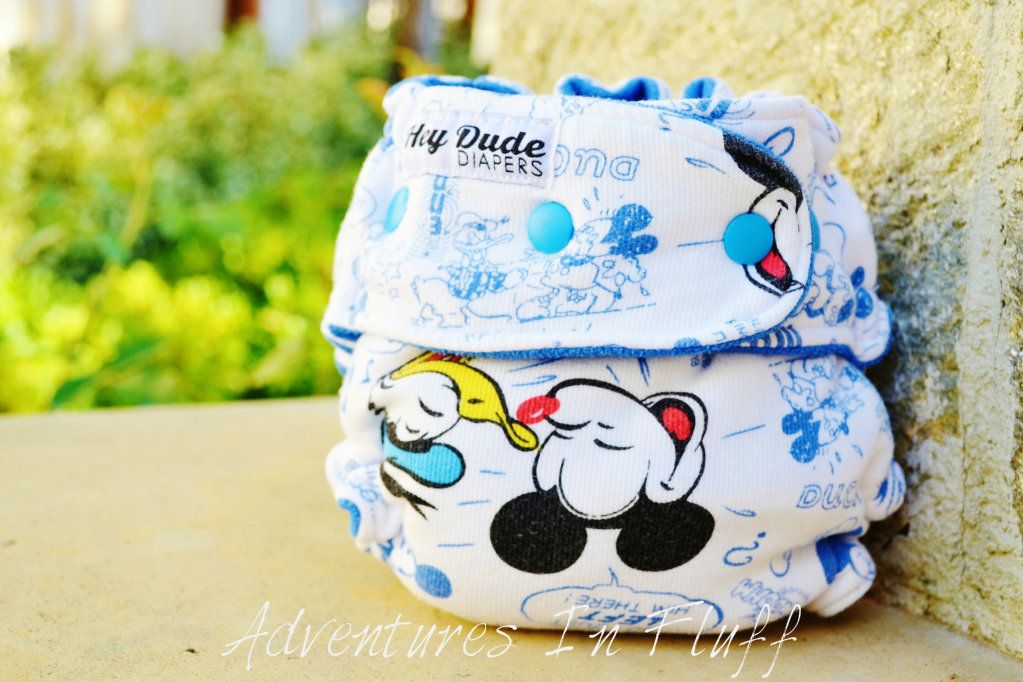 If you know our family then you know we're Disney freaks! It wasn't always that way for me since I grew up by Disneyland, but my husband and his family have always been Disney gung ho and I've since grown to love the Happiest Place on Earth. Well when Hey Dude Diapers asked me to select a fabric for my diaper, I couldn't help but notice all the cute Disney prints she had on hand. I ended up telling her to just surprise me and I don't regret it. This print is ADORABLE!!!! I was so excited to show my husband since I knew he would love it. The next time we hit up Disneyland you know what Linc will be wearing.
Diaper Features:
Sizing: One Size fitting babies from 12-35 lbs via a fold down rise with hidden snaps.
Closure: Snaps (3 on each wing) with crossover wings
Exterior: Cotton Knit
Interior Lining: Cotton Velour
Hidden Layers: Fleece
Soaker: 4 layers of organic hemp topped with either bamboo velour or matching cotton velour. Soakers come in either snake style or petal style (typically petal style). Doublers are also available for either style of soaker.
Manufactured: USA

Approximate Retail Value: $28
Ease Of Use:
♥♥♥
♥
♥

- This diaper does have 3 snaps on each side so it does take awhile to

maneuver

, but the wings are super stretchy so that helps make diaper changing a bit quicker. This diaper also has a long soaker so there is folding to be done. The petal soaker is shorter than the snake soaker, but even it needs a little folding most of the time. I kind of wish the petal soaker was just a tad shorter.
Adjustability & Fit:

♥♥♥♥

♥

- I love the stretch of this diaper! The wings stretch so far. It just hugs Linc so well. He's still about 2-3 snaps in on the waist so I know this diaper will fit for a long time to come. It also gets suprisingly small as well, so paired with a doubler instead of the soaker this diaper can be used on a smaller baby as well. This diaper is a little on the bulky side, but then again, most hybrid fitted diapers are.
Leak Protection:

♥♥♥♥♥

- This diaper is bulletproof! Nothing is getting past this diaper. Nighttime is awesome and I can go 3-4 hours during the day without a cover with the doubler in. Oh yes, it's that good! This is actually one of the few fitted diapers that I can have Lincoln in without a cover and run errands around town with no fears of leaking. **Please Note: This diaper does require a cover to be waterproof**
Wash Routine:

♥♥♥♥♥

- I find this diaper very easy to wash. I just leave the insert snapped on, throw it in the wash, and then throw it in the dryer. The insert stays snapped on so I don't have to hunt it down and since the insert is sewn in layers this diaper drys very fast compared to other fitteds. This diaper drys in about 75 minutes.
Bang For The Buck:

♥♥♥

♥♥

- This diaper is in the upper/average range for a WAHM fitted diaper. It is a one size though, so at least you don't have to worry about sizing up.
Quality & Durability:
♥♥♥♥♥
- I love the quality of this diaper. It's sewn very nicely with top notch materials.
The Look:

♥♥♥♥♥

- I already mentioned before how cute this diaper is. It is soooo cute! I love her huge print selection and the overall look of this diaper is quite nice.
In Conclusion:
I would totally recommend this diaper to anyone looking for a fitted for their child to go around coverless during the day. Who would want to cover up a diaper this cute anyways??? It's also a great option for those looking for an option for their heavy wetter at night. Just make sure to pair it with a big cover because this is not a trim diaper. I pair mine with either a Thirsties Duo Wrap, a Blueberry Coverall, or a Swaddlebees Capri Cover.

_________________________________________________________________________________
** Please note that while I aim to provide the most thorough and honest reviews possible, this review is based on my own preferences and experiences. Each baby is different and each parent has different likes and dislikes. What works for one may not work for another, so keep that in mind while doing your research.**
For more information on the diaper testers, please check out my post,

"
Meet the Diaper Testers
".
If you would like to purchase one of these diapers for your little one, then please visit

the Hey Dude Diapers website on scheduled stocking days. You can also check out Hey Dude Diapers on Facebook.
**This product was given to me for the purpose of a review, but the review is comprised completely of my own opinions and was not influenced by any other outside source.**
So you can easily keep track of the September Fitted Diaper Event, I will add a link to each of the posts below. No need to worry if you've missed one of the reviews. I've got ya covered!