Ever since I got this diaper I think I've called Linc a CutiePaTootie at least a million times. I always laugh at myself too because I know that's the name of the brand of diaper he's wearing. When I first got this diaper I was worried my husband Brian wouldn't like it since it was a rainbow print. Funny thing is that he actually likes it and asked me to forward a picture of Linc wearing it to his phone. I love the print and the bright colors. It's very fun and elementary looking, but toned down with the grey. Check out my review below to see what else I love about this diaper. It's one of my faves in the event.
Diaper Features:
Sizing: One Size fitting babies from 10-35 lbs via a fold down rise. You can also get these in a newborn size that fits from 5-13 lbs.
Closure: Snaps (3 snaps per wing with crossover wings), Hook & Loop, & Snapless (I have the snap version)
Exterior: Tons of different fabric options including knit cottons, woven cottons, & cotton velour.
Interior Lining: Cotton velour (microfleece is available for customs)
Hidden Layers: 1 layer of bamboo fleece
Soaker: Soakers are topped with cotton velour and have 6 layers of bamboo fleece
Manufactured: Kansas, USA

Approximate Retail Value: $23
Ease Of Use:
♥♥♥♥
♥

- I find this diaper fairly easy to use. There are three snaps per wing so it's a little time consuming, but that seems to be pretty typical with snaps. I like that the soaker is a short petal so I don't have to fold it into place when putting the diaper on.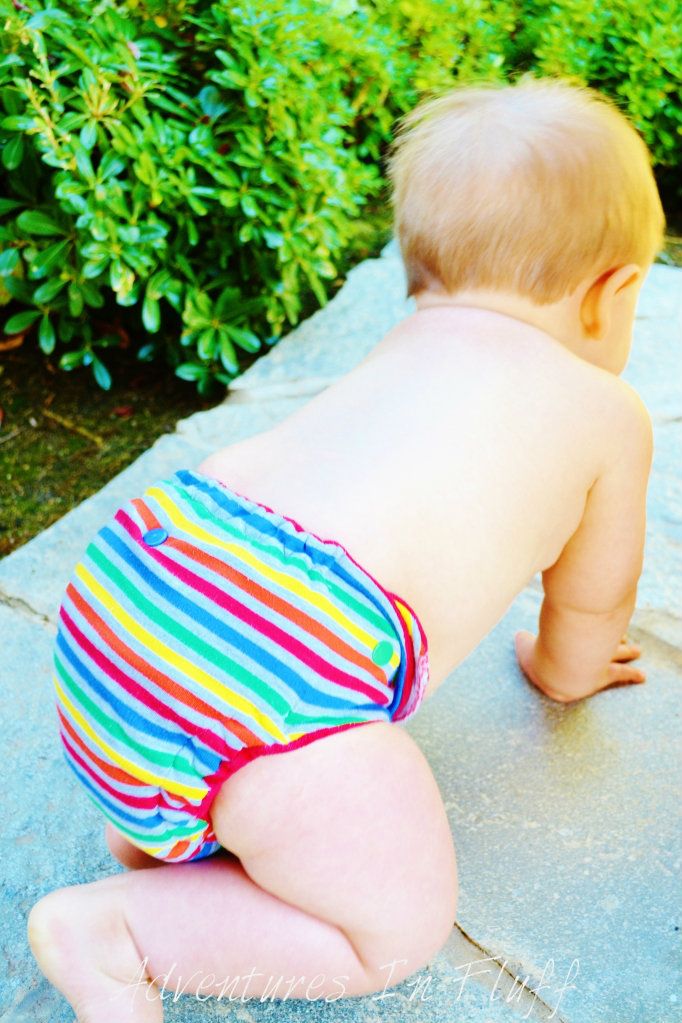 Adjustability & Fit:

♥♥♥♥♥

- I love the fit of this diaper. It's trim and super stretchy! Both myself and Jessica (tester #2) love it. There's even enough room to add another small doubler if needed.
Leak Protection:

♥♥♥

♥♥

- This diaper is pretty average on lead protection. When using it without a cover I need to keep a close eye on it. It will definitely wet after the 1st pee. That said both Linc and Kamryn (tester #2) were able to wear it all night without leaking. You just gotta love fitted diapers! *Please note that this diaper requires a cover to be waterproof.
Wash Routine:

♥♥♥♥

♥

- This diaper is pretty easy when it comes to washing. I just leave the soaker snapped in and throw it in the wash. I also throw it in the dryer and it drys pretty fast (about 75 min). The only item I need to hunt through my laundry for is the doubler, but it's bright red so it's hard to miss.
Bang For The Buck:

♥♥♥

♥♥

- Pricing for this diaper is about average or even on the low side for a WAHM fitted diaper. It's even a one-size diaper so you don't have to size up so you get a lot more bang for your buck.
Quality & Durability:
♥♥♥
♥
♥
- This seems like a pretty durable diaper, but there were a few quality issues. The seaming isn't totally straight and on one corner of the diaper the front fabric started coming out a little. Of course if this wasn't a tester she would replace or fix the diaper, but I'm totally fine with it. I didn't even notice it for quite awhile and it hasn't gotten any bigger. **Update!!! I just checked out another diaper that tester #2 bought and the stitching looks great. I've bumped up the rating to reflect this.
The Look:

♥♥♥♥

♥

- I love the print options and I love the trimness. I love the fun use of snaps and the bright bold interior. The only thing I do not like is that the front panel is serged. It's the only portion of the diaper that is serged and I just really wish it was turned and topstitched like the rest of the diaper. I also noticed that the tag faded really fast. You don't really notice it that much but I thought I'd point it out. Otherwise this diaper is super cute! ***Update!!!! I just found out that they are now constructing these diapers with the front panel turned and topstitched like the rest of the diaper. Yay! I've just bumped up the rating to reflect this. : )
In Conclusion:
I love this diaper! It's one of my faves as far as fit and that's what I love most about it. I've almost bought another one already, but the only thing that holds me back is the serged front. Even then I might still get another one anyways. I just REALLY love the stretchy fit of this diaper. Jessica, our tester mom #2 already purchased another one. That said, YES, I would recommend this diaper to others. I think it would work great for both a small baby and a large baby. I think it works better with a cover, but for those that like to go coverless I would just keep a close eye or add another doubler. She actually sells doublers in her shop. If you're looking for a soft, stretchy fit, in a super cute print, then this diaper is for you!
_________________________________________________________________________________
** Please note that while I aim to provide the most thorough and honest reviews possible, this review is based on my own preferences and experiences. Each baby is different and each parent has different likes and dislikes. What works for one may not work for another, so keep that in mind while doing your research.**
For more information on the diaper testers, please check out my post,

"
Meet the Diaper Testers
".
If you would like to purchase one of these diapers for your little one, then please visit

the CutiePaTooties By Lauren Etsy shop or Hyena Cart Shop (stocked every Thursday at 5pm CST). You can also find CutiePaTooties on her Website, Facebook, Twitter, & by E-mail.
**Just a heads up. CutiePaTooties By Lauren
is sponsoring an awesome prize for the September Fitted Diaper Event Giveaway. Check back here from September 28th - October 12th for your chance to win.**
**This product was given to me for the purpose of a review, but the review is comprised completely of my own opinions and was not influenced by any other outside source.**
So you can easily keep track of the September Fitted Diaper Event, I will add a link to each of the posts below. No need to worry if you've missed one of the reviews. I've got ya covered!