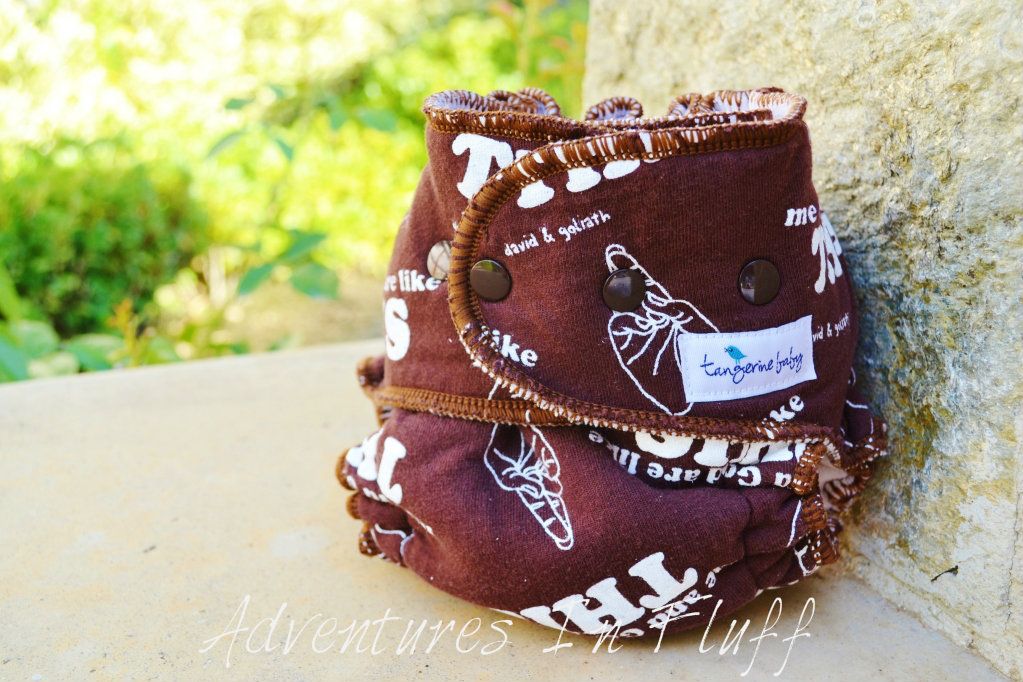 I'd never heard of Tangerine baby before I started working on this event a few months ago. I was completely oblivious to the great realm of WAHM fitted cloth diapers. Let me tell you, it's a crazy world out there. Women will fight till the bitter end to get some of these hard to acquire diapers and Tangerine Baby happens to be one of those hard to acquire brands. I've only tried a few times to score my own diapers, but let me tell you I've failed every time. I was only able to get this fine beauty with the help of another wonderful mom that has quicker fingers than I do... and a lot quicker internet. I was literally bouncing off the walls with joy. So is the product up to par with the reputation? Well you'll have to read on to find out below.
Diaper Features:
Sizing: One Size diaper fitting babies from 15-45 lbs. (Also comes in Newborn fitting babies from 8-18 lbs and Classic fitting babies from around 15-30 lbs)

Diaper Construction: Serged (also comes in turned and topstitched)
Closure: Snaps (3 on each wing) with crossover wings
Exterior: Knit or woven cotton prints
Interior Lining: Cotton Velour or Organic Bamboo Velour
Hidden Layers: Microfleece
Soaker: Snap in soaker comprised of two doublers sewn together. The top layer is made of matching CV or OBV and two layers of organic bamboo fleece. The bottom layer is made of a hidden layer of bamboo fleece
sandwiched
between two layers of organic bamboo fleece.
Manufactured: USA

Approximate Retail Value: $25-30
Ease Of Use:
♥♥♥♥
♥

- I find this diaper pretty easy to use. There are three snaps on each wing, but that's pretty typical for most fitted diapers. I like that the soaker is a short contoured petal soaker so I don't have to worry about folding it down when I put it on Linc. It's also very stretchy so I don't have to struggle getting the wings snapped where I want them.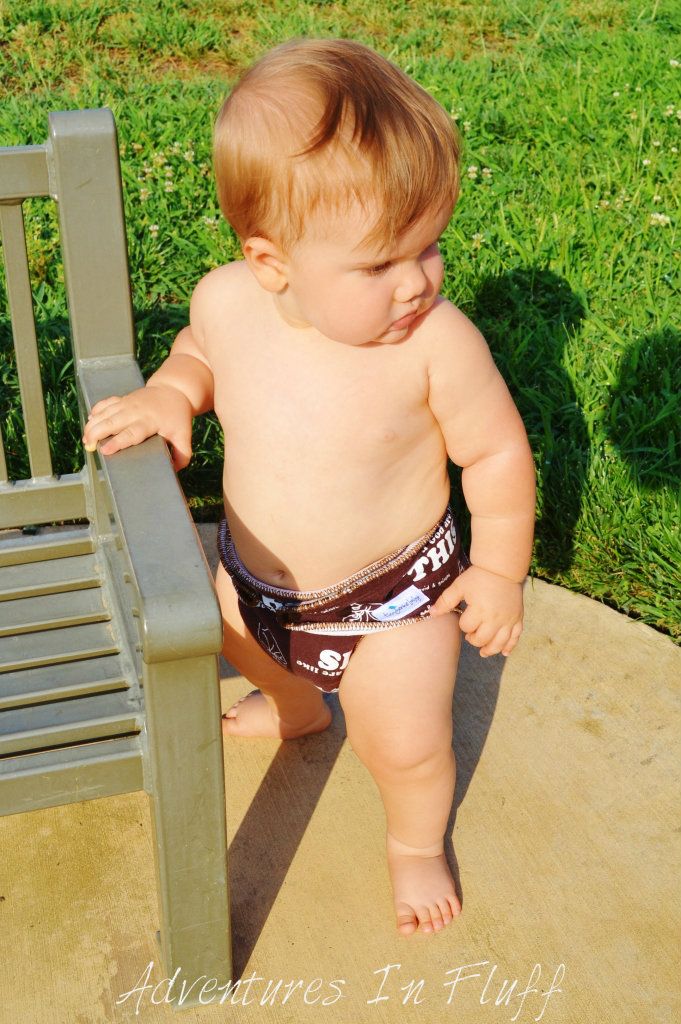 Adjustability & Fit:

♥♥♥♥♥

- I love the fit of this diaper! It's so stretchy and fits great on my chunky monkey. If you have a smaller or skinnier baby then I would probably go with the "classic fit" though. This diaper fits up to 45lbs while the classic goes up to 35lbs. I also like the fold over rise on this diaper. Normally I won't use it, but sometimes when I want to put a smaller cover over this diaper it's nice to have the option of folding the rise down. It's slightly on the fluffy booty side, but I love a cute fluffy booty.
Leak Protection:

♥♥♥♥♥

- This diaper is awesome as far as leak protection! It's an awesome night diaper and I have no problem using it during the day without a cover. After Linc pees it normally will just feel warm or cool to the touch, but at the worst it will feel damp. At this moment right now Linc is napping on me in a Tangerine Baby without a cover and I have no worries that it will leak at all.
*Please note: This diaper does need a cover to be waterproof.*
Wash Routine:

♥♥♥♥

♥

- Washing is pretty easy. I just throw this diaper in the wash with the soaker still attached so I don't have to go fishing for it after the dry cycle. The only problem is that the shell portion dries fast (about 75min) while the soaker takes longer (about 105min). The reason for this is that the end of the soaker where the snap is, is sewn in a half circle to attach the two petals together. If it was straight across at the end so that the top petal could open completely in the dryer then it would probably dry faster.
Bang For The Buck:

♥♥♥

♥♥

- Tough question on this one. Yes, it's a high price, but it's totally worth it. That said, this diaper is at the mid/high price range for a WAHM fitted diaper.
Quality & Durability:
♥♥♥♥♥
- The quality of this diaper is amazing! All stitching is perfect and all materials are top notch.
The Look:

♥♥♥♥♥

- SUPER CUTE!!!! I love the look of this diaper. I love the prints and I love the shape. I wasn't sure about a serged diaper at first, but I'm really loving the way it fits on Linc now and the curly details. Is that bad to say for a boy diaper???
In Conclusion:
Who would I recommend this diaper to? I would recommend it to anyone that wants a super cute, well made fitted that works really well. I love this diaper and I totally plan on getting another one in the future. Ok, that is if I can actually score one. This diaper is really hard to obtain because there is such a huge following of people trying to get these diapers. So let me rephrase... I will try with all my might to get another one of these diapers.

_________________________________________________________________________________
** Please note that while I aim to provide the most thorough and honest reviews possible, this review is based on my own preferences and experiences. Each baby is different and each parent has different likes and dislikes. What works for one may not work for another, so keep that in mind while doing your research.**
For more information on the diaper testers, please check out my post,

"
Meet the Diaper Testers
".
If you would like to purchase one of these diapers for your little one, then please visit

the Tangerine Baby website on her scheduled stocking days (Every Monday at 8pm EST)

.

You can also find Tangerine Baby on Facebook.
**Just a heads up. Tangerine Baby
is sponsoring an awesome prize for the September Fitted Diaper Event Giveaway. Check back here from September 28th - October 12th for your chance to win.**
**This review is comprised completely of my own opinions and was not influenced by any other outside source. I purchased the above diaper on my own and was not compensated in any way for this review.**
So you can easily keep track of the September Fitted Diaper Event, I will add a link to each of the posts below. No need to worry if you've missed one of the reviews. I've got ya covered!