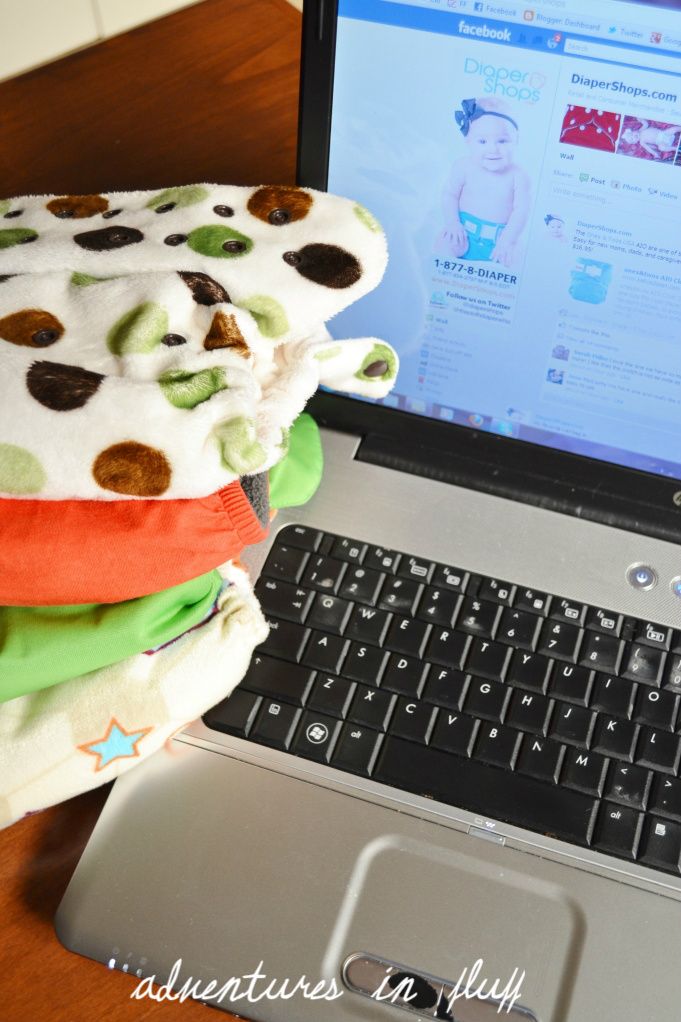 Thanks to everyone who took the time to fill out my Fitted Diaper Survey. It has been so fun reading all of your responses and getting a look into what you all think about fitted diapers. I know there are a lot of people out there that do not understand the pros of using fitted diapers (myself included when I first started cloth diapering), so this is a great way to get a positive view of what they are all about. I'm going to take a moment to share with you a few responses that stood out for me. I hope you too will enjoy reading why these moms and dads have found the fitted love. I'm sorry I wasn't able to put everyone's responses on here, but know that there was a lot of fitted love to be spoke of on the survey.
I use fitted diapers during nighttime because they are absorbent enough to where I can have my baby in it the entire night.
- Pollyanna Valenzuela of Sew-Fatty
I love everything about fitted diapers! What's funny is that pre-baby I thought they sounded absurd--why put on two diapers when there are AIOs? I love fitteds because they let my baby's tush breathe when he goes without a cover. I love fitteds because they have the BEST variety in colors & prints. I love how they are squishy and soft and (often) pretty trim. I love the security of a double gusseted cover over a fitted when we are out and about. I love how absorbant a fitted is now that my baby is sleeping through the night (knock on wood... have to say it or I'll be doomed tonight!).
And you know what? I reach for AIOs the LEAST!! :) - Julie Conley
I love fitteds for around the house. They breathe well, are so squishy soft, and I like all the natural fibers in WAHM fitteds. We use them at night as well because they keep his skin dry and allow air flow. - Anonymous
I used Kissaluvs size 0 for my newborn because they got great reviews. Still using them at 3 months and love them! - Alli
I decided to try fitted diapers without covers to help beat the summertime heat. I also love the prints and they are super absorbent. - Anonymous
I like fitted diapers more so than prefolds, AI2's, or pockets for the simple reason that I pay more attention to our baby's bum and know she's not sitting in a wet diaper longer than she should.
-
Courtenay M
Awesome prints and natural organic fibers that are breathable for babe. - Anonymous
They are highly absorbent, easy to wash, and easy to dry. I like using them with my wool covers and my baby seems to feel more comfortable in them. - Anonymous
My daughter had heat rash from PUL when she was 3 months old so I started using fitteds and wool. I continued using that system all through summer and then in the winter just at nights. It is still my nighttime go to system. During the day I use fitteds and fleece now (toddlers are so messy! Fleece is easier to wash than wool). - Marie
I use fitteds at night with a cover because they provide enough absorbency for the 8+ hours between changes. I love that I don't have to worry about leaks in the middle of the night. - Alicia
They are more breathable and in all honesty I love all the prints and how squishy they are! - Jessica
I use fitteds because my daughter couldn't handle PUL and I found that I prefer them anyway. They are much more absorbant and so squishy!
-
Anna D
Beacuse we EC (Elimination Communication), they are easy to take off and put on quick, and they feel wet. -
Katie Nelson of Country Baby Designs
They are easy to use, cute, and more trim than prefolds. We don't use pockets or AIO's because of the PUL. - Anonymous
I use fitteda at nap time and night primary. I love the elastic in the legs to protect my wool covers from getting covered in poo!!! - Anonymous
Most are a better fit on my little one. They work wonders for us at night with a cover and no leaks! - Erica
They are so much easier to dry and aren't really hard to make at all. - Anonymous
I love using them because they allow my sons skin to breathe without the worry of him peeing on the floor like he would if I let him be naked. I also prefer fitteds for nighttime use because they are so much more absorbent than a pocket. - Sarah Stilwell
I like that they hold a lot. My girl is a very heavy wetter. - Anonymous
I like having them for around the house and they force you to change more often when using without a cover. I feel like that is a small way to help keep rashes from forming on my baby's bum.
-
Kassie Groll of Going Green with the Grizls
I use fitted diapers mostly when we get out of the pool. They are perfect for after swimming use! - Ashley Romo
I LOVE the breathability of fitteds and they're super cute to boot! If I were in diapers I would want something as snuggly soft as cotton and OBV or CV against my skin :) - Anonymous
To allow my twins' skin to breathe. My boy twin has super sensitive skin and gets frequent rashes. Fitteds help heal up his bum faster! - Amanda
I loved using fitteds when my son was a newborn. It really just fit better than AIOs. We were new to cloth diapers and fitteds gave us more confidence in using cloth diapers. -
Romina of Just Another Hat
We use them during the day to go coverless and at night. Its one of the only things that work for us at night. - Anonymous
It's a great alternative to prefolds for toddlers who can undo a snappi. It has great absorbancy and I use it mostly with my wool covers for nighttime. - Jenn
I use fitteds at night, it is the only overnight solution that worked for us.
-
Ashley Johns
I am cloth diapering for the first time and found that the fitteds were less intimidating for me in the beginning. I also found that my family and husband found them easier to use. - Anonymous
I use a mix of pockets, AIOs, and fitteds. I like to use the fitteds to give his bum good air circulation. I also have a super heavy wetter and we started using fitteds as our overnight solution when pockets were no longer working. - MamaViking
My son gets lets rashes when he wears fitteds. - Scheins
Thought fitteds would work well for containing newborn exclusively breastfed poo and they do!
-
Becky
They are breathable, but my son doesn't pee through them like he does with prefolds. When we use pockets (especially in the summer) it gets SO steamy in there! That doesn't happen with fitteds. Plus, let's be honest, they are the cutest! - Laura H.
Cute prints and the ability to know when DD is wet quickly - Mama2Hope
My little mans bum seems to feel softer and nicer when I use a fitted - Anonymous
We like the fit and being able to feel the dampness when baby wet. -
Amanda
I prefer fitteds because I think they provide a better fit and with a cover provide double blow out protection around the legs.
-
Anonymous
Fitted diapers are great for nighttime and I love letting my little girl wear them without a cover when we are home. I like the breathability of them and they absorb like crazy! - Erica C.
They work better for our nightime diaper. I would totally buy more for daytime if I could afford to re-stash! - Anonymous
I like them because they seem like the most absorbant "easy to use" option (the only thing that seems as absorbant to me is prefolds, which we like but they aren't as easy to use as a fitted). Fitteds work awesome for overnight. We have not delved into the world of WAHM super cute fitteds...we are more about function when it comes to fitteds (our current fitted of choice is a GMD workhorse). - Angela
They breathe and have some of the cutest prints out there. They also help get rid of those nasty diaper rashes. Fitteds + wool = bulletproof overnight solution - Anonymous
Price! We use mostly Mother Ease One Size, a few Sandy's, and a few Rearz french velour.
-
Tina Marie
So you can easily keep track of the September Fitted Diaper Event, I will add a link to each of the posts below. No need to worry if you've missed one of the reviews. I've got ya covered!