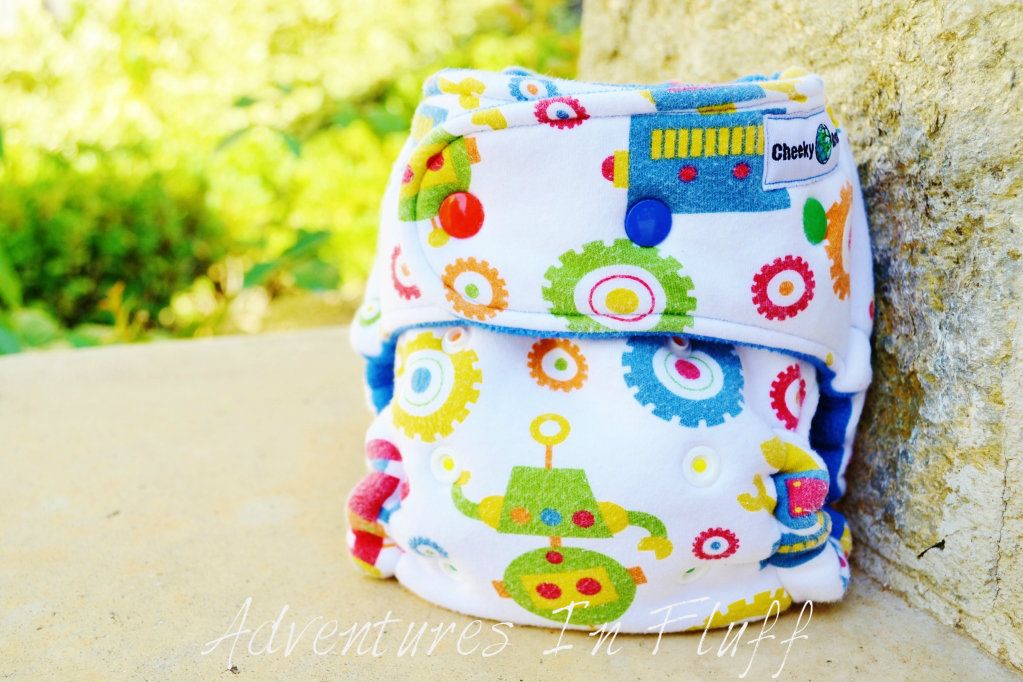 When I found out that Cheeky Revolution was going to be participating in the September Fitted Diaper Event, I was so excited. I just love the look of all of her diapers and was super excited to test out one of her Hybrid Fitteds. They look so cushy and are known to stay dry for hours. I also was so excited when I saw that their diapers had a snap down rise. I'm all about the snap down rise vs the fold over rise. I just feel that it gives me more options. I know now that Linc is big I don't really need to size many diapers down at all anymore, but I still like the idea that others can size the diaper down easily if need be. Check out my review to see what else I love about this awesome diaper.
Diaper Features:
Sizing: One Size fitting babies from 12-30+ lbs via a snap down rise (Also available in newborn 6-12 lbs)
Closure: Snaps (3 snaps per wing) and crossover wings
Exterior: Cotton Knit (Also available in woven cotton and bamboo velour)
Interior Lining: Micro Fleece (Also available in bamboo velour)
Hidden Layers: Poly Fleece
Soaker: Snake style snap in soaker made with layers of organic cotton hemp french terry or hemp fleece, topped with Organic Bamboo velour. The insert can be folded to customize your baby's absorbancy needs. All OS diapers come with a doubler made up of the same layers of hemp terry or fleece and topped with Bamboo velour.


Manufactured: Pittsburgh, USA

Approximate Retail Value: $25
Ease Of Use:
♥♥♥
♥
♥

- This diaper is fairly easy to use once you get the hang of it. There are three snaps on each wing, so that's pretty typical for a fitted diaper. The tricky part is that if you are going to be crossing over the wings (I do and my guy is pretty chunky), then you need to remember not to start snapping the wings at the same point on both sides. You'll need to snap the opposite side either one less or one more than the other side so that the wings cross over properly. It might be confusing, but you can watch my video review to fully understand. The soaker is also reallllly long so you need to master the art of folding really long soakers. It's not hard, just another step. I would probably prefer a shorter soaker.
Adjustability & Fit:

♥♥♥♥

♥

- I love the adjustability and fit of this diaper. This diaper is super stretchy so you really get a great fit on the waist and legs that is also comfortable and soft for your baby. I also love the adjustments on this diaper. The crossover wings give you a great fit for both your small baby as well as your large baby. What do I really love though??? I LOVE that this fitted diaper has a snap down rise instead of a fold over rise. Most fitted diapers have a fold over rise and I just feel that it does not give you the versatility that a snap down rise gives you. Not only does this diaper have a snap down rise, but it has a 4 level snap down rise. Awesome!!!! This diaper really does fit a newborn (a large newborn). Another plus is that this diaper comes with both a newborn/doubler and a snake soaker. Use both for a heavy wetter or one for a trimmer fit. The only negative is that this diaper is a little bulky. That's pretty typical with hybrids though.
Leak Protection:

♥♥♥♥♥

- Awesome!!!! Enough said. This diaper can go hours without a cover and without leaking during the day. It's awesome if you just want to hang out at home or even for those quick trips away from home. Both Jessica and I also used this diaper at night without any leaks for 12+ hours.
*Please note: This diaper does need a cover to be waterproof.*
Wash Routine:

♥♥♥♥♥

- I love this diaper when it comes to washing. I just throw the diaper in the wash with the soaker attached and then throw it in the dryer. The soaker stays attached so I don't have to hunt it down afterwards and it dries in a reasonable amount of time (about 75 min for me).
Bang For The Buck:

♥♥♥

♥♥

- This diaper is priced pretty average for a WAHM fitted diaper. To me, it's actually a pretty good price when you consider that it's a OS diaper and it's a hybrid.
Quality & Durability:
♥♥♥♥♥
- The quality and durability of this diaper is great!
The Look:

♥♥♥♥

♥

- Super cute! I love her print selection and I love how her interiors and snaps coordinate so well. You can't even tell there are snap down rise snaps on the front because they blend so well. The only downside is the bulk, but who doesn't love a fluffy booty???
In Conclusion:
I LOVE this diaper!!! I think it fits great, has awesome absorbency, and is great as far as adjustability. I don't even need to mention how cute it is. That's obvious! The only change I'd like to see is the soaker length, but it's not a make it or break it deal. I'd still totally buy another one of these. So if you're looking for a diaper that can last awhile without a cover or a great nighttime solution then this diaper is for you!
_________________________________________________________________________________
** Please note that while I aim to provide the most thorough and honest reviews possible, this review is based on my own preferences and experiences. Each baby is different and each parent has different likes and dislikes. What works for one may not work for another, so keep that in mind while doing your research.**
For more information on the diaper testers, please check out my post,

"
Meet the Diaper Testers
".
If you would like to purchase one of these diapers for your little one, then please visit

the Cheeky Revolution Hyena Cart Shop or her Etsy Shop. She stocks at the Day Dreams Congo on the 5th of each month at 2pm and also at the BoyTique Congo on the 23rd of each month at 3pm. You can also find Cheeky Revolution on Facebook.
**This product was given to me for the purpose of a review, but the review is comprised completely of my own opinions and was not influenced by any other outside source.**
So you can easily keep track of the September Fitted Diaper Event, I will add a link to each of the posts below. No need to worry if you've missed one of the reviews. I've got ya covered!