Last Thursday morning we flew clear across the US to Stamford, Connecticut for medical screening. Let me tell you, that was quite an exhausting day. We tried to head to bed early in anticipation, but my excitement and nerves made it hard to sleep. I couldn't wait to meet Belle and Adam in person for the first time but at the same time I was nervous that something might go wrong at the screening. Still I tried to get some sleep. Sleep was not in the cards though. Linc woke on the hour every hour it seemed. Maybe he could sense that we were leaving soon so he just wanted some extra cuddle time and attention. It's ok though. I didn't mind a few extra snuggles from my little man. At 3:45am our alarm went off. WTF! Who gets up at this hour??? I seriously rolled out of bed, grabbed my bag, and got in the car. Yawn! It was an hour flight to San Francisco (I slept), and a 5 hour flight to Newark, NJ. I read the second book to The Hunger Games (pretty intense), and watched the movie This is 40 (hilarious!!!). No I'm not 40, but that movie is sooooooo right on when it comes to marriage and kids. The hour drive to our hotel wasn't bad and the hotel was awesome (
Hotel Zero Degrees
). We even found this yummy Italian restaurant nearby that was delicious and a chocolate shop with mouth watering truffles (I got a caramel sea salt, a balsamic vinegar, and a rose petal truffle). Yum!!!
Ok, enough about my travel day. I'm sure you're wondering about the surrogacy part of our trip.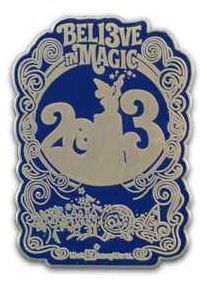 The pin I got Belle & Adam
Friday morning we met up with Belle and Adam at the Starbucks in the mall just down the street. This would be the first time meeting them in person. I spotted them right away and it was like we were meeting up with close friends that we see all the time. I wasn't nervous at all. Maybe it's because Belle and I chat all the time so there was no room for awkwardness. Of course hugs were in order. I was just so excited to meet them. We drank our coffee, ate our treats, and talked. We talked about everything from our plane trips, our family life, world news, and of course the surrogacy excitement to come. We also exchanged gifts. I didn't bring anything big. It was just something I'd thought of a few weeks before that I thought would be nice for the moment. I knew Belle and Adam liked Disney (as do we), so I selected a trading pin that fit the moment. Originally I wanted the phrase "Dreams Do Come True", but couldn't find one on my last trip to Disneyland, so I settled on a pin that says Believe in Magic 2013", which I thought was equally perfect. I was going to get her the Fifty Shades series too since we had just been talking about it, but opted out the night before we flew out. I wasn't sure if a kinky sex series would be appropriate for a first visit. Maybe next time. Haha! Belle and Adam got each of our kids a teddy bear that says London on it. They totally love them! They also got me some yummy tea (what better gift can you think of from London?) and some headbands (yes, I'm sure you can tell from my photos that I'm a headband freak).
The bears that Belle and Adam got our kids. They love them!
Time flew before we had to head over to the clinic which was just down the street. The outside of the building was nothing special, but the inside of the office was very nice. I'm a sucker for interiors as those of you might remember that before I became a SAHM, I was an interior designer and have designed quite a few medical office buildings in the past. I'm sure I'll go back to it when Linc is in school. Brian and I chatted with Belle and Adam in the waiting room while we... waited of course. Brian informed me that the clinic had one of the best bathrooms he's ever been in before. For those of you that haven't guessed why a fertility clinic would have such an awesome bathroom yet; It's because the restroom was loaded with porn. I'm sure that's information I could have lived without. I doubt the thought would have occurred to me. Our first task was to take pictures. The office personnel took pictures of each of us for the file so they could put a face with our names for future office visits. After that it was time for blood tests. I hate needles, but I got through it. I think there were about 5 vials in all. Next I got to pee in a cup while Brian did his blood draw. Unfortunately Brian pee'd when we first got there so he had to gulp down lots of water for the rest of the visit in order to work up some more pee. Next we got to meet with the doctor who answered all of our questions. He was super nice! He talked about his role in the process and even answered some of my concerns about my wonky cycle which hasn't been cooperating since I stopped breast feeding and started the pill. I guess there is nothing to worry about. Next up on the list was paperwork. It was just a few legal forms talking about the tests we were doing that day as well as the medications and transfer procedure(s) to come. Then it was off to do my ultrasound of my uterus. Typical procedure at first. Undress from the waist down, legs up into the stirrups (which my ultrasound tech noticed matched my nicely painted toenails), lay back, and say hi to Mr. condom covered wand. It wasn't so bad at first. They just took a look at my ovaries which looked great for someone currently on the pill. Next up was a look at my uterus. In order to do this they would need to inflate my uterus so they could see it clearly. She inserted a speculum, cleaned my cervix, then inserted a catheter into my cervix. Now comes the uncomfortable part. She inserted a liquid that filled my uterus like a small balloon. It was enough of a surprise that I sat up and tried to back off of the table but not bad enough to make me cry. It was just extreme pressure. She took her picture quickly and then it was done. Phew! That was a relief. On top of that my uterus looks great so that was a double relief. I had some light spotting for the next couple of hours, but no pain at all (although she said there might be cramping). Last up was going over the surrogacy meds. They actually didn't seem that bad. First I'll take Lupron, which is an injectable drug that suppresses the ovaries (we don't want my ovulation cycle to throw the timing off). She showed me how the needles work and how to inject them. It's really just like taking insulin for diabetes which I'm familiar with since my father in-law takes it. She also talked about the progesterone I will be taking to build up the lining of my uterus. This will be a pill inserted into the vagina thank God, because I heard that those progesterone in oil shots hurt like no other. After that we all talked about what's to come as far as a timeline and we were done; Well all except Brian who was still in the bathroom trying to coax some pee out. Haha! When the visit was over we all said our goodbyes. Belle and Adam needed to head out to the airport and we needed to head out to New York City (we were extending our stay). I was sad to say goodbye, but I know we'll see them again soon. Our next trip will be even more exciting. Yay for transfer day!
As soon as we left I was kicking myself. I can't believe I didn't take one picture!!!!!!! I'm a picture freak! What happened??? I think I was just having so much fun that I completely forgot. I can't post pictures on here anyways, but it would have been nice to have one for myself to document our first time meeting and the beginning of this great journey together.
So to make up for the lack of pictures from our visit, here are a few pictures from our extended day in New York City. I couldn't pass up the opportunity to check out such an awesome city as this was my first time to the east coast. We had a blast!
I met The Cake Boss (bobble head)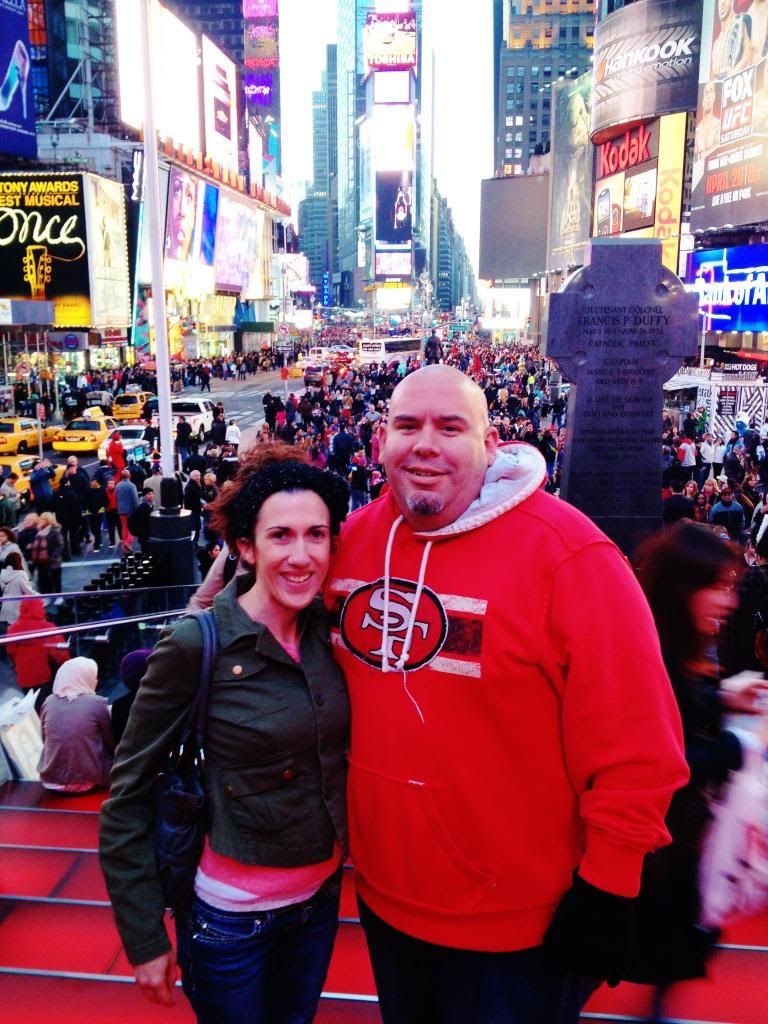 Brian and I in Times Square
Brian and I at The Statue of Liberty

Brian and I on the Spirit Boat Dinner Cruise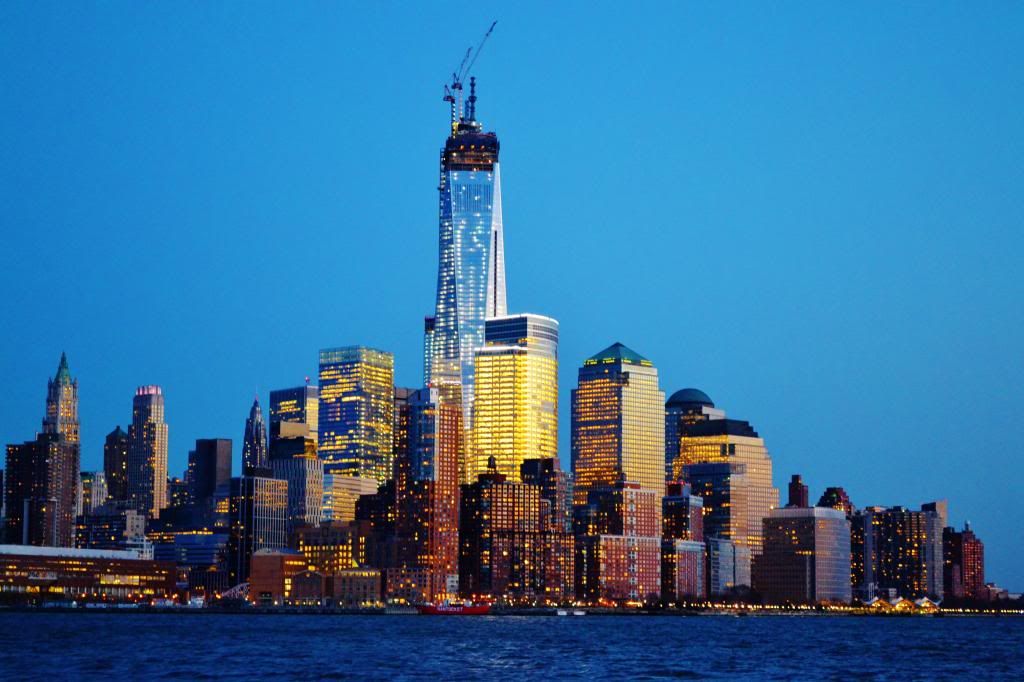 The new World Trade Center under construction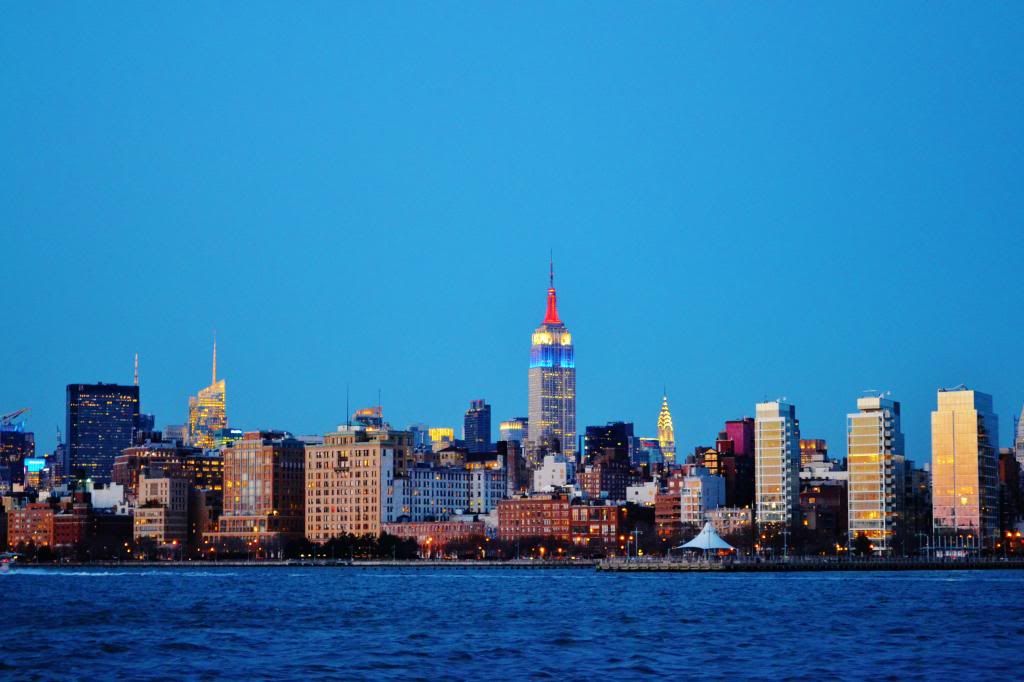 Love the lights on The Empire State Building
Don't forget to check out my
"Surrogacy"
tab at the top of this page to catch up on any posts you might have missed
*Some of the names in this post have been changed to protect the identities of those involved in this journey