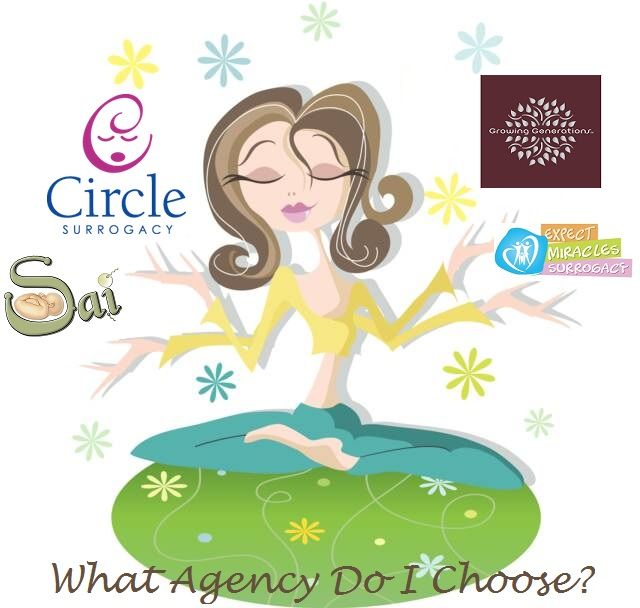 Well, it's been a week since we made our official decision to become a surrogate. Since then I've been researching agencies like crazy to see which one feels like the best fit for us. Actually I started researching agencies about a month before we made our decision, but just this past week I dove head first in and really took a close look at each one.
So what is an agency you ask? An agency is who you can rely on to coordinate all the different steps that go into surrogacy. They screen all parties to make sure everyone is physically and mentally ready to make this journey. They pair up surrogates with intended parents based on legal factors, personality factors, and what each party wants to get out of the relationship. They coordinate all the legal work (oh the contracts that go into surrogacy). They coordinate the surrogate, parent(s), fertility clinic, egg donor, lawyers, and all other parties involved. Sometimes you just don't realize how much goes into creating this little miracle, and I personally just felt more comfortable leaving all this planning in the hands of an agency that can make the whole process run smoothly.
So where did I start? I started with my good old friend Google of course! Where else would I start? Haha! It was at that point that I realized this was going to take a lot more research than I had planned. There are tons of agencies all over the US, and because California is such a surrogate friendly state, there were enough agencies in California to make my head spin. Who should I go with? Which one is the best? I needed some help. My next step was to search for online communities for surrogates. I needed advice from those who had already, or are currently going through an agency. I wanted to hear the good, the bad, and the ugly. Let me tell you, that's exactly what I got. I found three different chat forums that really helped me out.
Surrogate Mothers Online
and
All About Surrogacy
are both online communities for surrogates and those looking for surrogates. I also found a group on Facebook called
Surrogate Mothers
. I find it convenient since I'm a Facebook freak. Yes, I can admit it. They've all been great resources for me to ask all the questions I have about surrogacy and to search out feedback on different agencies.
Once I got a good feel for what was out there, Brian and I talked about what we wanted in an agency. We decided that we wanted an agency that was well established, personable, and gave us an overall good feel. With that in mind, these are the agencies that I ended up contacting:
Growing Generations
- I was interested in Growing Generations because it's one of the biggest agencies in the US and located in Beverly Hills California, so I wouldn't have to travel far for the initial meetings and embryo transfer. The downside was that I kept hearing bad feedback from other surrogates about this agency. Surely there had to be a reason the company was one of the biggest though. They can't be that bad. That being said, I found them quite nice when I contacted them. They even answered my questions about the bad feedback which I thought was awesome of them to address.
Surrogate Alternatives Inc.
- What drew me to Surrogate Alternatives was the personable factor. It just seemed like out of all the agencies, they really put a lot of effort into getting to know their surrogates and keeping the communication open between them. They hold monthly meetings and yearly family vacations. They are also located in San Diego California, not too far away, and who wouldn't want to visit San Diego? That being said, San Diego is still about 8 hours away so monthly meetings isn't quite a realistic vision for me.
Expect Miracles
- I went against the grain on this one. Expect Miracles isn't as established as the other agencies I was looking into and they're not as big either. What made this agency stand out was just how highly recommended they were. Everyone on the chat forums was talking about them. I also liked that they are based in San Diego, but low and behold they have monthly meeting in of all places... Fresno! Yep! Right in my home town. Brian and I actually went to one of the meetings and got to meet with one of their coordinators. I loved how honest and sweet she was. Unfortunately we had some misunderstandings that we couldn't get past in the end.
Circle Surrogacy
- I also went against the grain on this one. I was going to stick with California agencies, but Circle is actually located clear across the US, in Boston, MA. Two of my friends are with Circle (one a surrogate, and one an intended parent). They both raved about how great Circle is and after I contacted Circle myself, I had to agree. They are also a very large, well established agency, which is what Brian was looking for. Although they're clear across the US, they do all their screening via Skype, phone, and e-mail and medical screening is done at the fertility clinic of the parents choice, so the fact that they're so far really doesn't matter.
So who did I decide to go with??? I decided on Circle. I love how quick they are to respond and how super nice they are. I also like that they are a well established agency that's been around for awhile. I know they're not in California like I had planned, but I really don't ever have to go to their office so it really doesn't matter where my agency is. I've already passed their initial application and now they are evaluating all my medical records, health insurance, and background It's a whole lot of paperwork, but I know it's totally worth it and I'm excited to keep moving forward.
*Don't forget to check out my
"Surrogacy"
tab at the top of this page to catch up on any posts you might have missed*