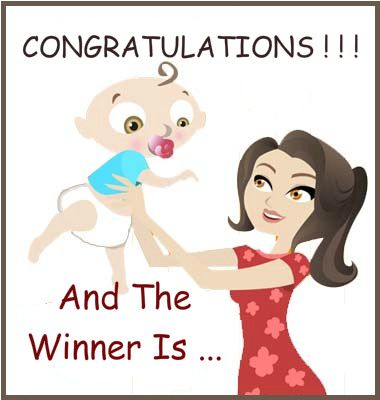 Congratulations To My Lucky Winners ! ! !
You are the winners of the
September Fitted Diaper Event Giveaway
.
There were
7457 entries
for this giveaway. Out of those entries
the following were chosen via Random.org
#4266 Angela M. (BUNNZOO Fitted Diaper)
#5219 Ada M. (CutiePaTooties Fitted Diaper)
#2720 Ashley K. #7272 Geri S. F. (Dippee Dypees 25%off)
#1870 Holly (Falling Star Crafts $30 GC)
#3572 Olivia L. (La Petite Krott Creations $20 GC)
#5479 Alisha L. (Little Seedlings Fitted Diaper)
#6945 Melanie M. #4434 Sabrina B. R. (Mommy Loves Maddy $25 GC)
#5995 Julie K. (My Diaper Addiction Fitted Diaper)
#7355 Bekah K. (2 Patty Pants Fitted Diapers)
#2768 Carrie C. (Poodelum & Missy Kate Fitted Diaper)
#488 Celeste I. (PoopsieDoodles Fitted Diaper)
#3326 Ashley B. (Red Barn Cloth Diapers Fitted Diaper)
#6522 Shanne C. (Tangerine Baby Stalk Free Pass)
Congratulations again! I'm sending you all an e-mail to claim your prizes.
*Note: If the winners of this giveaway do not respond in 48 hours then a new winner will be chosen.