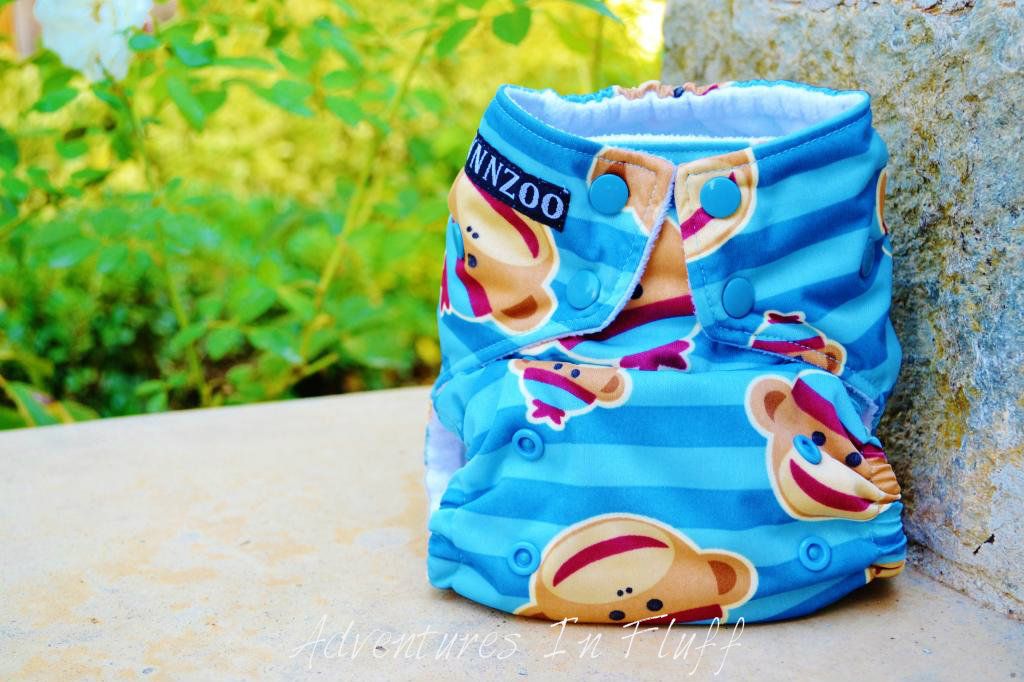 The first BUNNZOO diapers that I tried, I won off of another blog giveaway. They were two of her pocket diapers. I was super amazed by how well they fit and how easy they were to put on. They were pretty cute too. If you check out my
most recent stash video
that I did last summer then you'll see that although I'm veering away from pocket diapers, BUNNZOO pocket diapers are one of my favorites of the pocket diapers I still use. Last month you might have seen my review of the BUNNZOO fitted diapers. Now I'm excited to review their pocket diapers for you. Check out what I have to say below.
Diaper Features:
Sizing: One Size fitting babies from 10-35 lbs via a snap down rise or button hole elastic
Closure: Snaps (2-3 on each wing) - Hook and Loop is also available
Exterior: PUL (also available with cotton exterior and hidden PUL layer)
Interior Lining: Microfleece (also available with Velour interior)
Insert: Microfiber & Zorb or Microfiber & Velour
Manufactured: NE, USA

Approximate Retail Value: $18.95


Ease Of Use:
♥♥♥♥
♥

- For a pocket diaper I find these pretty easy to use. The pocket is a good size and the inserts fit very well. I also LOVE my two snap BUNNZOO diaper. It's so fast to put on. If you have multiple children of different sizes I'd go with the snap down rise, but if you don't have to worry about changing the rise then I like the clean look of the button hole elastic.
Adjustability & Fit:

♥♥♥

♥♥

- I love the fit of this diaper. It fits awesome around the legs creating a secure yet comfortable seal. The waist also fits very nicely. Linc is on the last setting without using snap covers, but once he starts walking I anticipate that he will slim down a bit. The legs don't get super small, but it looks like it would fit a 10-12 pound baby. It's pretty typical for one-size diapers not to get super small or super big though, so I'm not surprised by this.
Leak Protection:

♥♥♥♥

♥

- These diapers work pretty well on leak protection. It's not my nighttime solution diaper, but it works great during the day. I use two inserts if I'm going out and about for quite awhile or just one insert if I'm at home or going on a quick outing.
Wash Routine:

♥♥♥

♥♥

- It's a pocket diaper, so you do have to stuff this diaper each time you wash it which can get tiring after awhile. I do like that the covers dry super fast when I lay them out though and I don't have to worry about hook and loop closures sticking to everything in the wash.
Bang For The Buck:

♥♥♥

♥♥

- This is about average pricing for a pocket diaper. Being a one-size diaper you should get a lot of bang for your buck though.
Quality & Durability:
♥♥♥♥
♥
- I find the quality and durability of these diapers to be pretty good. I've only had a problem with one of her diapers where the seam came out, but she replaced it very quickly. All other diapers have had super nice seams, with a very consistent and clean look.
The Look:

♥♥♥♥

♥

- Being a work at home mom business, BUNNZOO has some very cute prints and variety. They aren't my absolute favorite, but they're definitely not boring.
In Conclusion:
I really like the BUNNZOO pocket diapers and would definitely
recommend
them to anyone looking for a one-size pocket diaper in cute prints. I personally am getting too busy to stuff pocket diapers, but I do love the BUNNZOO flat fold inserts that give me the option to lay them inside the diaper instead of stuffing the diaper. I love having options! My only complaint is that the website is a little confusing. I'd love for the diapers to be labeled a bit better as an AIO, pocket, AI2, etc. and label what the diaper is made out of since they vary so much.
_________________________________________________________________________________
** Please note that while I aim to provide the most thorough and honest reviews possible, this review is based on my own preferences and experiences. Each baby is different and each parent has different likes and dislikes. What works for one may not work for another, so keep that in mind while doing your research.**
**Just a heads up. BUNNZOO
is sponsoring an awesome prize for the Thankful For Fluff Giveaway. Check back here from November 1st - November 14th for your chance to win.**
**One of the above products were given to me for the purpose of a review, but the review is comprised completely of my own opinions and was not influenced by any other outside source.**