It was almost a year ago that Lincoln entered this world just a day shy of Halloween. We even made it home in time to dress up and pass out candy the day after he was born. I'm pretty sure even at that moment I knew that I would celebrate his 1st birthday in spooktacular style. Oh yes, a Halloween bash was already in the making. If you've been following my
Birthday Pinterest Board
then you probably already know that I've been pinning party ideas for the past couple of months. I'm so sorry if your Pinterest dashboard has been swamped with kids Halloween party ideas. I admit I went a little bit crazy with the pinning, but it wasn't for nothing. I actually used quite a few of my party pins to create this awesome event that I will never forget. Check out my photos below to see just how spooky Linc's 1st birthday was.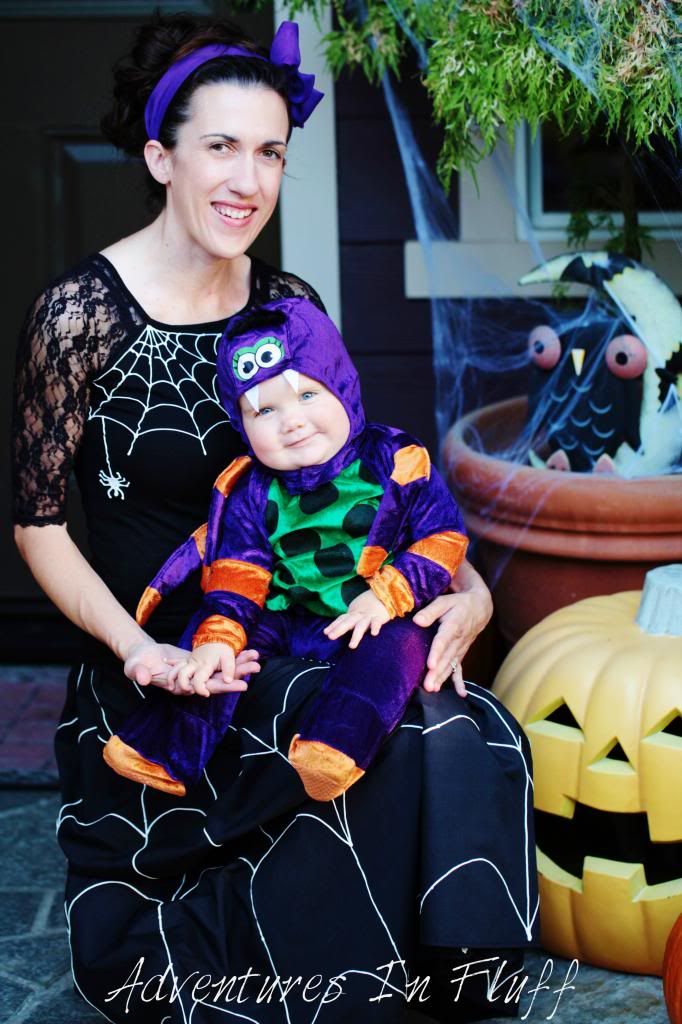 The spider and the web. I bought the skirt from the thrift store and used fabric puff paint to add the webs. The shirt was already in my closet and I added webs to that one too. I borrowed the cute headband from my girls. I got Linc's costume pre-packaged. Idea Source: Martha Stewart
Oh how I love this little spider! I'm pretty sure he's the cutest in the world, and no I'm not just saying that because he's stuck in my web.
My dessert bar setup. Instead of doing one big cake I did several different kinds of desserts. I covered the entire house in spider webs. It looked awesome! I will say that my hubby did not appreciate me covering the TV with webs during the World Series Giants game though. Haha! Oh, and it was not fun taking all these webs down.
This is Linc's birthday cake. I got the idea from a pinterest pin I had found. Basically it's a huge cake pop ball (mix crumbled cake and icing till it's sticky and form in a ball) frosted in chocolate frosting (I tapped the frosting with a spatula to get the hairy spider look), then I added white icing and M&M's for eyes, chocolate icing for legs, and white icing for the spider web on the plate. I filled a Ziploc bag with icing and cut a small hole in the corner in order to do all the detail work. Idea Source: Hungry Happenings &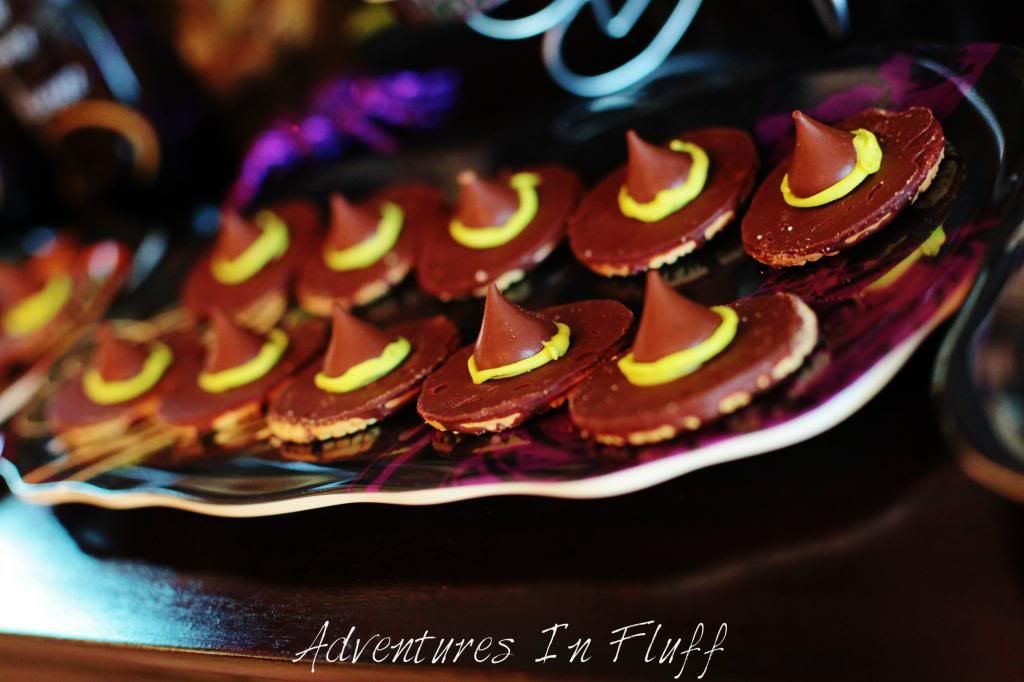 These are witch hat cookies. They're basically striped fudge cookies with a Hershey kiss on top secured with a dollop of green tinted white chocolate. Idea Source: Explore Dream Discover
No rhyme or reason to these cookies. I just iced Oreos with purple chocolate and topped with chocolate chips. The fit the color theme. I guess you could say they are 4 eyed monsters. Yum!
These were the hit of the party! I got the idea for these graveyard brownies off of Pinterest. I only wish I would have got to try one. I hear they were great though. Ok, I searched high and low for the source of this idea but I can't find it. You might find it on my Pinterest board. It's basically a brownie with a cookie stuck in it that I wrote on with chocolate icing. Oh! and I sprinkled crumbled oreos over the brownies before baking them. The worms were stuck on with icing.
Mummy cupcakes and spider cupcakes. These were my fave. I love cupcakes. For the spiderwebs I just frosted in chocolate then piped white chocolate in circles (like a target), then used a toothpick to drag from the center to the outside creating a web. The mummies were iced with white icing then I piped white icing in a zig zag pattern on the top adding M&M's for eyes. So easy! Idea Source: Skinny Taste & Bakerella
Ok, I know what you're thinking... these do not look like mummy pretzel sticks. Well, sometimes Pinterest makes things look easier than they are. Boo to my ugly mummy pretzel sticks! A word to the wise... just buy the pre-made eyes. Idea Source: The Idea Room
For a slightly healthier option I decided to make these super yummy candy corn cups (no candy corn included). On the bottom is vanilla pudding. The middle is mandarin oranges. The top is low fat whip cream. I kept these in the fridge till dessert time so they were nice and chilled. Idea Source: The Butterfly Jungle
For party snacks I tried to lean on the healthier side. The first snack I did was an apple dip tray. My mom used to always make this apple dip. It's just one package of cream cheese, one jar of marshmallow fluff, and 1/4 teaspoon of cinnamon. So good!!!!! I added the blueberries for color. I also did a veggie tray similar to this one with carrots, celery, & orange bell pepper. For the chip lovers I had tortilla chips in a black cauldron and salsa. I love the pumpkin bowls! Got that idea from Pinterest. Idea Source: Martha Stewart
I found these super cute buckets in the dollar section at Target. By the way... items in the dollar section at target cost more than a dollar. Hmmmmm... Anyways, I got the treats from the dollar store (actually a dollar). I included stickers, spider rings, glow sticks, candy, straws, and more. The babies got spooky rubber ducks, toddler breakfast bars, toddler fruit sticks, and some candy for mom and dad. Hehe!
Each of the kids got their own pumpkin to decorate. I spread foam stickers over the table and put markers and crayons in the buckets for the kids to use.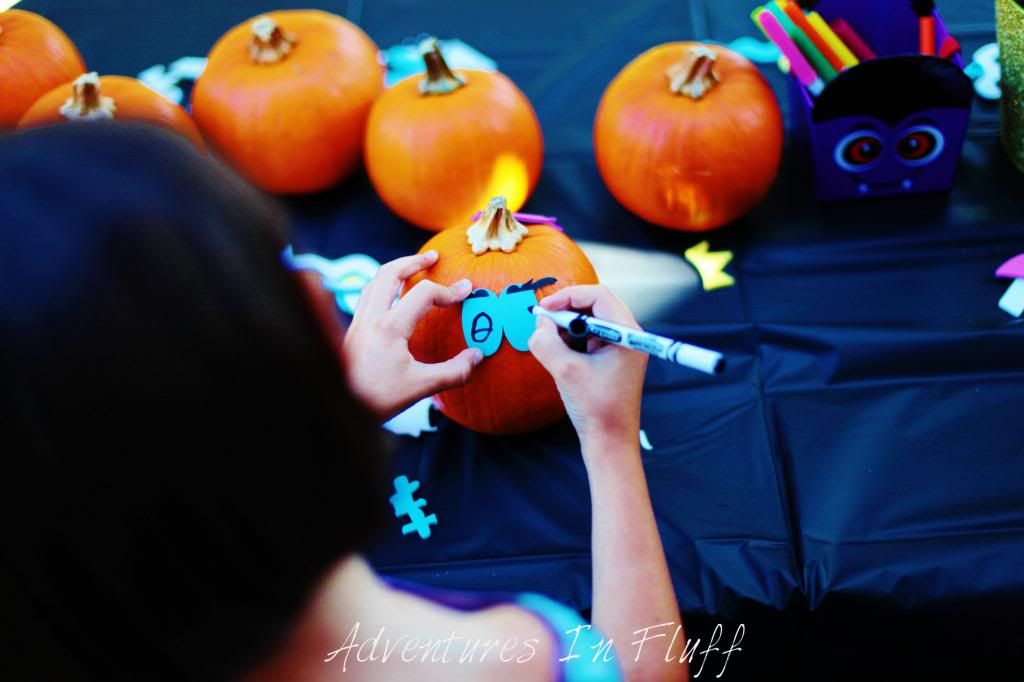 My daughter the artist.
I got this idea to do bats across the wall in different sizes. I created the template myself and printed it on black paper. It was VERY time consuming to cut them out but they looked AWESOME!!!! I just stuck them on my sliding glass doors with a small folding piece of tape on the back. You can even bend the wings so they look more 3D.
Happy Birthday Lincoln!!!!
Oh yes... gotta love getting messy.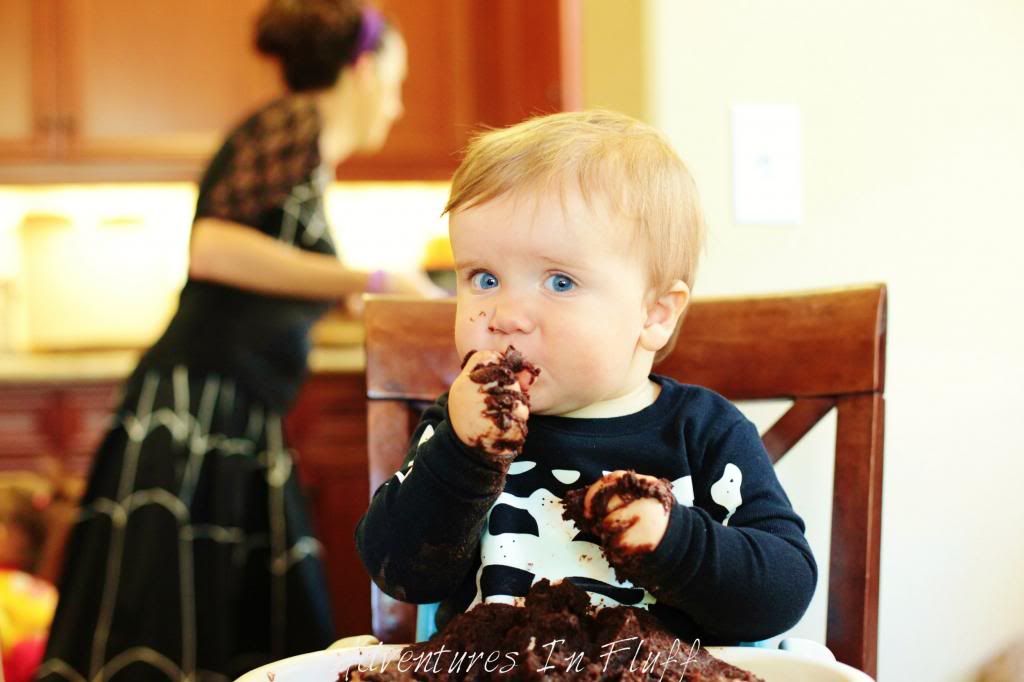 Yum Yum!!!
Had to throw in a picture of my cute tights and shoes. I really loved how my costume came out.
Items Not Picured:
I had a whole mess of awesome decorations from the dollar store. Yes! Don't count out the dollar store for great decorations!
I did a cute creepy haunted mansion on construction paper with 13 windows in it. Each window had a picture of Linc from each month (including when he was born). Adults had to guess what month each picture was taken. I also did a Linc trivia game with questions such as what day he was born, what time, how much did he weigh, what was his first word... etc.
I had a spooky witches brew green lime punch bowl in a black cauldron. Yum Yum!
Tips on creating your own awesome bash:
Start Setting Up EARLY!!! I started setting up for this event 2 days early. 2 days before the event I decorated the entire house. Yes it was hard keeping the kids away from the decorations, but it was totally worth it! The day before the event I baked all the desserts & decorated the outside of the house. I also build Linc's gift that night. The morning of the event I set up the tables outside (should have done this the night before) and set all the food out. The earlier you start the less stressed you will be at the party. After all, you want to have fun too!
Don't over-think your party with games. Half my kids were babies (10 in all). They are totally happy just playing with toys on the floor or walking around with mom and dad. Half my kids were 3-7. Yes, you could do games with this age group, but they are more than happy to run around in the backyard. I'm just saying don't stress about it because they'll have fun either way. I did have two games for the adults but realized I shouldn't have bothered. Adults just want to hang out and have fun talking. After all, how often do we all get together now that we have kids?
Know your time-line. I like to plan out the party and keep a mental time-line in my head of what should happen when. Guests arrive at 11, play and chat till 12. Food from 12-12:30. Cake at 12:30. Desserts and gifts at 12:40. Part is over at 1.
That brings me to my last tip... pair up desserts and gifts together. Guests will be sitting there eating cake anyways so you might as well do gifts while they're all sitting there.