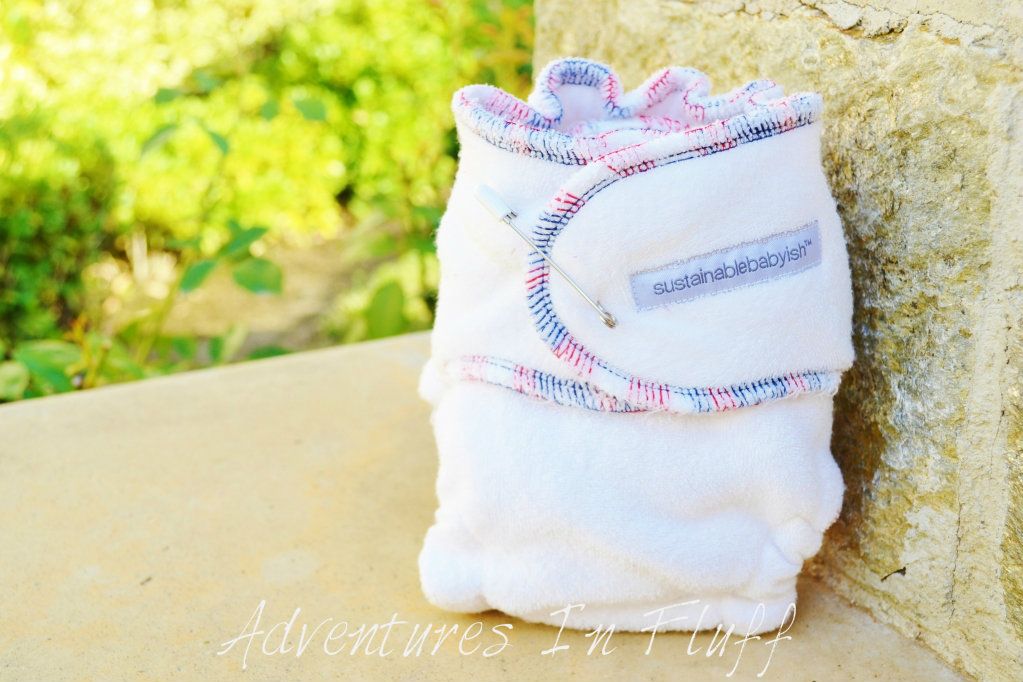 Sustainablebabyish, A.KA. - Sbish, A.K.A. - SLOOMB, A.K.A. - The Magic Diaper. Who wouldn't want to try a diaper that's labeled "The Magic Diaper"??? This diaper has been noted to be a sure bet solution to all babies nighttime and heavy wetting woes. Now, I would say Linc is about an average wetter, but I still could not resist testing out this squishy tushy diaper. I actually tried their sized snapping organic bamboo fleece diapers when Linc was small, but this time around I decided to test out their much more versatile one-size diapers instead.
Diaper Features:
Sizing: One Size diaper fitting babies 10-35 lbs via a fold down rise.
Closure: Snappless (You can use pins, a Snappi, Boingo, or tight fitting diaper wrap to hold your fitted closed)
Exterior: Heavy organic cotton/bamboo terry with serged edges and turned and topstitched leg elastic.
Interior Lining: Heavy organic cotton/bamboo terry
Soaker: Includes 2 - three layer bamboo fleece soakers that lay into the diaper.
Manufactured: USA

Approximate Retail Value: $20.97
Ease Of Use:
♥♥♥
♥
♥

- I thought this diaper was going to be so easy to use. I'm pretty good with a Snappi and I felt that the terry fabric would be so easy to Snappi, but for some reason it does NOT Snappi well for me all the time. Sometimes it works, others it does not. I did attempt pins, but I'm not a pro at pins and the fabric seemed too thick to pin easily. So what do I do? I just wrap and stick a cover over the diaper without securing it closed. It works, but I really wish I could get a Snappi to work all the time without a hassle. I do think adjusting the rise for size adjustments is easy though. You can't get much easier than folding down.
Adjustability & Fit:
♥♥♥♥
♥
- I like the fit and
adjustability
of this diaper when I can get the Snappi to work. I got it to work today. I love that the leg elastic is encased so it's very cushy and soft, but the rest is serged so the wings have a nice stretch to them. I love that I can fold down the rise to any adjustment I want and I'm not limited by snaps as far as the waist size. That being said, I do think this would be a bit bulky on smaller babies so I don't think I'd use it till about 12 lbs. Larger babies shouldn't have a problem. I also love that there are two soaker sizes included so you can use only one on smaller babies, but two on larger babies.
Leak Protection:

♥♥♥♥

♥

- This diaper had pretty good absorbency. I wouldn't use it without a cover, but it's great for a night diaper. The reason I wouldn't use it without a cover during the day is mostly because I couldn't get any closure system to work on it and because even if I could, I don't feel safe having pins or a Snappi exposed. I also noticed the few times I did go without a cover that liquid travels through this diaper quite quickly so when he wet it hit the outside fast leaving me wet if I was holding him. This diaper lasted the whole night for both Linc and Kamryn. *Please note: This diaper does need a cover in order to be waterproof*
Wash Routine:

♥♥♥

♥♥

- Washing is pretty easy with this diaper. Since it has no snaps or hook and loop, I just throw it in the wash with no worries. It's always came out super white and clean every time. This diaper does take awhile to dry though. Half of the fitteds I tested landed in the quick dry category and the other half landed in the long dry category. This one landed in the long dry (about 105 min). Since the soakers are separate from the diaper and do not snap in, you do have to take the time to pair the soakers back up with the diaper after drying. On the plus side, they do label their soakers and the serging matches the diaper so remembering what diaper these soakers go with is no problem at all.
Bang For The Buck:

♥♥♥

♥♥

- At $21 is on the high side for a mainstream fitted diaper, but then again, this is the "Magic Diaper" that we're talking about. It's also a one-size diaper so you won't have to worry about sizing up.
Quality & Durability:
♥♥♥♥♥
- The quality and durability of this diaper seems top notch! Yes, it's a serged diaper so you're going to get a frayed look on the edges, but that's just the nature of serged diapers. Other than that it looks like top quality materials with top quality construction all the way down to the little tag that brands their name. This diaper is going to last you awhile. The terry fabric has also kept it's plush softness through many washings. I do love the feel of plush, soft, terry.
The Look:

♥♥♥

♥♥

- If you're the type that likes all your diapers to look clean, fresh, and white, then this diaper is for you. It's like fresh white towels on a warm summer day. They also come out with seasonal custom serging colors around the edges of the diaper and the soakers. I got mine in a 4th of July (red, white, & blue) color scheme. It adds just a little touch of color that is refreshing. That being said I'm a color girl so I'd like to see some colored terry selections one day. If I was to use this diaper I'd have it under a cover anyways, so I guess it wouldn't matter.
In Conclusion:
I would recommend this diaper to those looking for a diaper for their heavy wetter at night or during the day and plan to use it with a cover. This would also be a great option for someone who has two in cloth that are at different ages since the snapless feature makes size adjustments super easy. If you're not keen on using a snappi or pins then you might want to check out Sustainablebabyish's snapped version instead though. I know I personally seem to be snappi and pin challenged. Yes, I can admit it. I should work on my skills.
_________________________________________________________________________________
** Please note that while I aim to provide the most thorough and honest reviews possible, this review is based on my own preferences and experiences. Each baby is different and each parent has different likes and dislikes. What works for one may not work for another, so keep that in mind while doing your research.**
For more information on the diaper testers, please check out my post,

"
Meet the Diaper Testers
".
If you would like to purchase one of these diapers for your little one, then please visit Planet Bambini. Planet Bambini is my local cloth diaper store that carries a wide variety of cloth diapers as well as mom, baby, and natural products. If you're not local to my Bakersfield, California, then she's also got free shipping on orders over $35! You're just a SLOOMB Snapless Multi Fitted and a cover away from free shipping. Haha! That's how I look at it anyways. I'd like to thank Planet Bambini for making this review possible by donating this diaper. Thanks Planet Bambini!!!!
**This product was given to me for the purpose of a review, but the review is comprised completely of my own opinions and was not influenced by any other outside source.**
So you can easily keep track of the September Fitted Diaper Event, I will add a link to each of the posts below. No need to worry if you've missed one of the reviews. I've got ya covered!