I remember when I first started looking into cloth diapering over a year ago and I came across the Nifty Nappy line on Sweetbottoms Baby Boutique. Let's just say I was more than a little disappointed and sad when I heard that Nifty Nappy was no longer going to be making their diapers. They looked so cute and I just really wanted to try one. After awhile I almost forgot about the Nifty Nappy line of diapers till a friend said that she had found a seamstress that was licensed to create and sell Nifty Nappy diapers. That seamstress was Red Barn Cloth Diapers. I was so excited to finally be able to test out one of these well known diaper lines and see just what all the fuss was about. What better time to test them out than the September Fitted Diaper Event.
Diaper Features:
Sizing: One Size fitting babies from 7-35 lbs via a fold down rise & crossover snaps. Here is a tutorial on how to use the fold down rise.
Closure: Snaps (4 on each wing) with crossover wings.
Exterior: Cotton Knit
Interior Lining: Microfleece
Hidden Layers: Organic Hemp Fleece
Soaker: Rectangular fold to fit soaker with one layer of organic hemp fleece and one layer of organic bamboo velour.
Manufactured: USA

Approximate Retail Value: $23.50
Ease Of Use:
♥♥♥
♥
♥

- This diaper is fairly easy to use. I love that the soaker is small so all I have to do is fold it up and secure the diaper. No additional folding of the soaker is necessary unless you have a newborn. Even then the soaker is thin so folding is very easy. I do not like that there are 4 snaps on each wing of this diaper though. It takes awhile and with a squirmy baby I don't have a lot of time.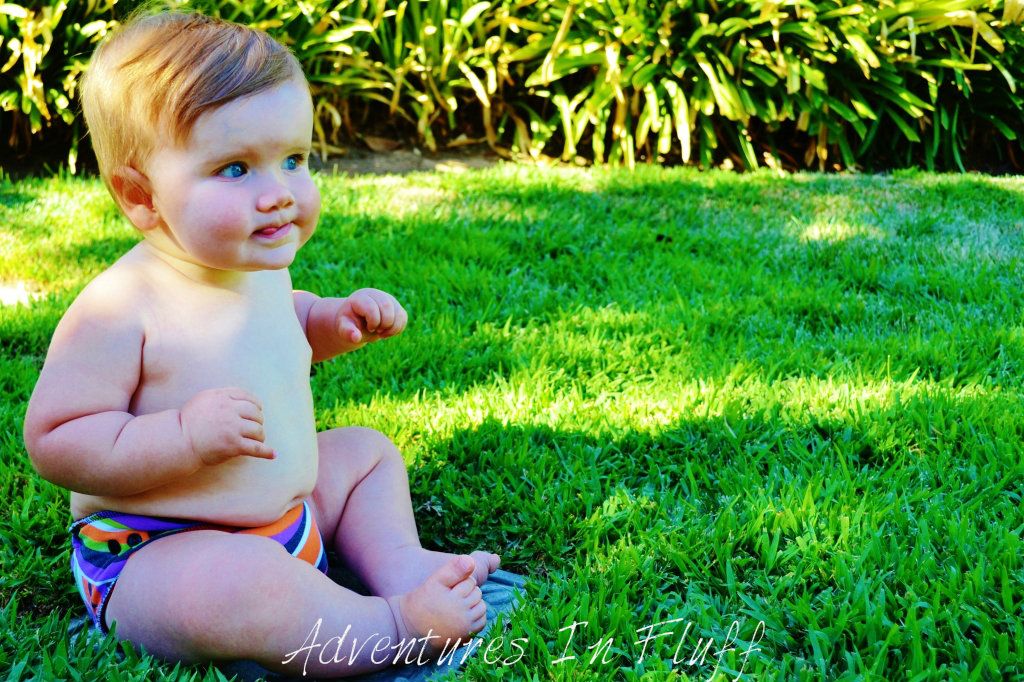 Adjustability & Fit:

♥♥♥♥

♥

- I really like the fit of these diapers. The stretch is pretty good (not super stretch, but good), and it 's not overly bulky (it's actually quite trim). I also feel that this diaper would work well on a newborn as well as a toddler. That said, I'm not sure if it will work on Linc as a toddler. He's a chunky monkey and he's already on the last snap setting at 10 mos. So he either needs to start walking and thin out, or we'll need snap covers to keep using this diaper much longer.
Leak Protection:

♥♥♥

♥♥

- This diaper did not leak when I used it at night so that was great, but it was touch an go without a cover during the day. Sometimes I could use it awhile and it would just feel cool to the touch or damp when Linc pee'd giving me plenty of time to change him. Other times he wet through it and I had to change him instantly. I guess it just depends on how much your baby pees. Our other testers (Jessica and Kamryn) were able to use this diaper 2.5 hours before it felt damp.
*Please note: This diaper does need a cover to be waterproof.*
Wash Routine:

♥♥♥♥

♥

- This diaper is pretty easy when it comes to the wash routine. I just toss it in the wash (no need to worry about hook & loop), and then toss it in the dryer. Dry time on this diaper is about 75 minutes, so it's pretty fast for a fitted diaper. The only downfall is that the soaker does not snap in so I do have to match the soaker with the diaper after taking it out of the dryer. At least it's a really distinguishable soaker so I always remember what diaper it goes with.
Bang For The Buck:

♥♥♥

♥♥

- At $23 this diaper seems about average for a WAHM diaper. It's also a OS diaper so you don't have to worry about sizing up over the years which is great.
Quality & Durability:
♥♥♥♥
♥
- The quality and durability of these diapers seems pretty good. I didn't have any problems with the one I have except that one of the wings seems to always want to flip up. Maybe I should try ironing it out. Not sure if that would help. Other than that it looks great.
The Look:

♥♥♥♥

♥

- I think these diapers are very cute. They have some super cute prints to choose from and I like the look of a serged diaper. It gives it a cute ruffle look where all the elastic is (sorry Linc if that makes you look girly). I also love the nice trim look of this diaper. It's not overly fluffy.
In Conclusion:
So what are my final thoughts on this diaper? I would recommend this diaper to those that have a light to average wetter that is small or average in size. This might not be the diaper for a super heavy wetter or a super chunk (I'm talking really super chunk because it still fits on Linc). So if you're looking for a super cute diaper for your child during the day then this diaper might be for you! I love it and would totally consider getting another one for Linc.
_________________________________________________________________________________
** Please note that while I aim to provide the most thorough and honest reviews possible, this review is based on my own preferences and experiences. Each baby is different and each parent has different likes and dislikes. What works for one may not work for another, so keep that in mind while doing your research.**
For more information on the diaper testers, please check out my post,

"
Meet the Diaper Testers
".
If you would like to purchase one of these diapers for your little one, then please visit

the Red Barn Cloth Diapers website

or help support this blog by visiting one of my affiliate stores

:

Sweetbottoms Baby Boutique

.

You can also check out Red Barn Cloth Diapers on Facebook.
**Just a heads up. Red Barn Cloth Diapers
is sponsoring an awesome prize for the September Fitted Diaper Event Giveaway. Check back here from September 28th - October 12th for your chance to win.**
**This product was given to me for the purpose of a review, but the review is comprised completely of my own opinions and was not influenced by any other outside source.**
So you can easily keep track of the September Fitted Diaper Event, I will add a link to each of the posts below. No need to worry if you've missed one of the reviews. I've got ya covered!