If you cloth diaper, then you most likely know about Green Mountain Diapers (GMD). They carry the most popular prefolds on the market, Cloth-eez. I've used their Cloth-eez prefolds and love them. They're just so soft, thick, and squishy. What you might not know is that Green Mountain Diapers also carries a fitted diaper made from their Cloth-eez prefolds. These are called their Cloth-eez Workhorse Fitted Diapers. I bought a few when Linc was just a newborn with snaps, but decided to try them again for the September Fitted Diaper Event without snaps. I was not a fan of the snaps, but this time around I was a lot happier. Check out below to see how they worked for us.
Diaper Features:
Sizing: This is a sized diaper coming in the following sizes - Newborn (up to 10 lbs), Small (9-15 lbs), Medium (15-24 lbs), Large (24-30 lbs), & XLarge (26-36 lbs). For this review I used the XL.
Closure: No-Closure or Snaps. The no closure diaper has wings that are slightly longer. You can secure the no-closure diapers with pins, a Snappi, a Boingo, or a tight fitting wrap.

Diaper Construction: Serged edges with thread color that coordinates with the size of the diaper - Newborn (orange), Small (yellow), Medium (red), Large (brown), XL (green). These are made using the GMD Cloth-eez prefolds which have a 4-8-4 layer construction.
Exterior: 100% Cotton (whitened)
Interior Lining: 100% Cotton (whitened)
Hidden Layers: 100% Cotton (whitened)
Soaker: 100% Cotton (8 Layers whitened)
Performance Review:


Ease Of Use:
♥♥♥♥
♥

- These are super easy to use! All you need is a Snappi and you're ready to go. The soaker isn't really long so no need to fold it, and this is a sized diaper so no need to make a lot of adjustments to the rise of the diaper. Prefold material is the easiest to use a Snappi with so I can get it hooked in super fast. Without a Snappi is a little more difficult, but it's doable. I'm just not skilled in the pins department.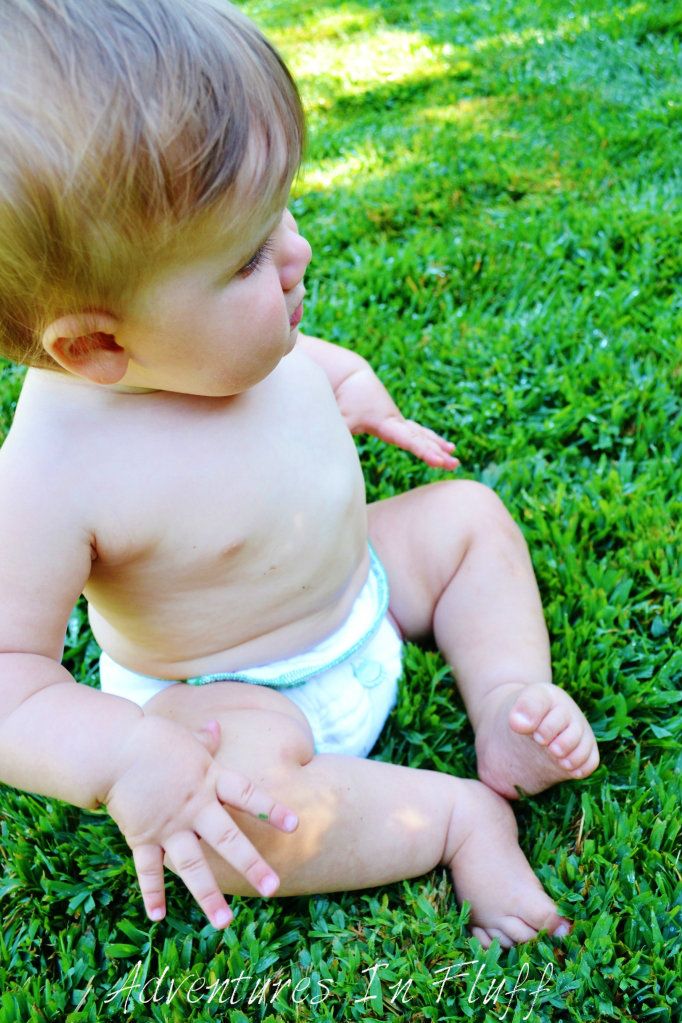 Adjustability & Fit:

♥♥♥♥♥

- The fit of this diaper is great! It's a sized diaper so you get a customized fit for each size range and it's a snapless diaper so you get a customized fit around the waist and legs depending on how you put your Snappi on. Now, I did try these with snaps when Linc was a newborn and did not like the diapers with snaps. I got leg gaps and not a great fit at all. I would totally go snapless on this diaper.
Leak Protection:

♥♥♥

♥♥

- I would say that this diaper is average as far as leak protection. It does the job it's meant to do. With a cover it does great, but without a cover the outside would usually get wet with the 1st pee. Linc did last the whole night without leaking which really amazed me. If you have a heavier wetter though, I would get an extra doubler to throw in there. I also wouldn't wear this diaper without a cover unless you have an extra doubler, but then again I always like to have a cover over a snapless diaper. *Please note this diaper does require a cover in order to be waterproof*
Wash Routine:

♥♥♥♥

♥

- These are super easy to wash. You don't have to worry about snaps or hook and loop. You just throw them in the wash and you're ready to go. You also have the extra added bonus that the soaker is sewn in so you don't have to hunt it down after the wash is done. These do take awhile to dry though. They fell into the 105 min dry time category for me in the dryer. I also like that they are white so if you need to use bleach or stick them out in the sun, you don't have to worry about colors fading.
Bang For The Buck:

♥♥♥♥

♥

- These might be the least expensive fitted diapers that I'm reviewing. They are definitely a great buy! You're not getting any frills, but they do the job. This is a sized diaper though and that's why I didn't give it 5 stars.
Quality & Durability:
♥♥♥♥
♥
- I've always loved the quality and durability of the GMD Cloth-eez line. The serging is nice and the fabric plumps up really well in the washer and dryer.
The Look:

♥♥

♥♥♥

- You can't get much more basic looking than these. They only come in white and you can't even really pick the serging color. It's all based on the size you get. It doesn't really matter though. This is a diaper meant to go under a cover so you won't really see it anyways.
In Conclusion:
I would totally recommend these diapers for those that are looking for a basic no frills fitted diaper that does the job at a great price. This is probably the best economical fitted diaper you will find.

_________________________________________________________________________________
** Please note that while I aim to provide the most thorough and honest reviews possible, this review is based on my own preferences and experiences. Each baby is different and each parent has different likes and dislikes. What works for one may not work for another, so keep that in mind while doing your research.**
For more information on the diaper testers, please check out my post,

"
Meet the Diaper Testers
"

.
If you would like to purchase one of these diapers for your little one, then please visit

the Green Mountain Diapers website. You can also find Green Mountain Diapers on Facebook.
**This review is comprised completely of my own opinions and was not influenced by any other outside source. I borrowed the above diaper and was not compensated in any way for this review.**
So you can easily keep track of the September Fitted Diaper Event, I will add a link to each of the posts below. No need to worry if you've missed one of the reviews. I've got ya covered!