I came across the Juicytoots diaper line through a local mama that was helping to raise money for her fertility treatments through a diaper auction. I instantly fell in love with this diaper and made sure that nobody outbid me on this one. It's just so squishy, stretchy, soft, and bright, but I'll get to that part later. Juicytoots... I just love the name of this diaper. I can see how some people would think it's gross, but I just think it's totally comical and cute. It's actually interesting to hear the story behind the name. "When my son Brian was 5 weeks old he had Meningitis and Influenza and was hospitalized on strong antibiotics. The antibiotics were hard on his digestive track, giving him the juiciest toots for a long time. This was the time frame that I was developing my diapers and starting to sell them, and he was my biggest inspiration and the reason I made them in the first place, so that's how the name Juicytoots came to be." - Amanda
Diaper Features:
Sizing: One Size diaper fitting babies from 8-35 lbs (10+ lbs for best fit) via a snap fold down rise.
Closure: Side Snapping, 2 snaps per wing
Exterior: Various decorative fabrics (Woven Cotton, Knit Cotton, Cotton Velour, etc.), & Hemp Fleece
Interior Lining: Cotton Velour or Bamboo/Organic Cotton Velour
Hidden Layers: Hemp/Organic Cotton Fleece
Soaker:
Snap-in soaker with 2 layers of hemp fleece topped with 1 layer of velour. Sewn to the back side of the soaker is a 2 layer doubler made of hemp fleece.
Manufactured: USA

Approximate Retail Value: $26
Ease Of Use:

♥♥♥♥

♥

- This is a side snapping diaper, so if you haven't used one then it might be tricky, but once you get used to them you'll love them. I love that there are only two snaps to worry about instead of 3 or even 4 like on some other fitted diapers. I also love that the fold down rise snaps into place so I don't have to constantly fold it down each time. I just leave it snapped. The soaker is a bit long if you have the rise snapped down, but the way the soaker is made with the bottom layer shorter, it's really easy to fold to fit without a lot of bulk.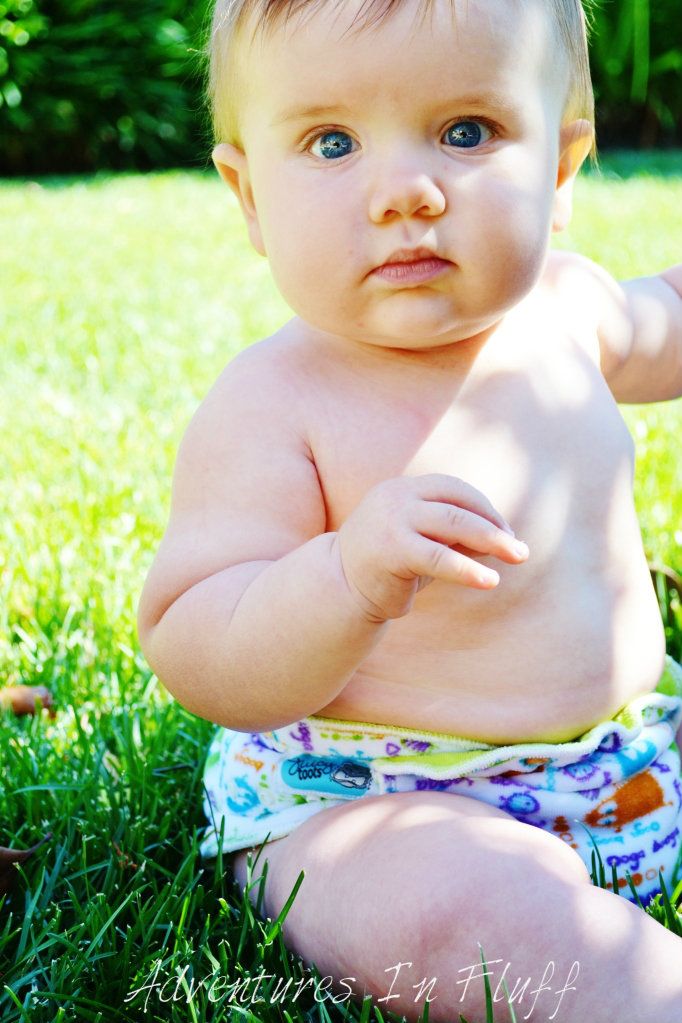 Adjustability
♥♥♥
♥♥
& Fit:
♥♥♥♥♥
- I LOVE the fit of this diaper!!! It's amazing. After testing several diapers I think it comes down to the fact that this diaper is serged on the edges and the elastic is sewn down using a zig zag stitch. It really creates a super stretching fit that just hugs my baby's bottom like no other. That said, I normally don't put two ratings, but I love the fit on this... I just don't think it would fit a small baby. I use this diaper on the smallest setting on my big baby. I think it's better on a baby that is way past the newborn stage and will definitely fit till potty training (unlike a lot of other diapers). Kam & Jessica (our #2 testers) also really loved the fit of this diaper.
Leak Protection:
♥♥♥
♥♥
- The leak protection for this diaper was about average. It lasted the entire night for both Linc and Kam without leaking. During the day it's usually damp or wet when I notice he's pee'd so I feel that the distribution of wetness is pretty good and doesn't soak through the front too fast. I feel completely at ease letting Linc go around the house without a cover with this diaper on, but I would not leave the house. *Please note that this diaper does require a cover to be waterproof.*
Wash Routine:
♥♥♥
♥♥
- Wash routine is about average on these. I throw them in the wash with the soaker attached so I don't have to find it and snap it again, but it does take till my second dry session to dry (about 105 minutes). I also noticed that the sewn on doubler on the back side of the soaker always folds in half so I have to flair it back out when I put it on him.
Bang For The Buck:

♥♥♥

♥♥

- At about $26, I would say this is about average for a WAHM fitted diaper. It is a one-size diaper, but I don't think it would fit well till later so that's why I gave it an average rating.
Quality & Durability:
♥♥♥♥♥
- The durability and quality on this diaper is great! All the serging and stitching looks perfect and the materials are so soft.
The Look:

♥♥♥♥

♥

- I love the look of this diaper. The prints are cute, and the snaps as well as the interior lining match up perfectly to the exterior print. I also love how the diapers look with the rise snapped down. It gives the diaper a pop of contrasting color at the top of the diaper. The only thing I don't like is the words "One-Size" embroidered on the side of the diaper. I could do without that.
In Conclusion:
I LOVE these diapers!!!! They fit like a dream and look so cute! I wouldn't recommend them to someone wanting to use them from birth, but they are awesome for chunky babies and older skinny babies. I've been using this diaper for quite awhile without any leaks at night and feel very comfortable using it during the day at home too. All in all, I love this diaper and would buy another in a heartbeat.
_________________________________________________________________________________
** Please note that while I aim to provide the most thorough and honest reviews possible, this review is based on my own preferences and experiences. Each baby is different and each parent has different likes and dislikes. What works for one may not work for another, so keep that in mind while doing your research.** For more information on the diaper testers, please check out my post, "Meet the Diaper Testers".
If you would like to purchase one of these diapers for your little one, then please visit

the Juicytoots Cloth Diapers website or their Hyena Cart Shop. You can also find Juicytoots Cloth Diapers on Facebook.
**This review is comprised completely of my own opinions and was not influenced by any other outside source. I purchased the above diaper on my own and was not compensated in any way for this review.**
So you can easily keep track of the September Fitted Diaper Event, I will add a link to each of the posts below. No need to worry if you've missed one of the reviews. I've got ya covered!