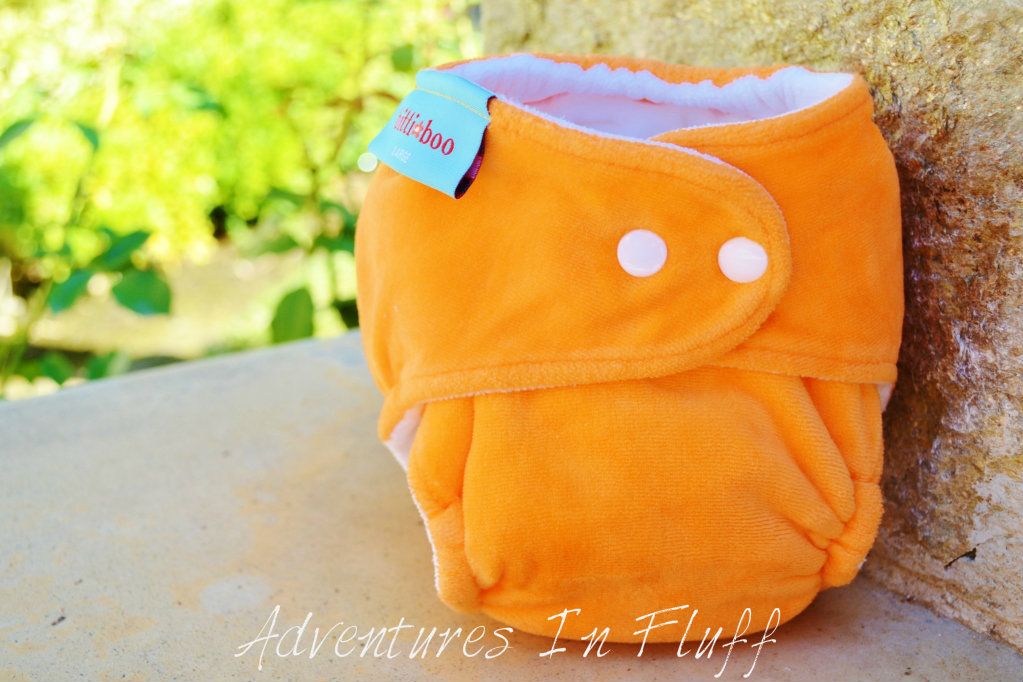 itti bitti is an Austrailian cloth diapering company that I'm sure a lot of you are familiar with. I've tried their bitti tutto one-size diapers, their bitti d'lish sized all-in-one's, their minkee blankees, and now their bitti boo fitted diapers. What draws me to the itti bitti line? Their super soft minkee exteriors of course! Every product is drenched in super soft minkee or velour in bright fun colors that just begged to be touched. So we know the itti bitti line is cute... but how does it stand up function wise? Check out my review below to see how the itti bitti bitti boo worked on my chunky monkey Linc. After all... my big guy isn't so itti bitti anymore.
Diaper Features:
Sizing: Sized diaper (Small 8-16 lbs) (Medium 14-26 lbs) (Large 23-37 lbs)
Closure: Snaps (2 snaps on each wing) with crossover wings
Exterior: Bamboo / Organic Cotton Velour available in 5
different
colors.
Interior Lining:
Bamboo / Organic Cotton Velour
Hidden Layers: Organic Cotton
Soaker: Each diaper comes with two snap in bamboo soakers. The hourglass soaker is topped with bamboo velour and has snaps on the back side to add additional mini boosters. The second soaker is a snap in trifold soaker.
Manufactured: China
Approximate Retail Value : $19.97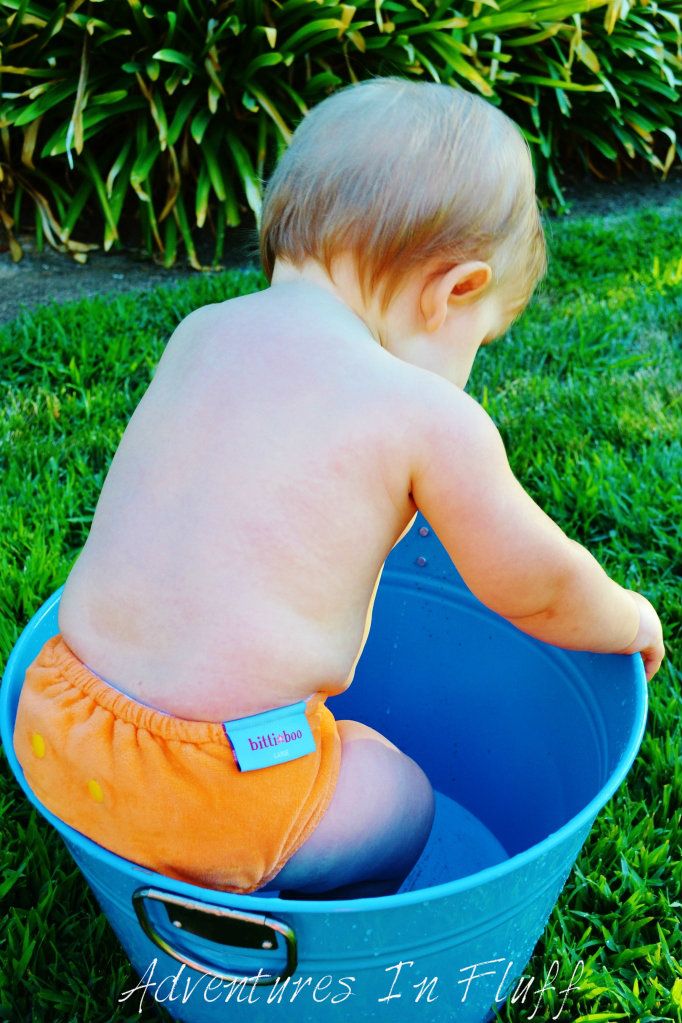 Ease Of Use:

♥♥♥

♥

♥

- Having only two snaps on each wing, putting on this diaper is very easy. It also helps that this diaper is a sized diaper. No rise adjustments to be made. That brings me to the inside of the diaper where the snap in soakers are. These soakers are a bit crazy and complicated. First, you have a contour soaker that snaps into the back of the diaper. Then you have a flat soaker that trifolds and snaps into the front of the diaper. Then you can purchase an extra doubler that can snap into the back of the contour soaker. It really makes for a complicated assembly.
Adjustability & Fit:

♥♥♥

♥♥

- This is a sized diaper so there aren't a lot of fancy adjustments to be made. Just snap the diaper on and you're ready to go. As far as fit, this diaper runs VERY small. Just be aware that this is a Speedo fit type of diaper. Truth be told, I kind of like Linc in a Speedo shaped diaper. They fit nicely under his little round belly. That said though... Linc is only 9 months and 24 pounds. I already have him wearing the size large and I just can't imagine it fitting much longer unless he starts slimming down. I wish they had a size XL.
Leak Protection:

♥♥♥♥

♥

- This diaper actually surprised Jessica (tester #2) and I, with leak protection. I didn't have any leaks at night and it actually lasts really long during the day as well. I have no fears at all using this diaper without a cover. The diaper gives me ample warning when I need to change the diaper. Instead of feeling wet on the outside after he pees, it just feels warm or cool. At the worst it would feel slightly damp. I love a fitted diaper that doesn't feel sopping wet after Linc pees. It may not last through several pees, but I don't mind. I appreciate the gentle warning that I need to change Linc's diaper.
Wash Routine:

♥♥♥

♥♥

- I just throw this diaper straight into my diaper pail without unsnapping the inserts. No need to worry about hook and loop or laundry tabs. Since the inserts are thin, they clean up easily, but for some reason this diaper takes longer to dry than I would expect. I normally take this diaper out on my second dry cycle at about 105 minutes.
Bang For The Buck:

♥♥♥

♥♥

- At around $20 this fitted diaper is about average price for a mainstream fitted diaper. It is a sized diaper so you're going to need to size up with each diaper.
Quality & Durability:
♥♥♥♥♥
- The quality and durability of these diapers is awesome! I expect that this diaper will look exactly as it does now a year from now. All the seams look perfect and the material seems top notch.
The Look:

♥♥♥

♥♥

- I give these about an average rating as far as looks. The bitti boos don't come in prints like their other diapers. They only come in 5 different colors. The colors are nice and bright which I like, but I wish they would extend their prints to their fitted line. I do love the soft velour feel though. You could snuggle with these diapers all day long.
In Conclusion:
I know my ratings look low, but I actually really love this diaper. I love how absorbent it is. I love how trim it is. I just REALLY wish they would make an XL diaper for chunky monkeys like Linc. I just know he won't fit this diaper forever and I really wish he would. I also wish they made these diapers in their prints because I'm the type of person that hates to cover up a fitted with a cover unless I'm using it for night. So I'm going to get down on both knees and beg itti bitti to come out with an XL in prints. I would sooooo buy one NOW! As the diapers are though, I would still recommend them with a note that the buyer beware that these are VERY trim with a VERY short rise. That's not necessarily bad. It's just something you should know (and yes, itti bitti does state this very clearly on their site).
_________________________________________________________________________________
** Please note that while I aim to provide the most thorough and honest reviews possible, this review is based on my own preferences and experiences. Each baby is different and each parent has different likes and dislikes. What works for one may not work for another, so keep that in mind while doing your research.**
For more information on the diaper testers, please check out my post,

"
Meet the Diaper Testers
".
If you would like to purchase one of these diapers for your little one, then please visit Green Baby Goods.
Green Baby Goods was so generous to donate an itti bitti bitti boo for the September Fitted Diaper Event.
I met Erica, the owner of Green Baby Goods through her blog awhile back. She's a super sweet mama and my orders from her have always been super quick with great customer service. Better yet, shipping is free on orders over $25. You can also find
Green Baby Goods on Facebook
,
Twitter
,
Pinterest
, and the
Green Baby Goods Blog
.
**This product was given to me in exchange for advertising space, but the review is comprised completely of my own opinions and was not influenced by any other outside source.**
So you can easily keep track of the September Fitted Diaper Event, I will add a link to each of the posts below. No need to worry if you've missed one of the reviews. I've got ya covered!