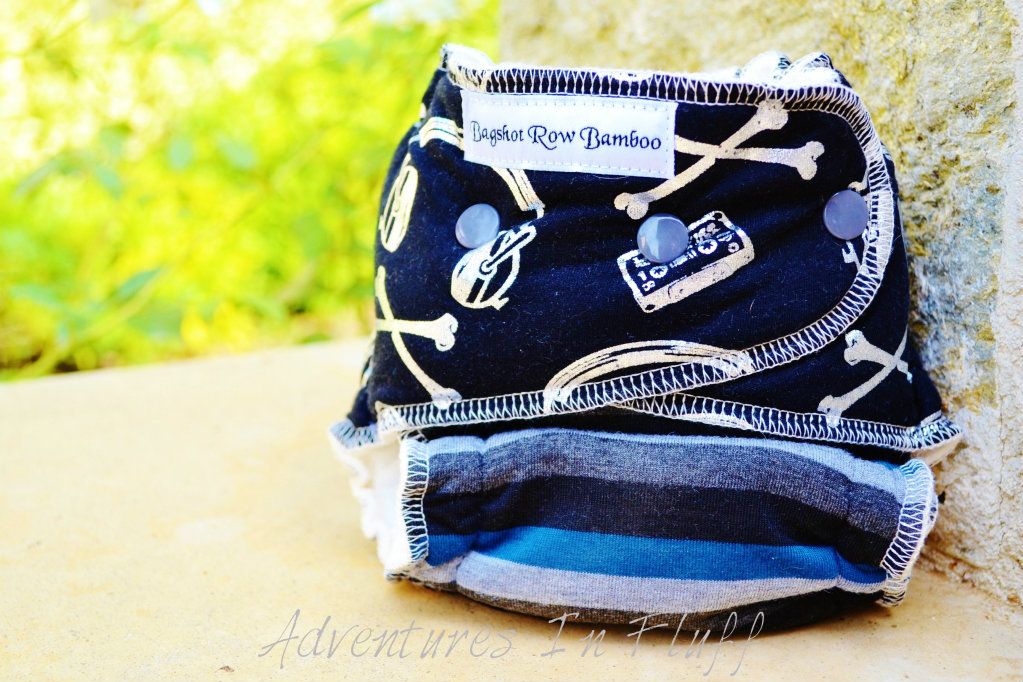 I heard of Bagshot Row Bamboo early in my research of fitted cloth diapers this summer. With all the positive feedback I just had to try one. Well as soon as I saw this print I just knew it was the one for me. I had to have it!!! Unfortunately I had a prior engagement (play date) already planned for the time these diapers were stocking so I enlisted the help of a friend to get this diaper. Yes, getting these diapers requires help because they sell out in seconds. Well if you've ever stalked diapers then you know that diapers normally stock in east coast time and I'm pacific coast time. Well, I converted the time wrong in my head and long story short (too late for that I guess), I just barely got this diaper. So glad I did though because I'm in love. Check out my review to see why.
Diaper Features:
Closure: Snaps (3 snaps on each wing) and crossover wings (also available in snapless)
Exterior: Cotton Knit or Woven
Interior Lining: Bamboo / Organic Cotton Velour or Cotton Velour
Hidden Layers: Poly Fleece
Soaker: Absorbent petal soaker snaps into the diaper's shell and is made with layers of bamboo/organic cotton fleece. Lay in booster is made with layers of bamboo/organic cotton fleece and cotton velour on top to match interior lining.
Manufactured: Arizona, USA

Approximate Retail Value: $24-28


Ease Of Use:
♥♥♥♥
♥

- This diaper is pretty easy to use. There are three snaps so it does take some time to put on, but that's pretty typical with fitted diapers and the great stretch of this diaper makes snapping this diaper on a breeze. I also like the length of the soaker in this diaper. It's the perfect length and I don't have to fold it down to make it fit in the diaper.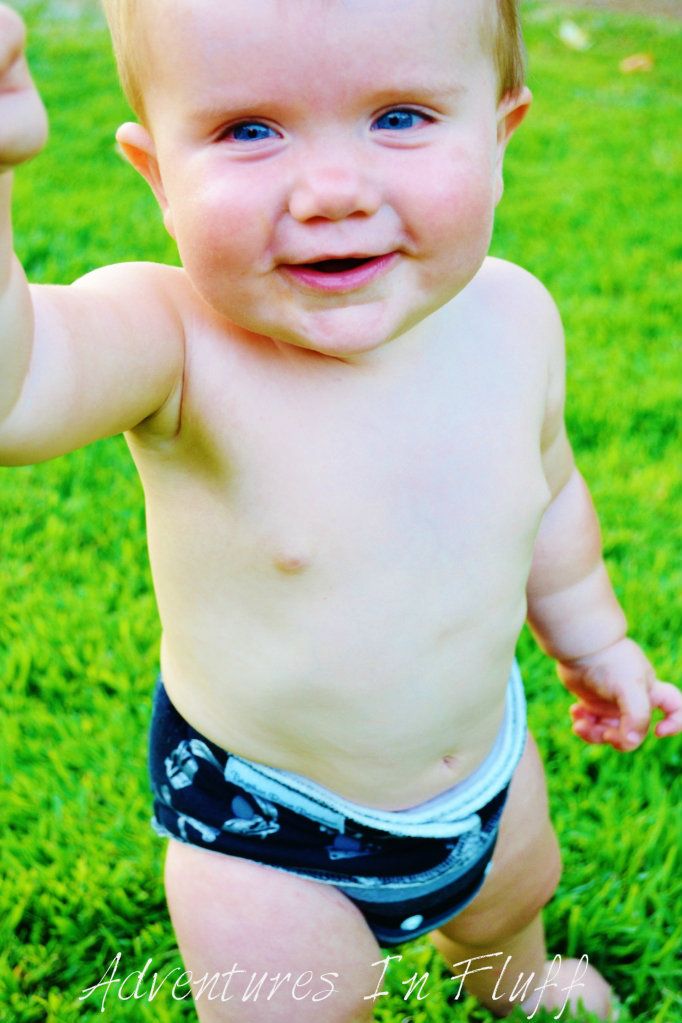 Adjustability & Fit:

♥♥♥♥

♥

- I love the fit of this diaper on my guy! I've heard some say that it's too trim in between the legs and on the butt, but I like that about this diaper. Nice and trim. It's also really stretchy so Linc has room to grow in it still. He actually still uses the crossover snaps. As for a newborn the snap version fits ok, but there are leg gaps. I was able to get a much better fit with the snapless version on a newborn. I wonder if you could just add snaps later? Not sure, but it's a thought.
Leak Protection:

♥♥♥♥♥

- This diaper is great as far as leak protection. I have no fears about Linc going around the house in this fitted diaper without a cover and would even take him to run short errands around town in this diaper without a cover. Yep, it's that good. Linc was also able to wear this diaper overnight with a PUL cover and no leaks. *Please note: This diaper does require a cover to be waterproof*
Wash Routine:

♥♥♥♥

♥

- This diaper is pretty easy as far as wash routine. I just take off the diaper, leave the soaker snapped in, throw it in the wash, and then throw it in the dryer. Leaving the soaker snapped in saves me the extra step of having to locate the soaker and snapping it back in when putting away my diaper laundry. I do have to locate the doubler though since it does not snap in. Dry time is pretty quick on these diapers too (about 75 min).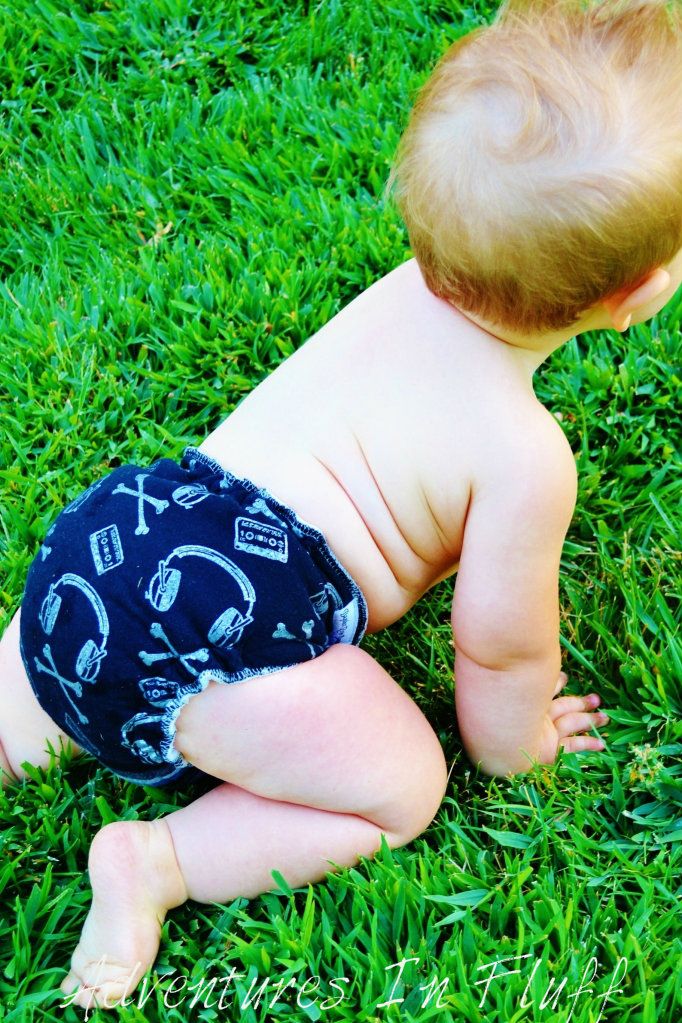 Bang For The Buck:

♥♥♥

♥♥

- This diaper is about average in price for a WAHM fitted diaper. At least it's a one-size diaper so you won't have to worry about sizing up.
Quality & Durability:
♥♥♥♥♥
- Love the quality and durability of this diaper. I can really tell it's made well and will last a long time.
The Look:

♥♥♥♥♥

- This diaper is soooooo cute! I just had to have it the second I saw it. The worst part though.... ALL her diapers are sooooooo cute so I constantly want them all. Unfortunately I don't always have $$$ in my PayPal account. Boo! Why can't money grow on trees? I'd have a whole farm.
In Conclusion:
I love this diaper!!! I would recommend it to those that want a nice trim hybrid option that will work on both a skinny and a chunky baby. You'll also want to check this company out if you're looking for cute diaper. She stocks seriously cute diapers every week.

_________________________________________________________________________________
** Please note that while I aim to provide the most thorough and honest reviews possible, this review is based on my own preferences and experiences. Each baby is different and each parent has different likes and dislikes. What works for one may not work for another, so keep that in mind while doing your research.**
"
Meet the Diaper Testers
".
If you would like to purchase one of these diapers for your little one, then please visit Bagshot Row Bamboo on Hyena Cart on their scheduled stocking days. Currently that is Friday at 1pm. You can also visit Bagshot Row Bamboo on Facebook.
**One of the products above was given to me for the purpose of a review, but the review is comprised completely of my own opinions and was not influenced by any other outside source.**
So you can easily keep track of the September Fitted Diaper Event, I will add a link to each of the posts below. No need to worry if you've missed one of the reviews. I've got ya covered!