If you've been following my blog for awhile then you know that I LOVE a good craft project. You can't keep me away from them. Just ask my husband. I'm sure he wishes that I would do less of them. I can't help it though. When the day is crazy and nothing seems to be going the right way, I love to wind down at the end of the day with a fun project. Lately that's been a lot of sewing, but I've got some other fun projects coming up soon.
Pocket Burp Cloths & Washcloths Set - Superman News Lines
With all of these projects I've been doing I've had lots of requests from friends and family to make my creations for their babies or a gift they'd like to give. In addition I can't tell you how many times I've had people ask when my Etsy shop will be opening up. I'm so flattered that my designs have been received so well that others are excited to purchase them for themselves or a friend. I've had a dream of opening an Etsy shop for awhile now, but did not think the timing was right with baby Lincoln on the way. The more I thought about it though I kept thinking I really should just do it. I don't have to jump in with both feet and go crazy with it. I'll just post items as I finish them and hope that the world ... or at least a few people love them.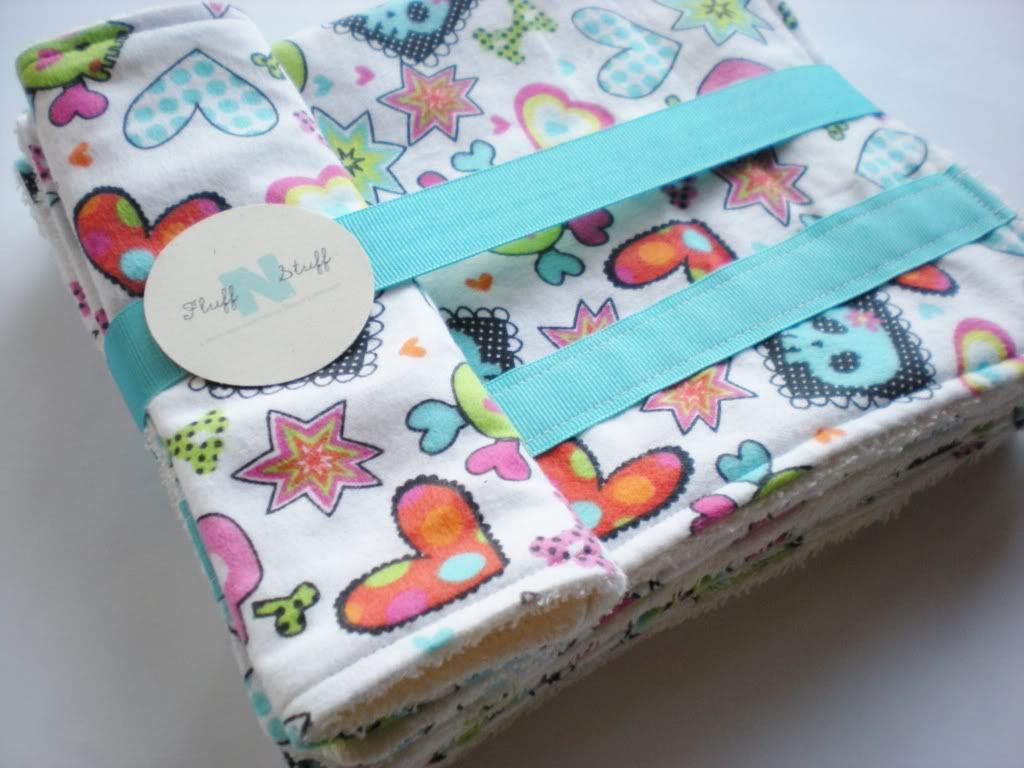 Pocket Burp Cloths & Washcloths Set - Punk Rock Love (Blue)
With that said I want to announce the exciting news that my Etsy shop is now open ! ! ! You can now purchase my designs under the appropriately named company
Fluff N Stuff.
You all know I love fluff ... and other mommy stuff. Currently I have my Pocket Burp Cloths and Washcloths/Wipes Bundles listed in various patterns, but you can expect more to show up on there soon. I'd like to do some Deluxe Pocket Burp Cloths and Washcloths/Wipes Bundles with a softer and fluffier backing material. Those will be coming soon. I'll also be adding some Winged Prefolds as well as some Extended Tab Prefolds very soon. Keep a look out for those!
I hope you are excited as I am about
Fluff N Stuff
making it's debut and I hope you'll direct all your friends and family there as well for all of their baby boutique needs. Feel free to give me any feedback you have on Fluff N Stuff and it's products. I'd love to know what you think about the patterns being offered, what you'd like to see sold in my shop in the future, and what you think about the pricing. Any feedback would be much appreciated. You can post here on my blog or send me an
E-Mail
with your comments.
Thanks for sticking with me on this awesome journey and I hope you join me again for another one of my
Adventures In Fluff.