Weehuggers Diaper Cover
Print: Owls (Size: 1) $19
Not sure if you all remember way back a couple months ago in my post
Fluff You Can Touch
, but I saw this diaper at
Rosie Posie Baby
and just knew I had to have it! Read on and you'll see why.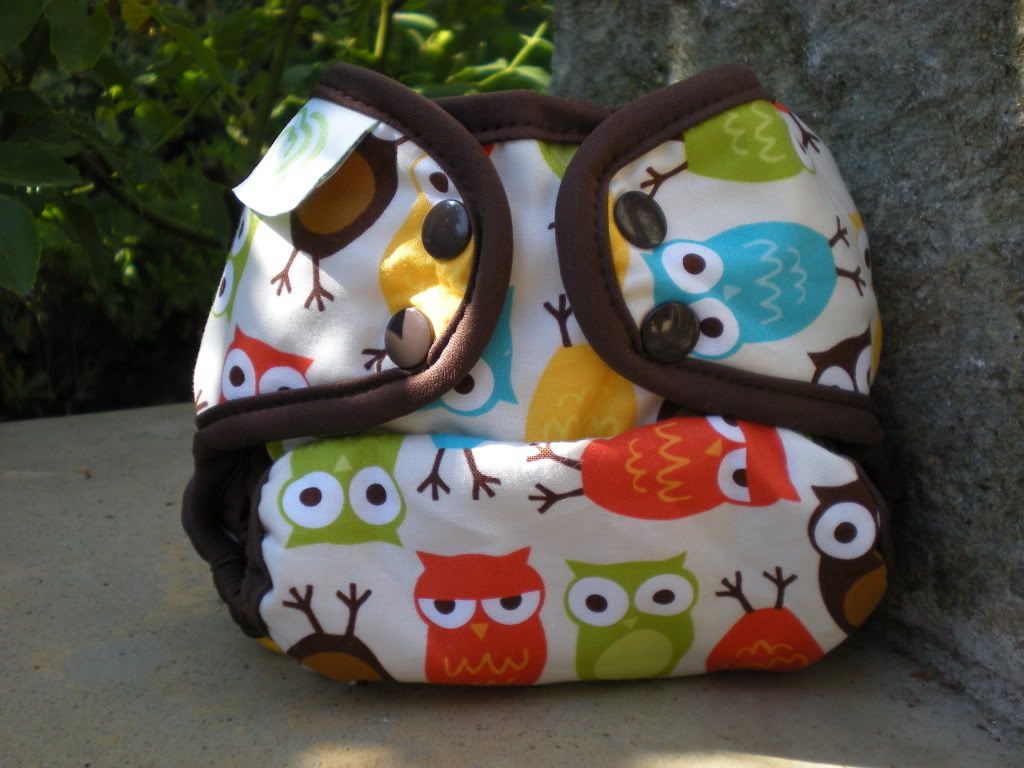 The
Weehuggers Diaper Cover
is a two size cover. It's comes in both a Size 1 (6-18 lbs) and a Size 2 (15-35 lbs). The reason Weehuggers did this was because they didn't think that a One Size diaper is truely a one size diaper. You always end up with a diaper that doesn't fit a newborn and doesn't fit all the way till potty training. To solve this problem they went with a two size diaper system. This allows their diapers to fit a greater range of babies without moving to a completely sized diaper system requiring you to purchase 3 to 5 different diaper sizes. I think the two size diaper system is great! I can totally tell that this diaper will fit my newborn and I can't say that about most OS diapers.
Weehuggers diaper covers are adjusted with a snap down rise on the front of the diaper. There are two rows of snaps that give you three different size settings. The colors they use for the snaps coordiante perfectly with the fabric. I like that there are only two rows to snap as well. Less snaps for me to worry about. The wings on this diaper are also adjusted with snaps. Each wing has two snaps and are very easy to line up. These diapers don't have a cross over snap though. I hope the waist gets small enough. It looks like it will but you never know. The Weehuggers diaper cover also comes in hook and loop. I didn't purchase one of these, but let me tell you the hook and loop is really cute. The two tabs are cut in the shape of mittens. It's like they are "hugging" your baby. Very cleaver! I might just have to get one with the hook and loop.
The outside fabric of the Weehuggers diaper cover is a woven cotton over PUL. I really like the texture of this as opposed to the polyester fabrics that most diapers come with. It gives it more of an organic feel. You can't argue that the prints are not absolutely adorable either. I love the owl print the best, but all of their prints are to die for. The trim of the diaper is a polyester binding that feels like it will be soft on baby's skin. The back of the diaper has an elastic trim to contain poop to where it should be ... inside the diaper.
That brings me to inside the Weehuggers diaper cover. Most of the inside of the diaper cover is just exposed PUL which I like in case I need to wipe the inside clean and let it dry for a second use. This is not true for the entire inside of the diaper cover though. Both the top and bottom of the Weehuggers diaper cover has laminated bamboo/organic cotton "Stay Put Flaps". These are both a plus and a minus for the diaper. On the minus side, it means that the inside of the diaper cover is not able to be totally wiped clean so if a large mess gets on these flaps then you'll have to throw it in the wash instead of use it a second time. On the plus side these flaps are great for keeping your prefold, disposable insert, or Weehuggers bamboo/organic cotton insert with optional stay dry soaker hugger in place where it should be in the diaper. I really like how nicely it holds these inserts in place and it's great if you like to have your covers already prepped and ready to go in your changing station or diaper bag. These flaps also ensure that there is a soft material touching your baby at all times. Inside the Weehuggers diaper cover you will also notice that there are interior gussets. This is always a plus in my book and one of the main reasons I wanted to test out this product. Any diaper that has interior gussets means less messes for that leak out to places they shouldn't be. Less messes means happy baby and happy mommy.
So that's the ins and outs of the Weehuggers Diaper Cover. I'm so excited to try this cover out when our newest addition arrives this fall. I just know it's going to be one of my favorites. Don't forget to join me later this year when I'll post a performance review of how the Weehuggers Diaper Cover worked for us and how it might work for you. Till then, keep checking in for more
Adventures In Fluff.
*If you would like to purchase this diaper, please visit one of my Affiliate Links. A small percentage of your sale will be sent to me to help keep this blog running. Thanks!
**This review is comprised of my own opinions and was not influenced by any outside source. The product was purchased by myself and was not given to me or asked to be reviewed by any outside source. No advertising was purchased in order to feature this product. **