Out of all the diapers I'm testing this month, Patty Pants has to be one of the quickest evolving diapers in the bunch. She's constantly updating her design to bring you the latest and greatest that her customers are requesting. Between the time that she shipped me the first diaper and the time I received it, she'd already developed a whole new diaper design. She then shipped out this updated design that I'm reviewing today. That being said, between the time that I received the 2nd review diaper and the time I wrote this review, she'd already updated the soaker design. The new soaker still has the same composition and absorbency, but it's a new shape and no longer snaps into the diaper. I'm loving the new diaper design, but can't wait to see what's up her sleeve next.
Diaper Features:
Sizing: One Size fitting babies from 12-36 lbs via a fold down rise
Closure: Snap (3 snaps per wing) and crossover wings
Exterior: Woven fabric
Interior Lining: Bamboo Velour
Hidden Layers: 1 layer of anti-pill fleece
Soaker: Each fitted comes with its own lay-in contour insert. The contour is made up of layers of cotton/soy(middle), bamboo velour (top), and a layer of fleece (bottom). If you prefer a stay-dry feel, flip it over and lay it into the fitted. (current soaker is not pictured. this is the old style soaker)
Manufactured: USA

Approximate Retail Value: $12 - $15
Ease Of Use:
♥♥♥♥
♥

- I find this diaper pretty easy to use. It does have three snaps on each wing, but that's pretty typical for a fitted diaper. The soaker that I received did take a bit of time to

maneuver

, but she's already improved the design and the new design looks super easy to use. It's just a contoured regular soaker made of the same materials. It is a lay in soaker instead of a snap in soaker though so I worry about shifting. I also think this diaper would be easier to use if it were made in a knit fabric. It would then stretch a lot easier.
Adjustability & Fit:

♥♥♥

♥♥

- This diaper fits Linc pretty well and when trying it on my newborn model it fit pretty well on a smaller baby too. I do miss the stretch of a knit fabric, but the elastic is pretty good and I was able to get this diaper on Linc with room to spare. Both the leg and back elastic forms to Linc perfectly.
Leak Protection:

♥♥♥

♥♥

- This diaper is great for daytime use with or without a cover. I of course prefer to use it without a cover because it's so cute. Whenever Linc would wet in this diaper, the front would remain dry and the leg elastic would get wet. It was my tell-tell sign to change his diaper. Now nighttime is a different story. I've tried this diaper twice during the night and Linc leaked both times. Our tester baby #2 on the other hand was able to use this diaper at night with no leaks. This diaper may work for a light to average wetter at night, but I think the fact that the soaker has fleece on it instead of another layer of absorbent material makes it less of an option for heavy wetters at night. I do like that the fleece layer gives you the option of having a stay dry interior on the diaper though. Not many fitted diapers do that.
Wash Routine:

♥♥♥♥

♥

- This diaper is pretty easy as far as wash routine. I just throw it in the wash (don't have to worry about hook and loop closures), and then I throw it in the dryer. This diaper usually dries in about 75 minutes. The soaker is not attached though so you do have to match the soaker up with the diaper after taking it out of the dryer. It's not a big deal though.
Bang For The Buck:

♥♥♥♥♥

- This diaper comes with a great price!!! Not only is it a great price, but it's also a one-size diaper. How awesome is that?!?!
Quality & Durability:
♥♥♥
♥♥
- Ok, If you would have asked me yesterday I would have said the quality is great, but of course as soon as I go to write this review I notice a seam coming undone. That said, I do have two of these diapers and the other one has had no problems.
The Look:

♥♥♥♥

♥

- I love the look of this diaper. I really love the look of this print! I do wish it was a cotton knit instead of a woven, but on the plus side, wovens do stay nicer looking for longer. I also like that she took the time to reverse the print so that both the front and back of the diaper have the print going in the right direction, but this is also the location that started coming apart, so if that's a weak location I can totally live with the print being upside down on the front to create a more secure diaper construction.
In Conclusion:
I would recommend this diaper to those with a light to average wetter if you're going to use it at night, or any baby if you're going to use it during the day. I love the price of these so this is a great option for those that want a super cute fitted without a super high price. The is also a great option for those that want the option of natural materials against their baby or a stay dry fleece against their baby.
_________________________________________________________________________________
** Please note that while I aim to provide the most thorough and honest reviews possible, this review is based on my own preferences and experiences. Each baby is different and each parent has different likes and dislikes. What works for one may not work for another, so keep that in mind while doing your research.**
For more information on the diaper testers, please check out my post,

"
Meet the Diaper Testers
".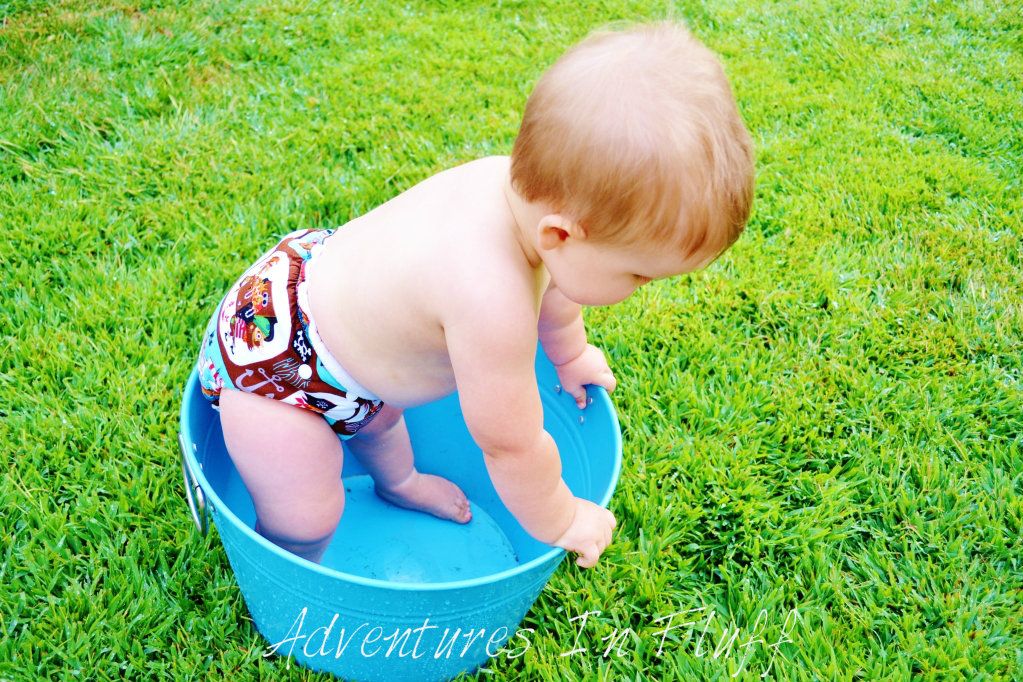 If you would like to purchase one of these diapers for your little one, then please visit

the Patty Pants Cloth Diapers website on scheduled stocking days (Mondays @ 3pm EST) or on their weekly special day (Wednesday @ 8pm EST)

.

You can also find Patty Pants Cloth Diapers on Facebook.
**Just a heads up. Patty Pants Cloth Diapers
is sponsoring an awesome prize for the September Fitted Diaper Event Giveaway. Check back here from September 28th - October 12th for your chance to win.**
**This product was given to me for the purpose of a review, but the review is comprised completely of my own opinions and was not influenced by any other outside source.**
So you can easily keep track of the September Fitted Diaper Event, I will add a link to each of the posts below. No need to worry if you've missed one of the reviews. I've got ya covered!