Summer is here and so is the sun. Here in California (Central California to be exact), that means it's hot, hot, hot! It's a good thing I like the heat and I love the sun. The girls, Linc, and I still try to get out on a daily basis despite the heat but my poor little guy is white as can be so he needs lots of protection. Without sunscreen he burns in minutes. That being said I was so excited when I found out that
Scarlet's Naturals
carried SunBlock. I always hate the idea of putting sunscreen on babies because they love to suck on everything (hands, arms, toes, etc.) and they don't care if they're slathered in a thick chemical laced cream. Ewwww! I'm sure you remember my
review of Scarlet's Hiney Honey Cream (diaper rash cream), Honey Lotion, Honey Wash, and Honey Bites
(wipes solution). I love that all her products are all natural and I don't have to worry about any of them irritating Linc or getting him sick if they get in his mouth. I also Love, Love, Love, the smell of her products! YUM is the first word that comes to my mind.
So back to the
SunBlock
and
SunStick
. Scarlet's Naturals was awesome enough to send me a sample of her SunBlock and SunStick to test out on our little man and yesterday we put it to the test. It was a pretty nice morning so the whole family headed out to out local splash park for some good water fun. If you haven't check out your own local splash park then you really should. It's a lot of fun ... for FREE! Before we left I lathered Linc up in the SunBlock. You want to make sure that you apply your SunBlock about 15 minutes before sun exposure. This will give the SunBlock time to soak in and fully saturate the skin. I was given the unscented version of the SunBlock to test out, but it also comes in a coconut scent that I'm sure smells heavenly based on what her other products smell like. Opening up the bottle I noticed the cream is very thick. This is a 50spf water/sweat resistant formula so the consistency is about what I expected. This is another reason it's good to apply 15 minutes prior so your child doesn't look like a ghost all layered in white. You want to give this stuff some time to soak in. By the time we got to the park he was back to his normal baby white self. I also applied the SunStick to his face. I found it easier to use the stick on such small areas as his nose, cheeks, and forehead. It's also a lot easier to get out of the bottle than the SunBlock since all you have to do it twist the stick up like chapstick instead of sqeaze the tube. I love that the stick is lot less messy if you're just going out for a quick day trip and you only need to cover up a small area of their body. I will say the SunBlock is a bit hard to get out of the bottle since it's thicker. Maybe it's the shape of the bottle? I'm not sure. Anyways... We got to the park and we were ready for some water fun. I noticed right off how the water beaded up and rolled off of Linc. Water was not going to wash this SunBlock off. Linc also got tons of water in his face and he did not cry from SunBlock getting into his eyes. I'm thinking this is because of the water resistant feature and because it's so thick that it wasn't running off his skin into his eyes. That's a total bonus for me because I HATE sunscreen in my eyes. Now the true test. Two hours later we left the park and Linc was sunburn free. Yay! My little white baby gets to stay white for another day. Haha!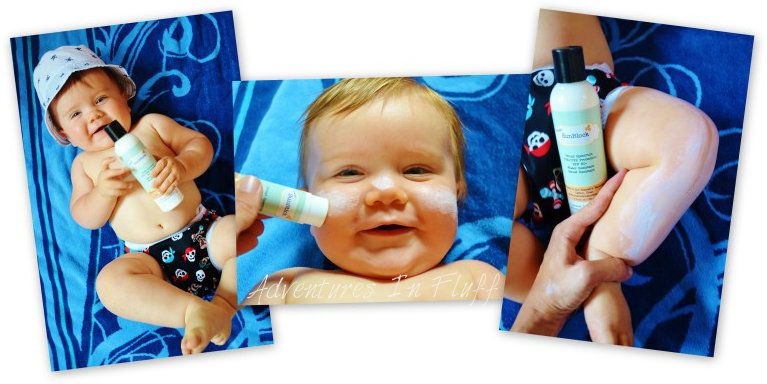 So all in all I really like the Scarlet's Naturals SunBlock and SunStick. My only recommendation would be to find an easier container to get the SunBlock out off. It's not impossible to get out. I just find it difficult, like getting shampoo or conditioner out of a hotel sample bottle. The pricing is also very reasonable compared to other similar products, only I bet the scented version smells way better than the other brands. I would totally recommend this product and will probably be getting more for myself in the coconut scent. Yum!