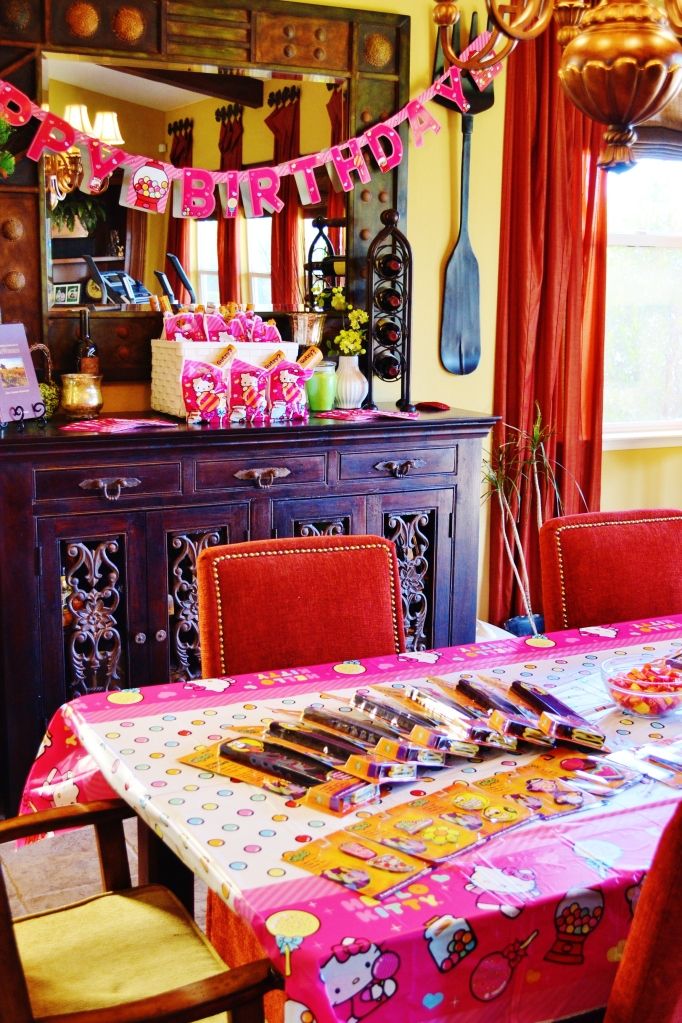 Our Gutzy Gear Party Setup
This past weekend my little girl turned 5. Can't you believe it?!?! I'm still in shock. She's growing up wayyyyyy too fast. Not only did she just turn 5, but she also just started Kindergarten. Sniff Sniff... Linc is now my only baby in the house. I've now got a first grader and a kindergartner. Where has the time gone? Well, to celebrate this big day for my big girl we threw her a party with 13 of her closest friends. Add in my three kids, a few more babies, and a whole lot of adults and you have quite the event! It just so happened that
Gutzy Gear
contacted me to hold a party to present one of the newest back to school products on the market and what better time to present this product than at my daughter's birthday party after their first week at school! The party ended up being a little bit Hello Kitty (my daughter's selection), a little bit of water fun (thanks to our 109 degree heat), and a whole lot of Gutzy (thanks to Gutzy Gear).
The Kids Are Putting On Their Gutzy Gear Straps
We started off the party with a coloring competition. Each kid at the party got to create and color their very own patch design. We had everything from rainbows and cats, to robots and Egyptians. It was quite the art display. My daughter (the birthday girl) then got to pick two of the pictures to be winners. The winning pictures got an extra patch for their Gutzy Gear patch sets (but we'll get to that later). So who were the winners? Maggie drew a beautiful picture of a cat, and Sophia drew a picture of a girl and boy in a meadow.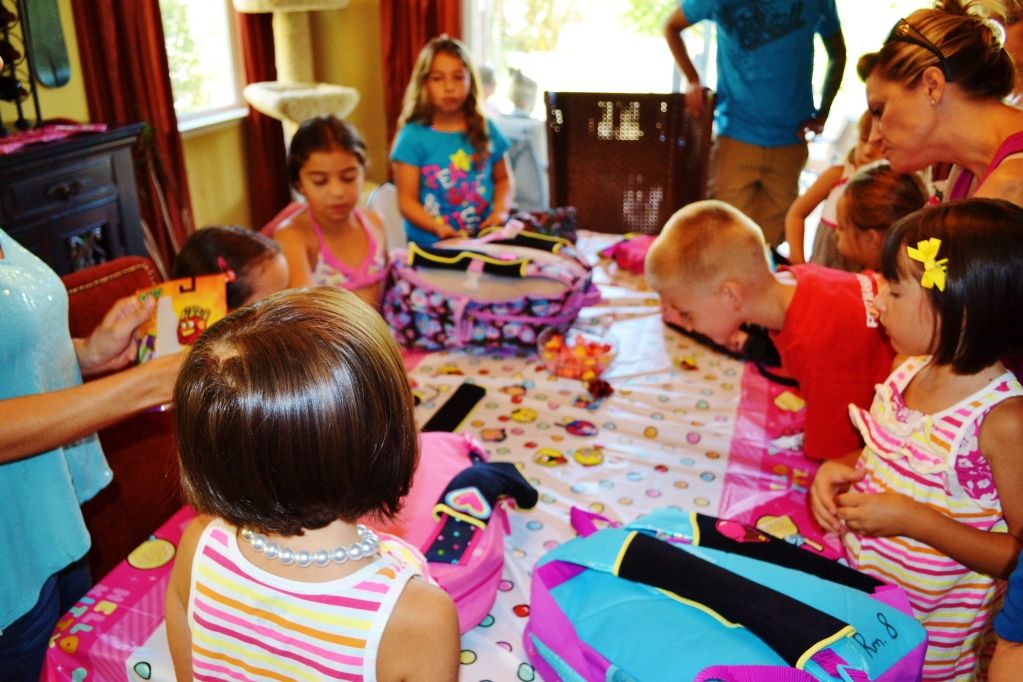 Gutzy Gear Patch Selection Time!
After our patch drawing competition the kids grabbed their backpacks and we got started with the decorating fun. Gutzy Gear was so nice to supply each child with a starter set of Velcro backpack straps that includes one patch as well as a set of two additional patches. I ended up opening all of the double patch sets and laying all the patches individually on the table. The birthday girl got to pick her two patches first. Then the winners of the design contest got to pick their patches plus their additional winning patch next. After that all the kids just dug in and picked whichever patches matched their personality. There were tons to choose from, from hearts and flowers, to fast food and monkeys. The kids had a blast and they can't wait to show them off at school on Monday. They were even excited to see all the additional patches that were available on the back of the packages. There really are a lot out there to choose from.
A Little Water Play To Wrap Up The Party Day
After our fun time with the patches we set the kids down for some pizza, cake, ice cream, presents, and then some fun water play out in the back yard. Her favorite gifts were her nighttime slippers from her Aunt Lisa and the stars nightlight that we got her for her room, but I think she's really the most excited about showing off her new backpack bling when she gets back to school. Thanks Gutzy Gear for letting us test out your products and giving my daughter and her friends such a great birthday party!!!
So Many Gutzy Gear Patch Choices
How It Works - Each starter set comes with two black Velcro straps that you just apply over the strap(s) of your backpack or satchel (or anything else you can think of such as on your guitar strap, bike rails, etc). You also get one Velcro on patch to get you started. You then buy additional Velcro on patches (they come in sets of two), to further decorate your straps. For even more fun you can swap patches at school with your friends so your straps are always changing.
What I Like
- I love the concept of Gutzy Gear. I know I loved patches on my backpack when I was a kid and my girls love decorating anything they can get their hands on. The bad part about regular patches is getting them to stay on. You have to sew, pin, or iron on most patches. Not only that, but you're usually stuck with them forever because it's permanent. I LOVE that Gutzy Gear is not permanent. They can easily change the look of their straps by just un-Velcroing one patch and putting on another. I also love how secure the Velcro is. These patches will not fall off. They are totally secure when applied to the strap. The full back side of the patch is covered in hook fabric instead of just one little square. The straps are also wrapped in a very soft velour loop fabric so they aren't itchy on your arms. Last, but certainly not least, is that I love the patch options. They have so many to choose from. You can go online to get them (
GutzyGear.com
,
Amazon.com
, etc.), or you can find them in your local stores such at Toys R Us or KMart. I couldn't find them at our K-Mart, but our Toys R Us had them.
The Birthday Girl w/ Her Gutzy Gear
What I didn't Like
- Although the concept is great, I do wish the price was a little less. Starter sets go for $10 and a set of two patches goes for $5 so it can get to be quite a pricey hobby. After saying that though I guess I would say this is pretty close to being a Disneyland Pin collector and we all know those aren't cheep, so if you look at it that way these prices are pretty reasonable. Maybe if they removed the included patch from the starter set, then they could knock $2 off. I found that most kids wanted to choose their own patches and didn't care for the included one.
In Conclusion - Despite the price, I still love the concept and I plan on taking my girls down to Toys R Us so they can pick out another set of patches for their backpacks. I know how much kids like to express their style and this is a great way for them to do it! They've already been scoping out all the patch options available. Oh yes, I see a patch collection obsession coming on.






Gutzy Gear is giving away 101 gift cards to Toys R Us. All you have to do is visit
Gutzy Gear on Facebook
and let them know, "Where do you Go Gutzy?". This contest will end September 7th, so you better hurry! Here's what they're giving away:
**This product was given to me for the purpose of a review, but the review is comprised completely of my own opinions and was not influenced by any other outside source.**