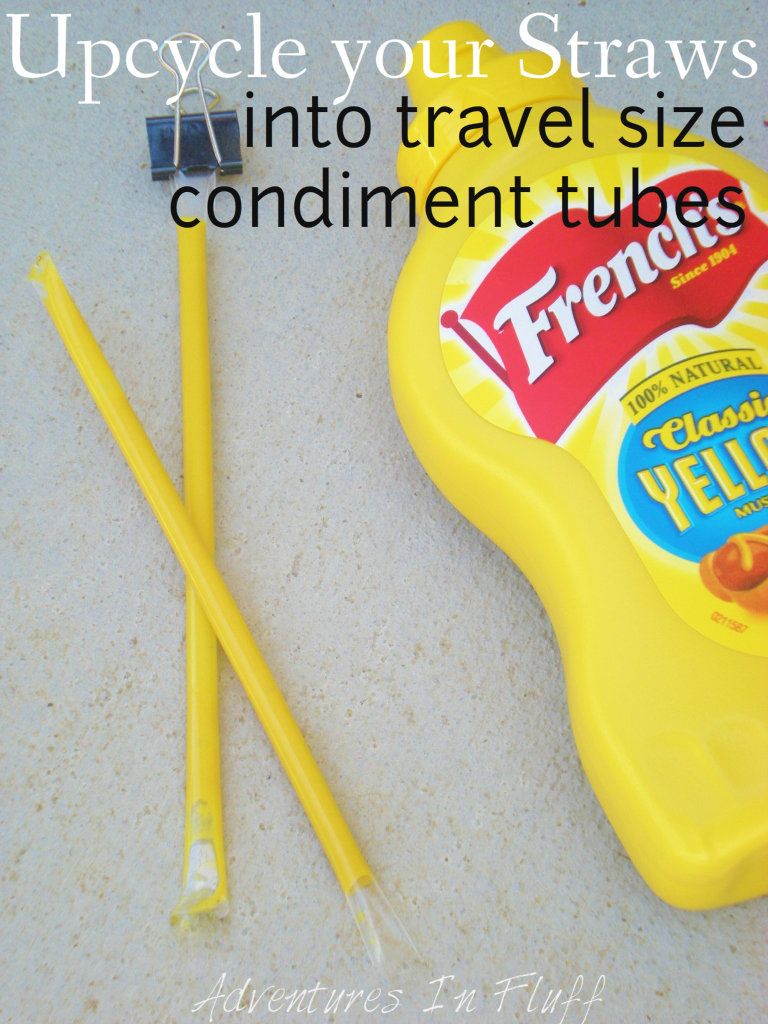 It's Day 7 of the 2012 July Upcycled Crafting Challenge. Who's having fun? We are! Today we're going to be working with straws. I found so many cute projects for straws. You could make a light fixture, you can make place mats, or you can do like we've done and make handy little travel condiment tubes. Why buy travel packets of
ketchup
, mustard, salt, and pepper, when you can make your own. The options are endless when it comes to travel tubes. You can even make your own pixie stix using this method. Travel size tubes are great for lunch boxes, camping, your diaper bag, airplane trips, etc. Just make sure that whatever you put in your travel tube is ok to be in the conditions you leave it (heat, sun, not-refrigerated, etc.). Let's get started!
Lighter (or candle)
Pliers (or some other item that clamps closed... I used some cooking tongs)
Scissors (optional if you want shorter travel tubes)
Binder Clip or Paper Clip (optional if you want them easy to open without scissors)
- Fill your straw with your condiment of choice. Either squeeze it straight into the straw or if needed fill a medicine syringe with your condiment of choice and squirt into the straw. (*You can wait to fill your tube after you seal the end if your filling is really thin or loose)
- Tap the end of your straw so the condiment moves away from the end of the tube. You can use your tongs or pliers to squeeze the condiment down.
- Squeeze the end of the straw with your pliers leaving a little bit of the straw sticking out of the end.
- Using your lighter melt the end of the straw.
- Quickly clamp the melted end of the straw closed with your pliers creating a tight seal. It should only take a few seconds for the end of the straw to seal closed.
- If you want a completely sealed tube then repeat the sealing process on the other side of the straw.
- If you want a semi sealed tube that is easy for kids to open then fold the other end of the straw closed. Hold the straw end closed with a paper clip or binder clip
Voila! You're done. If you have several tubes with similar looking fillings or if you have solid colored straws you can use shipping labels or masking tape to label your condiment tubes.
What will you fill your travel tubes with?
*This post is part of the
Upcycled Crafting Challenge
(#freefromtrash) hosted by Calley, The Eco Chic, and is part of a one month challenge to create from trash. This challenge will hopefully open your eyes to the number of items that we still end up trashing every day that could be used by ourselves or our kids to create fun and useful items. To find out more about the challenge and to see other projects click on over to Calley's announcement post.*
Check out some of the other great posts from today below and be sure to link up your projects today too!!! Just link to your blog post, Pinterest picture, Photobucket Picture, etc. I'd love to see your upcycled straw projects.