When Linc was a newborn I used tons of diaper covers over fitteds. They didn't last for long though. Linc grew, and grew, and grew... fast. After Linc grew out of his fitteds and covers I seemed to lose the fitted and cover love. I moved on over to pockets. They seemed easier at the time. Well fast forward a few more months and my preferences have changed yet again. I'm now using All In Two's and Covers quite a bit. That's when the new
Swaddlebees Capri Diaper Cover
came into the picture. The Swaddlebees Capri is not only a diaper cover, but also an All In Two system! I was so excited when Swaddlebees came out with the Capri to replace the Weehuggers covers. Yes, I did love my Weehuggers cover, but it did have a few things that I did not like about it. The first problem was that the outer layer of the cover was cotton. Yes it looked super nice, but it got a slight damp feeling when the diaper got really wet, and it took forever to dry. The same thing happened with the stay dry flaps that were on the inside. Since the flaps were cotton they always got wet and took awhile to dry in between changes. The Capri solved both of these problems. The covers and inside flaps are now PUL which drys VERY fast! I never tried the Weehuggers inserts, but was super excited to try the Capri ones. Read on below to see how the Capri Diaper Cover and Inserts worked out for us.
Diaper Type: All In Two / Cover
Size Range: Two size system (Size 1: 6-16 lbs) (Size 2: 12-35 lbs) 3 size settings per size achieved via a snap down rise
Waist Closure: Snaps or Hook & Loop
Exterior: PUL
Interior: PUL with stay dry flaps
Inserts:
Can be used with the
Capri Inserts
, other natural fiber or stay dry inserts (not microfiber), prefolds, flats, or fitted diapers.
Capri Cover Performance Review:
Ease Of Use:
♥♥♥♥
♥

- This diaper is pretty easy to use. I can even adjust the rise while Linc is wearing it. I will say that the hook and loop is a bit strong so sometimes it takes me a minute to get it off the laundry tabs, but I'd rather they be too strong than too weak. As far as putting an insert, prefold, flat, or fitted inside this diaper, I prefer fitteds, flats, or prefolds. Although this diaper has stay put flaps, I find that the insert shifts slightly before I get the diaper on all the way because it's too skinny. I have found solutions that work for me though and you can see this in my video.
Adjustability & Fit:
♥♥♥♥
♥
- This diaper cover fits GREAT on my chunky monkey, but I will admit that they are a big cover. If you're looking for something trim and fit then this cover isn't for you. If you're looking for a cover that can cover up a big fitted or prefold diaper then the Capri is up for the challenge. I love how adjustable this diaper is too. I frequently go back and forth with this diaper using Capri inserts during the day and fitted diapers at night. All I need to do is snap the rise to the smallest setting when I do the inserts and snap it to the medium setting for a fitted. Voila! No need for a different cover.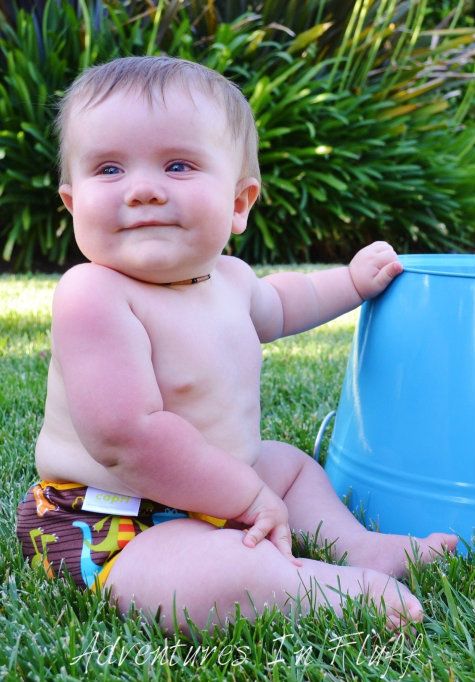 Leak Protection:
♥♥♥♥♥
- I have never had a leak or blowout in this cover. The double gussets keep everything tight and secure. If I did have a leak it would not be because of this cover. It would be because I didn't put enough absorbency inside or because I left the diaper on too long. I could never blame this cover for a leak.
Wash Routine:
♥♥♥♥♥
- Washing the Capri covers is very easy. They clean up great and dry up fast. I just lay mine out on a drying rack in the laundry room and they are good to go in an hour or two. I also don't have to worry about the hook and loop closures coming undone in the wash because they are so strong. That's a big plus in a household that loves hook and loop.
Bang For The Buck:
♥♥♥♥
♥
- These diaper covers aren't the most expensive that I've seen, but they are at the upper end of the spectrum. That being said, it is a very good quality diaper cover so I don't mind paying the higher price. I also love the look of these more than others that have a smaller price tag.
Quality & Durability:
♥♥♥♥
♥
- The quality and durability of the Capri covers is great! You can defintely count on these covers lasting through several children. Even the hook and loop is very durable and built to last. Most hook and loop closures would need replacing after the first child... or sooner with some companies, but the Swaddlebees hook and loop closures are thick and strong.
The Look:
♥♥♥♥♥
- I LOVE the look of the Capri diaper covers!!! The prints are so cute and I love that they coordinated not only the elastic binding and snaps, but also the hook and loop closures. You don't find many companies that go beyond black and white hook and loop.
Capri Inserts Performance Review: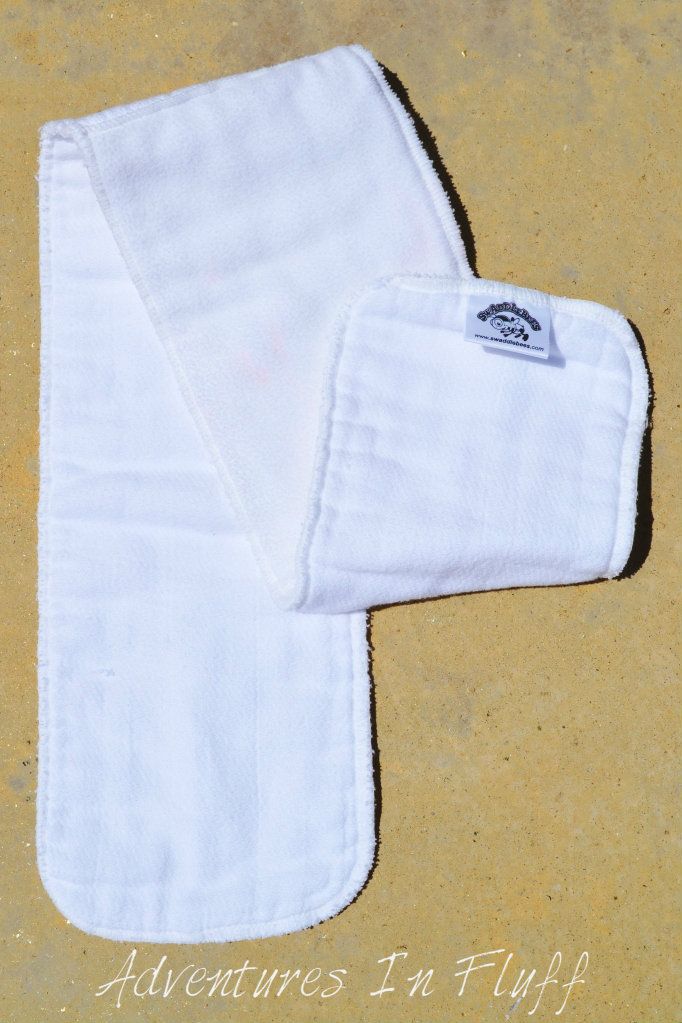 Ease Of Use:
♥♥♥
♥
♥

- These inserts seem to shift a bit when I'm putting them in the diaper. I think if the insert was a bit wider and more in the shape of a diaper then it would fit a bit better and stay in place.
Adjustability & Fit:
♥♥♥
♥♥
-
I like that the insert folds in half so if I want to put more absorbency up front then I can. I also like that I can use these inserts with the microfleece against my baby for a stay dry feeling or the cotton against him for a natural fabric against his skin. The natural cotton side is also nice for potty training when you want your baby to feel wet. I do wish that the insert was in the shape of a diaper so that it covered more of the PUL interior of the cover. I don't like the idea of PUL up against Linc's skin. That said I have found a way to place these in the cover that helps with this. See my video for a demonstration.
Leak Protection:
♥♥♥♥
♥
- These inserts are pretty good. I haven't had any leaks with them. I wouldn't say they're for overnight, but for day use they are great!
Wash Routine:
♥♥♥♥♥
- I love that these inserts fold in half so that they clean easier and dry faster.
Bang For The Buck:
♥♥♥♥
♥
- Pricing seems pretty average for these inserts. If you use the Capri inserts and diaper cover as an AI2 system then you're going to get a lot more bang for your buck then if you use it only one time. The inserts are also a less expensive system than fitteds, but more expensive than prefolds or flats.
Quality & Durability:
♥♥♥♥
♥
- The quality seems pretty good and they seem to be holding up well. The stay dry layer did shift a bit though and that bothers me, but I'm sure Linc can't feel it when it's on.
In Conclusion:
I LOVE the Capri Diaper Cover!!!! It's now my favorite cover in my stash right now. I love the look, size, fit, and quality of it. What's not to love??? I'd recommend these to anyone looking to add some covers to their stash that not only look great, but perform great too. As for the inserts I'm so-so on them. I would rather they were a bit wider, but they're not bad if you're looking for a trim insert to go under your Capri Cover... or any other cover for that matter. I personally like to use my Capri Cover with a fitted diaper though. I feel that the fitted diaper protects Linc's delicate skin from the PUL better. I do like the inserts though. I just might use them with a different diaper.
_________________________________________________________________________________
** Please note that while I aim to provide the most thorough and honest reviews possible, this review is based on my own preferences and experiences. Each baby is different and each parent has different likes and dislikes. What works for one may not work for another, so keep that in mind while doing your research.**
**Just a heads up. Swaddlebees
is sponsoring an awesome prize for the Fluffy Butts Cloth Diapering Giveaway Hop. Check back here from June 4th - June 15th for your chance to win.**
**This product was given to me for the purpose of a review, but the review is comprised completely of my own opinions and was not influenced by any other outside source.**