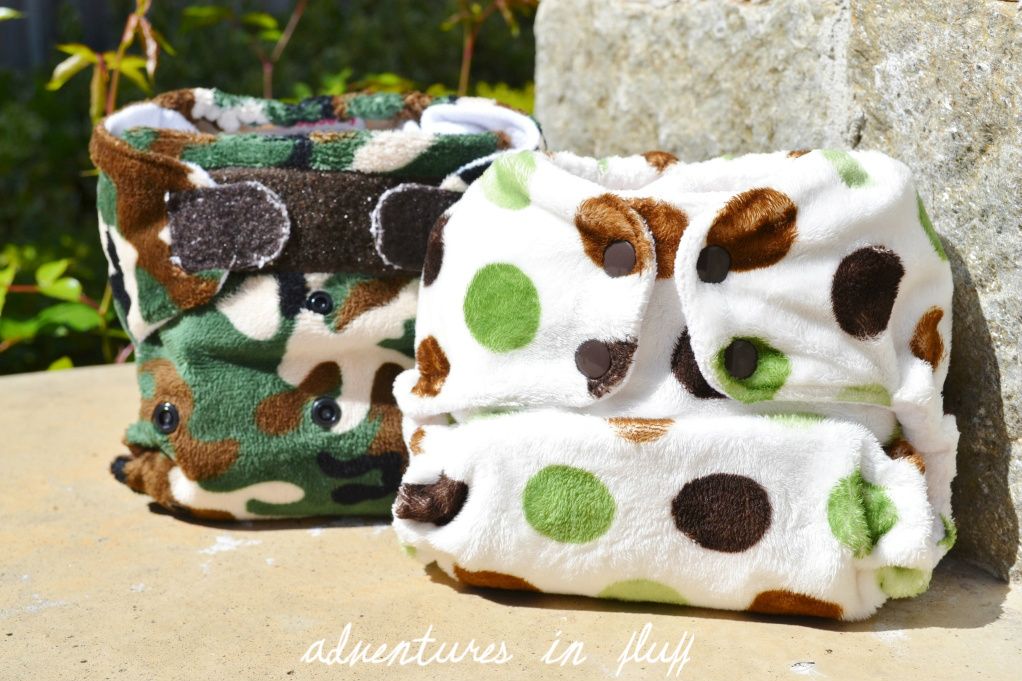 Ok, it's that time again. I just love sharing with you all the good, the bad, and the poopy details about each of the cloth diapers that I'm using on Linc. Today I thought I'd share with you the
Blueberry One Size Deluxe Pocket Diaper
. This diaper was actually one of the diapers I had on my "Must Have" list before Lincoln was born. I just had to have one of the green camo minky diapers. It was just the cutest thing I'd ever seen! Let me tell you, it's even cuter in person than it was in the photo. I LOVE it!
Diaper Features:
Diaper Type:
Pocket Diaper (back loading pocket)
Size Range:
One Size fitting babies from 10-35 lbs adjusted via a snap down rise
Waist Closure:
Snaps or Hook & Loop
Exterior:
Laminated Polyester Knit (in solids or prints) or Minky (in solids or prints)
Interior:
Microfleece or Bamboo/Organic Cotton Velour
Inserts:
Microterry (1 - four layer med/lg & 1 - three layer small). Can be upgraded to bamboo inserts. Also available are combination microterry/hemp inserts.
Performance Review:
Ease Of Use:
♥♥♥♥
♥

- This diaper is pretty easy to use. The snap down rise is fast and conveinent. I like that the snap wings have only two snaps. I'm a big fan of two snaps. Three is just too many sometimes. Having only two snaps on top of each other vs side by side also allows you to get the largest waist opening without having a waist snap exposed to your baby's skin. The hook and loop is really fast, but it is very strong so sometimes it takes a bit of work to pry it off. I'd still rather have it be too strong than too weak. The pocket opening is huge so stuffing these diapers takes no time at all. The adjustable inserts take no time to adjust as well.
Adjustability & Fit:
♥♥♥♥
♥
- These diapers are great when it comes to adjustability and fit. I always get a great fit on the legs as well as the waist. I also love the insert snap adjustments. I can get the perfect length without it bulking up in the front or back like some other adjustable inserts I've tried. My only complaint on the fit is that these diapers are pretty bulky. Although they are one-size, these diapers are not for newborns. The width between the legs is just too big for a bitty baby, but perfect for an infant or toddler. The bulk also makes it a bit harder to fit under clothing, but if you size up on clothes then you'll have no problem.
Leak Protection:
♥♥♥♥
♥
- These have leaked a few times while Linc was sleeping, but for the most part I don't have any problems with them. My favorite insert is the hemp/microterry insert. I get the mega hold of the microterry, but the backup protection of the hemp. It's a great combination. I've never had a poop blowout in these.
Wash Routine:
♥♥♥♥
♥
- These are pretty easy when it comes to washing. The hook and loop closures always stay secure, and I don't have to worry about the snaps at all. The pocket opening is huge, so taking the inserts out before washing is super fast and easy. The only drawback is with the bamboo/organic cotton velour lining. It will get crunchy if you just hang dry it so you have to throw it in the dryer for a bit to get the super silky feeling back. Another option would be to rub it with your hands for awhile, but it still doesn't get quite as soft as when you dry it in the dryer. All it needs is 10 min or so.
Bang For The Buck:
♥♥♥
♥♥
- $23.95 - $27.95 These are on the upper end of the price range for a pocket diaper and you can't use them on a newborn, so I gave this a slightly lower rating.
Quality & Durability:
♥♥♥♥♥
- The quality of these diapers is great! My snap diapers look brand new and the hook and loop is as strong as it was the first day I used them. The hook and loop has curled slightly, but it still looks fine to me. I would actually prefer the hook and loop to the snaps on this diaper.
The Look:
♥♥♥♥♥
- I LOVE the look of this diaper!!! That's what drew me in to get one in the first place. The minky is sooooo soft and squishy. It's probably some of the best minky I've seen on a cloth diaper. Love it! I also love all the prints. Blueberry is great at picking out stunning prints. My baby's bum always looks cute in these. It kills me to even put pants over them.
In Conclusion:
I love the Blueberry pocket diapers! They're my #1 when it comes to fluffy cuteness. I absolutely LOVE my camo minky one with hook and loop closure. I also love that it has the microfleece interior. This has been my favorite combination. I would definitely recommend these diapers for a bigger baby like Linc. These diapers have fluffy chunk written all over them. I'd love to try one of their PUL versions and plan on getting one in the future. Now the hard part. Deciding what print to go with. Ack! Too many cute ones to choose from.
Lincoln at 5 months and 19lbs
_________________________________________________________________________________
** Please note that while I aim to provide the most thorough and honest reviews possible, this review is based on my own preferences and experiences. Each baby is different and each parent has different likes and dislikes. What works for one may not work for another, so keep that in mind while doing your research.**
If you would like to purchase any of these diapers for your little one, then please visit

their website at Blueberry Diapers

or help support this blog by visiting one of my affiliate stores

:

Sweetbottoms Baby Boutique

,

Kelly's Closet

, or

Diaper Junction

.
**
I purchased the above diapers and
I was not paid or compensated in any way for this review. This review is comprised completely of my own opinions and was not influenced by any other outside source.**