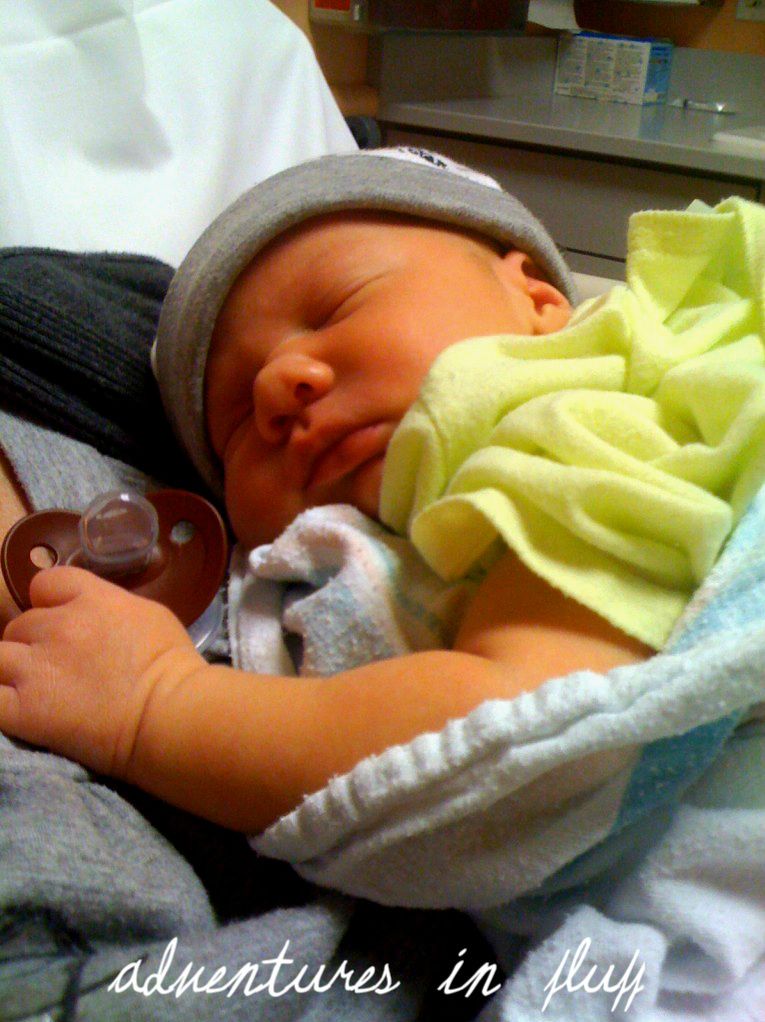 Most people would say that winter is the time for colds, but I disagree. I think springtime is way worse. First off the weather is wacky. One day it's cold. The next day it's hot. Then it's back to cold. Extreme weather changing is notorious for bringing on colds. Not only that, but springtime brings flowers and pollen which in turn brings allergies. Put both of these together and what do you have? Lots of snot!
Everyone in our house has been sick at least once, if not twice this year already. Oh yes, we've went through tons of tissues and have had our share of snotty sleeves. What about babies though? What do you do then? Good question because there isn't a whole lot you can do when it comes to modern medicine. Instead we need to rely on natural remedies that are safe for our wee ones. I've listed below some baby safe remedies you can try the next time your baby gets sick as well as exactly what products we use during those hard times here in our home.
#1 Bring On The Moisture
Adding moisture to the air will help loosen your baby's mucus and sooth irritated nasal and throat passages. You can do this a few different ways. One way is through shower steam. Turn your shower on hot, shut the door to your bathroom to lock in the steam, and sit with your baby in the steamy room for 10-15 minutes (not in the shower). Repeat a few times a day. Along the same lines, giving your baby a warm bath or taking a warm bath with them will also help to moisten their nasal passages. Yet another way to create moist air is with a humidifier or cool mist vaporizer. Run the unit on a table next to them while they sleep. Make sure to aim the mist away from your baby so they don't wake up drenched.
*What do I use?* I've tried both a vaporizer and a humidifier and I find that the humidifier creates a much more moist environment. I also frequently take baths with Lincoln to help moisten the air as well. I don't generally use the steam shower method though since we have wallpaper on our walls. I don't want to do anything that might cause it to start peeling. Otherwise I think the shower sounds like a great option.
First thing you want to do is lay your baby on their back. Tilt their chin back and insert a few saline drops (salt water) into each blocked nostril. Wait 5 min for the saline to work its magic and loosen the mucus. At this point you can use a nasal aspirator or bulb syringe to suck the snot from their nose. If they still have a lot of mucus 15 min later then repeat. Don't repeat more than a few times a day though or you will just irritate their nose even more.
*What do I use?*
I used to use the typical blue bulb syringe that you get at the hospital, but I found it usually didn't work very well, my kids screamed, and one wrong move and my babe got a pointy nub pushed a little too far in their nose. That's when I heard about the
NoseFrida Snotsucker
. Everyone swore by it, but to tell you the truth I was a bit leery about sucking snot out of my kid's nose with my mouth. After trying it out though I found it to be totally hygienic, and very easy to use. Since I'm sure a lot of you have the same concerned and questioning looks that I had when I first heard of this device, I've created a video for you to see just how great these little Snotsuckers are. On another note, I have not used saline drops on Lincoln. This stems from my own fear of water in my nose. Stupid I know, but true.
#3 Keep Their Head Elevated
Keeping your baby's head elevated will help your baby's mucus naturally drain and keep those nose passages clear. This is not only important while sleeping, but also while feeding. While sleeping try placing a small wedge under the head of their mattress. Never place pillows in their crib though. You can also have them sleep in a chair of some sort. Most swings, bouncy seats, car seats, etc. will keep your baby at a good angle while sleeping. Just remember to buckle them in so they don't fall out. When breast or bottle feeding try to keep their head elevated as well. Try putting an extra pillow under your arm, or if breastfeeding the football hold works great.
*What do I use?*
For sleeping, I put Linc in his
Fisher Price Zen Collection Cradle Swing
. The seat comes completely off the swing and I can just set it next to my bed at night. It has two angle options and when he's congested I usually have him on the more inclined position. To tell you the truth he sleeps in this thing all the time. I just change the angle depending on if he's congested or not. For breastfeeding I do as I said above and either put a larger pillow under my arm to prop him up more, or use the football hold.
When you're baby is sick you definitely want to make sure that they're getting plenty of liquids. This might be breast milk, formula, water (after 4 mos), or juice (after 6 mos). Fluids will help to thin their secretions & prevent dehydration. If they're really congested they might not be interested in drinking due to their inability to breath well. To help you can offer shorter feedings throughout the day and/or saline drops and suction before feedings.
As hard as it might be to get your little one to rest when they are miserable, all of the advice above should help. They're going to need as much rest as they can get to fight the battle of the snot.
Lots of hugs and kisses (on the forehead so you don't get sick too) is just what the doctor ordered. Show that little babe that you will always be there for them through thick and thin ... mucus that is.
**I am not a medical professional. Please consult your doctor if you have any questions or concerns.**
**One of the above products was given to me for the purpose of a review, but this post is comprised completely of my own opinions and was not influenced by any other outside source.**