2012 is bringing a few new things to Adventures In Fluff and one of those new things is "Make It Monday". Every Monday I'll be feature a new DIY project ...
This week is a little different though. Technically I made it, but it's not what you'd call a DIY project. I haven't really talked about my real work life on here before. In addition to being a blogging addict, cloth diaper freak, and mommy around the clock, I'm also an interior designer with my own company called
Shanna Lynn Interiors
(yes I spell my name differently for my company). I do some residential design (I LOVE doing kids rooms), but my main focus lately has been commercial work (non-residential design). Brian, the girls, Lincoln, and I had the opportunity to visit one of my projects today and we had so much fun that I just had to run home and tell you all about it.
My most recent project that I completed right before having Lincoln in October was
SkyWalk
. SkyWalk is a trampoline arena that just started up with their first location in Madera, California. Before SkyWalk I was designing hip, modern, office buildings called
OfficeBay
, but SkyWalk was an exciting project that I could really break out and have fun with. We started out with a pretty bare warehouse building so the possibilities were endless on what we could do with the space. In the end we came up with an over the top fun, industrial, and hip design that kids, teens, and adults alike could come to hang out and get their jump on. This isn't a place where you just do your typical bounce, bounce, bounce (although you certainly can if you want to). This is where you can pound your friends down in a fast flying game of dodge-ball. You can leap into a vast pit of foam blocks (although my girls called it the jello pit). They also do parties and work functions here. How fun would that be to have a work meeting at a trampoline arena??? Something about the thought of a whole bunch of business men and women in suits jumping all over the place like kids cracks me up. All I know is that we're definitely going to have one of the girls birthday parties here this year.

My Crazy girls taking on the foam pit
Today was the first day that I brought the girls down to
SkyWalk
. When we realized this morning that today was the last day of winter break, we jumped in the car to make it down there for Kids Jump. I thought that would be the best time to have the girls go since it was just for kids 6 and under. My girls get pretty timid and I thought they'd be less scared if it was just kids. No such luck though. Both girls freaked out a bit at the vast arena of trampolines. Riley was the first to cave in as I sneakily pulled her out to jump without her knowing it. She instantly lit up and that was it. I couldn't pull her off after that. Reagan took a bit more coaxing. She got so upset at one point that she started to break out in spots (oh yes, my girl is that much of a chicken). Finally she eased herself onto the first trampoline and just like Riley her eyes instantly lit up. It was on after that! She was a crazy woman bouncing off the walls.
Check out our pics below to see how much fun the girls had and the design of my own personal DIY project. I'm totally bummed that I forgot to get a picture of me jumping into the pit like I was Tony Hawk or something. Oh well. Next time I guess. I promise next week I'll do a real DIY project that I just know you're going to love. I've already gotten started on it and I'm sure I'll make tons of them. Ohhhhh the suspense. : )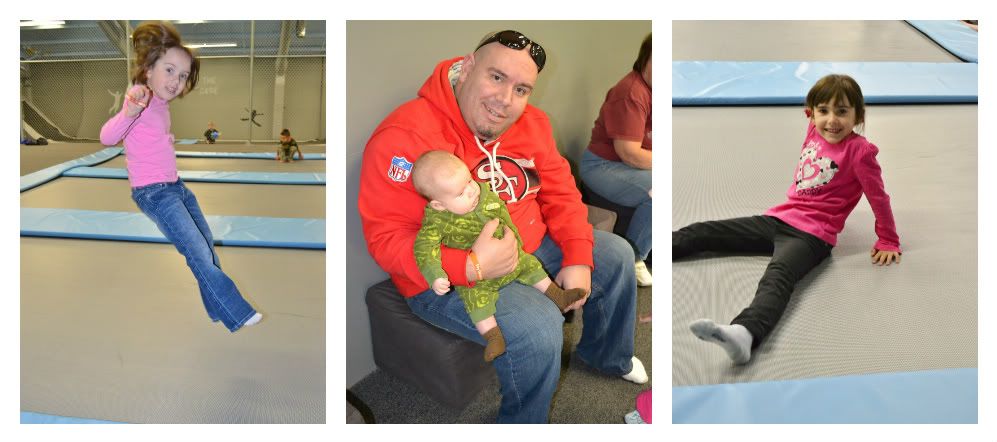 My two little jumping beans and my not ready to jump bean with Brian
The lobby and the trampoline arena (yep, that's me and Linc on the left)
Check out these sweet ass videos too! Makes me want to go flying off the walls. Might have to try one of these bounce boards out.