Hi, my name is Chana and I'm a chocoholic. I could eat chocolate morning noon and night. Has anyone come across a super healthy, keep you skinny, extra yummy, chocolate recipe??? I'd be all over that! Till then I'll indulge in my not so healthy chocolate... once in awhile... or more. : ) So add my chocolate addiction to my new found Pinterest obsession to my new years resolution to eat healthier and you have quite the problem. Every time I go on Pinterest I always have to peek in the food category and I can't help buy pin tons of yummy chocolaty goodness. It's not my fault really. It's all those sinners... I mean pinners faults. They're luring me to the dark side with their little pictures of cookies, cakes, pies, & more that take me even further away from my pre-pregnancy weight than I am already.
This leads me to the mother of all pins. I knew the second I saw it that it had trouble written all over it.
Two Minute Mug Brownies
. Ack! I LOVE brownies. And the ice cream melting on the top just pushes this recipe over the edge. This recipe has so many good things going for it...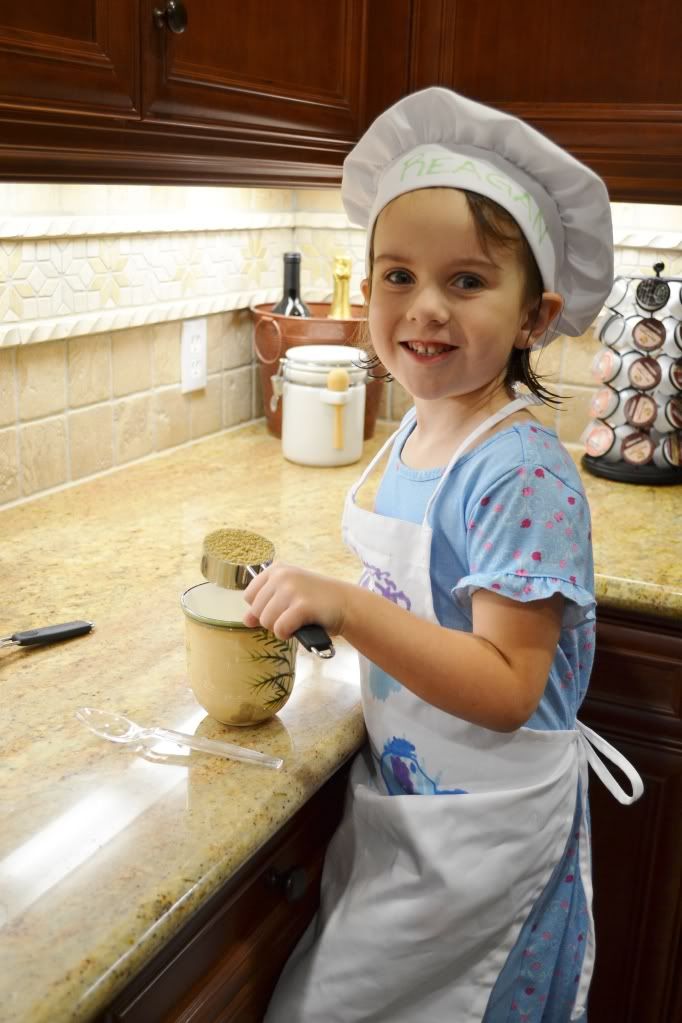 1. Brownies
2. Ice Cream
3. Single Serving
4. Simple Everyday Ingredients
5. Two Minutes
ENOUGH SAID!!!
I set out to test this one out ASAP. My little helper (fellow chocoholic) Reagan got her gear on, I got the ingredients out, and we set to work. It only took us one minute to prepare the brownies, one minute to cook the brownies, and a second to scarf them down. Ok, I guess they should be called 2 Minute & 1 Second Mug Brownies. I'll let the creator of this recipe know. Now the hard part will be keeping me from making these for dessert everyday... or more than once a day. If you're a chocoholic too and short on time like I am check out the recipe below for the best 2 Minute Mug Brownies you will ever have!
_________________________________________________________________________________
Two-Minute Mug Brownie
1/4 cup flour
1/4 cup packed brown sugar
2 Tbsp unsweetened cocoa powder
Pinch salt
2 Tbsp canola or other mild vegetable oil
2 Tbsp milk, coffee or water
In a heatproof mug or ramekin, stir together the dry ingredients until no lumps remain. Stir in the oil and milk until you have a thick paste.
Microwave on high for a minute, checking it after 30 seconds (microwaves vary) – it will be done when it's springy on top but still a bit gooey – like the very best brownie. Eat warm. Add ice cream on top for extra yummyness.

_________________________________________________________________________________