Thirsties Duo Diaper (Snap & Aplix)
Aplix Print: Black Bird - $18.50
Snaps Color: Mud - $18.50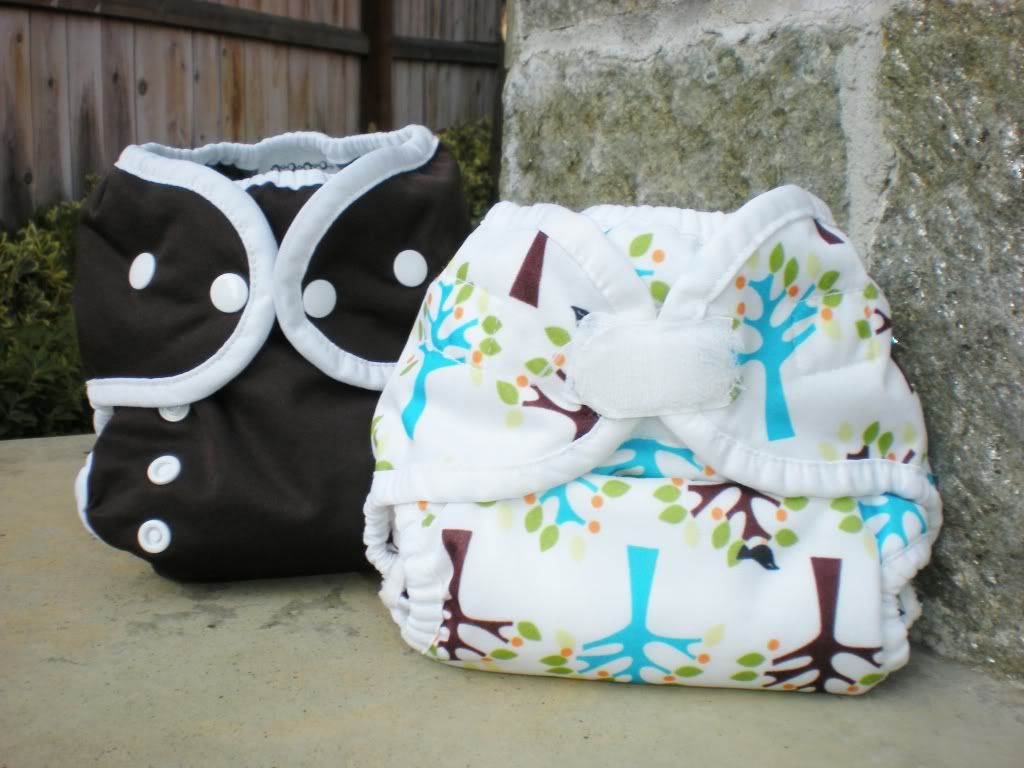 The
Thirsties Duo Diaper
is a two size (duo) pocket diaper. Size 1 fits babies from 6-18 lbs while Size 2 fits babies from 18-40 lbs. Size adjustments are made by the typical snap down rise. By using the snaps you can get a size small, medium, and large with each size range. All together that's six different sizes! Currently Lincoln is wearing a Size: 1 on the medium setting at 12.5 lbs. The snaps work very well and I've never had a problem with snapping them or having them come unsnapped. The waist adjustments come in both snap and aplix. I like the look of the snap, but the ease of the aplix. The snaps really aren't that hard to do even for a sleep deprived mom of a newborn. There are only two snaps on each wing. The exterior of the diaper is made from a PUL fabric that comes in both prints and solids. It's a little stiff, but not that bad. I think it would be totally fun if they made the trim or snaps in a funky contrasting color. That would really liven these diapers up.
When you open up the diaper you'll notice it's a pocket diaper. This means the diaper has a waterproof exterior (so it does not require a cover) and a pocket on the interior that you stuff with an absorbent insert. I love the pocket on these diapers because it's open at both ends of the diaper. What does this mean? The insert will agitate out all on it's own ... so I don't have to pull an icky insert out before putting it in the wash!!! Sweet! You'll also notice that the interior lining is microfleece. It doesn't seem to be the softest microfleece out there, but it keeps Lincoln's butt dry so that's all that matters. This diaper has the same interior gussets that their wraps have and they really seem to hold everything in like no other diaper out there. My only complaint is that they binding used pills a bit after washing, but it's on the inside so you don't really see it while the baby is wearing the diaper. Last, but certainly not least by a long shot is the insert. I LOVE this insert!!!! It's a microfiber insert snapped on both sides to a hemp knit jersey insert. Paired together this insert is bulletproof. I'm seriously thinking of getting more of these inserts to replace the ones in my other diapers. The microfiber soaks up most of the wetness really fast, while the hemp takes on the overflow.
_________________________________________________________________________________
PERFORMANCE REVIEW
When I had originally selected to add the Thirsties Duo Diaper to my stash I had not anticipated loving it as much as I do. I started using this diaper after Linc lost his umbilical cord at 2 weeks (8lbs 4oz) and it quickly became one of my favorite diapers. Read below to find out why.
Lincoln @ 2 weeks and 8 lbs 4oz
Ease Of Use:
♥♥♥♥
♥

- Both the aplix and snap versions are very easy to use. I use both equally as often and do not favor one version over the other.
Adjustability & Fit:
♥♥♥
♥♥
- The fit on both of these diapers is great. I thought that the snap version would not give me the fit that I needed, but I was totally wrong. It works just as well as the aplix. I also love that this is a 2 size system. I was able to start using this diaper from the very beginning (unlike a lot of my other OS diapers) and I anticipate that I will be able to keep using it till the very end once I move on to the size 2. I've also never had a problem with leg gaps with this diaper (something that I do have a problem with on several of my other newborn diapers).
Leak Protection:
♥♥
♥♥♥
- This was one of my best leak protection diapers. I maybe had one leak with this diaper and it was definitely not because the diaper failed. Most likely I left the diaper on too long. I love the inserts used for this diaper. I'm totally going to buy some of these to use with some of my other pocket diapers.
Wash Routine:
♥♥♥
♥
♥
- This diaper is very easy to wash. I love that the insert agitates out on it's own so I don't have to worry about removing it before I throw it in the hamper. I have forgotten to stick the aplix on the laundry tabs before, but after a few times forgetting I quickly learned. For this reason I like the snap diaper better. I also dislike picking lint out of aplix.
Bang For The Buck:
♥♥♥
♥
♥
- I love that this diaper is a two size diaper. I think it's awesome that I was able to use them in the newborn stage. If I were to use these as my entire stash, that would have saved me a lot of money. Being the type of person I am though, I could never own just one type of diaper. Where's the fun in that???
The Look:
♥♥♥
♥♥
- I like the colors and patterns, but they could be better. It would be awesome if they had some really cool limited edition prints... maybe in a hip rocker type of pattern. I also wish the PUL was softer ... maybe use a TPU instead. I also didn't like how the banding around the interior gussets started pilling when washed. The aplix also got a bit dingy (typical with most aplix on diapers though). Overall it's a fairly basic looking diaper, but when it works as well as it does I just don't care about the look. I'm glad they came out with snaps on the Duo Diaper. It looks a lot better that way.
The FINAL VERDICT
... I LOVE this diaper!!!!! I would totally recommend it to anyone I know ... and I have already. Yes, I wish it looked a bit cuter, but with this diaper function really wins out and you can't turn your back on function. This diaper does it's job and it does it well.
Snap Version on Lincoln @ 2 weeks and 8lbs 4 oz
Aplix Version on Lincoln @ 2 weeks and 8lbs 4 oz
** Please note that while I aim to provide the most thorough and honest reviews possible, this review is based on my own preferences and experiences. Each baby is different and each parent has different likes and dislikes. What works for one may not work for another, so keep that in mind while doing your research.
_________________________________________________________________________________
**A product was given to me for the purpose of this review, but the review is comprised completely of my own opinions and was not influenced by any other outside source.**