Have you joined the latest craze? If not then you're definitely missing out. I'm not one to jump on the bandwagon when new fads roll out, but this one caught my eye and sucked me in pretty quickly. Last week I was scrolling through my Facebook and blogs that I follow and I kept seeing the same thing ...
The Elf On The Shelf
. You can only hear about the same thing so many times before you give in. I went straight to my faithful information source Google to find out exactly what this
The Elf On The Shelf
was, and this is what I found ...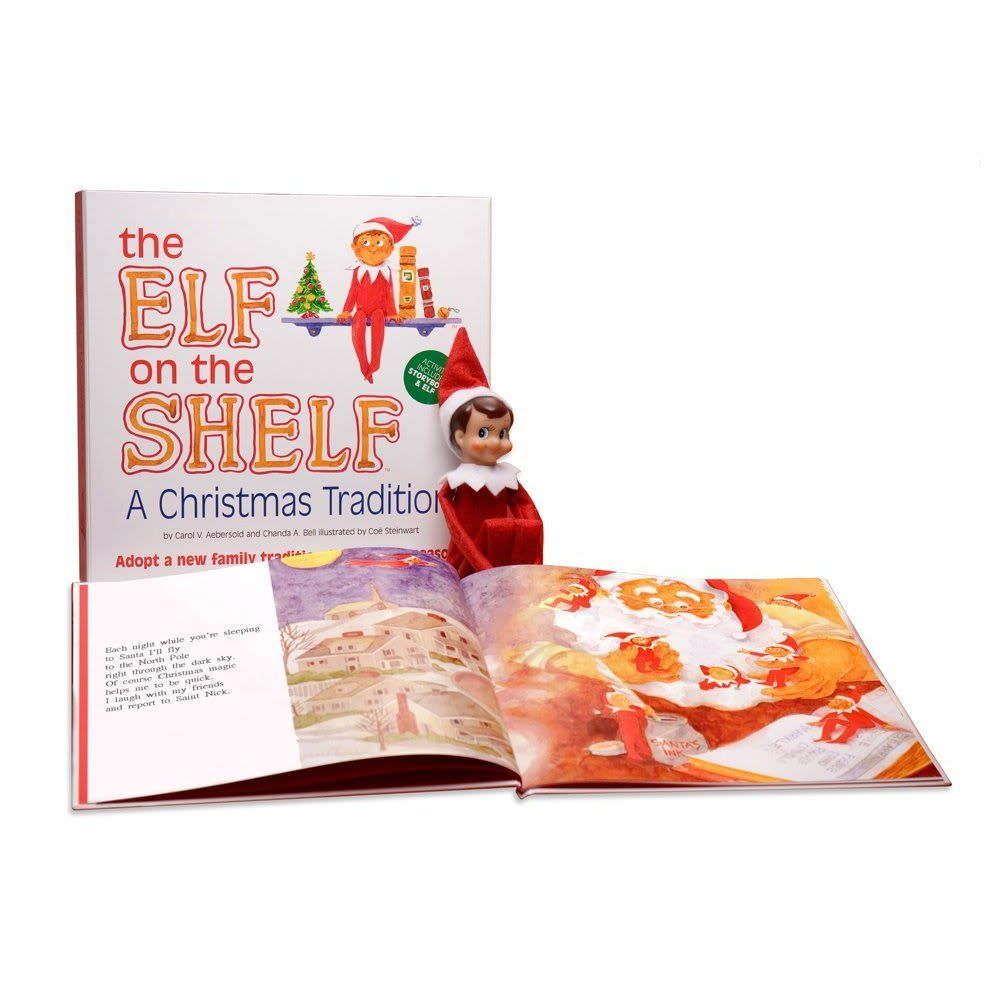 "Have you ever wondered how Santa knows who is naughty and who is nice? The Elf on the Shelf – A Christmas Tradition is the very special tool that helps Santa knows who to put on the Naughty and Nice list. This interactive holiday hide-and-seek tradition is perfect for children and families of all ages.
The tradition begins when Santa sends his scout elves out to Elf Adoption Centers. Waiting for their families to bring them home, these patient elves hibernate until their family reads The Elf on the Shelf, gives their elf a very special name, and registers their adoption online. Once named, each scout elf will receive its Christmas magic and become a part of the family's Christmas each and every year.
Excellent listeners and even better observers, these scout elves are the eyes and ears of Santa Claus. Although they cannot be touched, or else they may lose their magic, the elf will always listen and relay messages back to Santa. Taking in all the day-to-day activities around the house, no good deed goes unnoticed; these scout elves take their job seriously.
Each night, after the family goes to bed, the scout elf uses his magical Christmas powers to fly back to the North Pole. Once there, the elf will make his or her daily report to Santa and visit with elf friends where they will tell stories about their beloved families, play with the reindeer, and of course, sneak some of Mrs. Claus' cookies!
Before the family awakes each morning, their special scout elf will fly back to their home from the North Pole. However, since these elves like to play games, don't expect to find them in the same spot! While some like to hide in the freezer (probably because it reminds them of the North Pole) and others prefer to sit on the fireplace mantle or hang from the chandelier, these elves love to play hide-and-seek with their families.
On Christmas Eve, the scout elf will listen for Santa's bell and then fly back to the North Pole until the next season, wishing every girl and each boy a Christmas of peace and a year full of joy. "
Whoo Hoo! This was totally up my ally. I'm a Christmas freak and anything that I can do to surprise someone (especially my kids) just lights up my day. I was so excited that I jumped the gun and bought my elf right off the website. ARGH!!!! What was I thinking. Found out 15 minutes after I placed my order that I could have just drove down to the Target down the street to get one. Boooo! Of course as impatient as I am I drove down to the Target the next day to buy another Elf. I just had to start the new tradition on December 1st and my Elf from the website wasn't going to get here till today (Dec. 6th).
That night I let the girls know that I had a surprise for them and I showed them our new friend in the house (
The Elf On The Shelf
). Riley got all excited when she saw it. She had already been introduced to
The Elf On The Shelf
at school that day. She proceeded to tell us and her sister Reagan all the rules about naming the elf and not touching him or he will lose his powers. While I fed Lincoln, Brian read the girls the book that our elf came with and then we all voted on what we wanted our elf to be named. After quite a few choices it was unanimous that our elf be named Eli ... Eli the Elf. Next we went online to register our elf in the system and while we were at it we watched a cute video about the elves that they had on their website. The girls couldn't wait to go to sleep and find Eli in the morning. We even had them tell Eli what they wanted for Christmas so Eli could tell Santa when he saw him.

So where is Eli each morning? He's in the Christmas tree. He's in the light fixtures. He's in a Christmas stocking. Yes, he's even on a shelf. The girls shriek with excitement each morning they find him and can't wait to find him the next day. I do have to admit that I had hoped our elf would turn our girls into little angles, but he's mostly just turned them into tattle tales. Guess an Elf can't solve everything, but he does bring us all smiles. I'm so glad we started this tradition and look forward to each morning and next year. One day Lincoln too will be looking for Eli the Elf. Till then Lincoln will enjoy milk, while Santa enjoys cookies, and the girls enjoy Eli.
**This review is comprised of my own opinions and was not influenced by any outside source. The product was purchased by myself and was not given to me or asked to be reviewed by any outside source. No advertising was purchased in order to feature this product. **