Photo Option #1
If you've been sticking with my blog over the last six months then you probably read my post about how excited I was to take pictures of our new baby boy, Lincoln. There's nothing cuter than a newborn baby looking so angelic in a perfectly captured photograph. Eyes open, eyes closed, soft colors, bright colors, happy, mad. You just can't go wrong with a newborn photo. They all look so cute!
A month before Lincoln's birth I started gathering different outfits for him to be photographed in. It all started with a crocheted
Hooded Football Cocoon
from
Pink Pumpkin Crochet Studio
. I was so excited to be able to review one of their products and see for my own eyes the quality of their work. After I received it and saw the photos my sister had captured with her son in it I was hooked. I needed more cute outfits for the big day when our son arrived and I could take pictures of him. I ended up ordering their
Little Mister Hootie Hoot Owl Beanie
with matching Diaper Cover as well as the
Teddy Earflap Beanie
. Can you say Totally Cute!!!
You can imagine my excitement when I was asked to test yet another one of
Pink Pumpkin Crochet Studio's
outfits. This time a new Christmas design that they will be offering for the holiday season. It's a deep red colored egg bowl with white furry fringe around the edges. I love the wide open crochet stitching style of the piece. It allows for fingers and toes to poke through and gives the overall look of the outfit a soft airy feel. I couldn't wait to get it on Lincoln! My sister came down to visit for a whole week before Lincoln was born, just so she could capture great photos in those first days. Unfortunately Lincoln had other plans and didn't come till almost a week after she left. So much for newborn photos. Luckily we had our trip planned for Disneyland at 3 weeks and my sister came to do a short photo session in the hotel room. Yay! I also did my own photo session with Lincoln at 4 weeks. The tough part about photos with Lincoln is he's a light sleeper and he doesn't like laying down by himself. That said, I think we still got some great shots. Take a look for yourself.
Photo Options # 2, #3, #4
Photo Options #5 & #6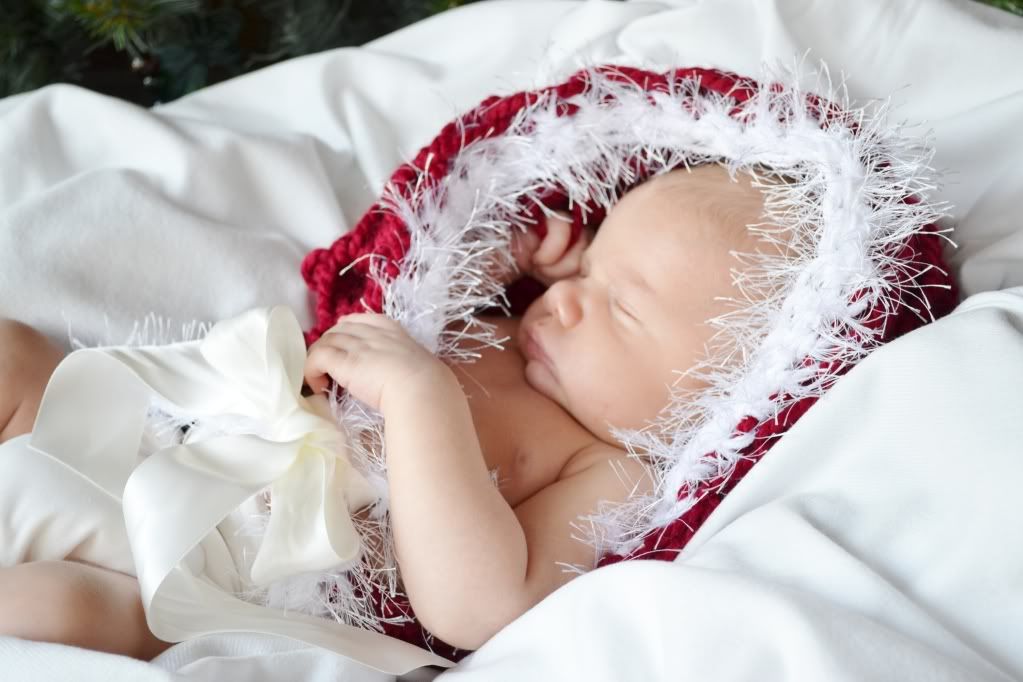 Photo Option #7
Photo Option #8
Now's the hard part. What picture or pictures should I use for his First Christmas Photo Frame? I always like to frame my fave holiday photos from the year and I know I'll be pulling my hair out trying to decide what picture to select. If you have a fave please list it below in the comments section. I can use all the help I can get. I've been staring at these photos forever and I'm not getting any closer to narrowing them down. They're all SOOOOOO CUTE!!
If you want to get some great outfits for your little bundle of joy to wear this holiday season then be sure to check out
Pink Pumpkin Crochet Studio's Etsy shop
. They've got tons of great options that are sure to give you that one of a kind picture that will get tons of "Oooooo's" and "Ahhhhhh's". I've posted below some of my favorite holiday products from her site.