It was way back in mid June when
LUXbutt
first contacted me about their new cloth diaper line coming out. No pictures or information yet, but I have to admit I was intrigued. It wasn't until mid August that sneak peak pictures started showing up on their
Facebook page
of what the diapers would look like. At that point I was getting really excited. I could tell from the small close-up pictures that they were going to be clean lined, natural, and luxurious looking. Fast forward to mid September and I was selected to test out one of their new diapers and hemp flattie inserts. Yay! Mid October I received the samples and let me tell you I was not let down. As soon as I opened my package I was totally in love with my
LUXbutt
diaper. Whoo Hoo! Time to prep and test this baby out.
LUXbutt Organic One Size Pocket Diaper
Color: Dark Chocolate (Black w/Chocolate Snaps) - $24.95
The new
LUXbutt
cloth diapers are a one size pocket diaper. They fit most babies from 8-40 lbs. As far as size adjustments they are very similar to a FuzziBunz or Charlie Banana diaper in that their leg adjustments are made via elastic button hole bands in the legs. The elastic bands are accessed through the pocket opening inside the diaper which makes them very easy to change and they are easily concealed. I did notice on my particular diaper that they numbers didn't seem to line up on each leg (I have mine set at a 2 on one leg and a 3 on the other), but it doesn't bother me. I just size them by sight instead of by number. I think this system has it's pluses and minuses. On the plus side you don't have unsightly snaps on the front of the diaper. On the minus side, if you have two kids it's harder to change the sizing back and forth (this does not apply to me since I only have one child in diapers). Like FuzziBunz and Charlie Banana these diapers are also a snap diaper. Each wing has three snaps and they also have a cross-over snap which is always helpful.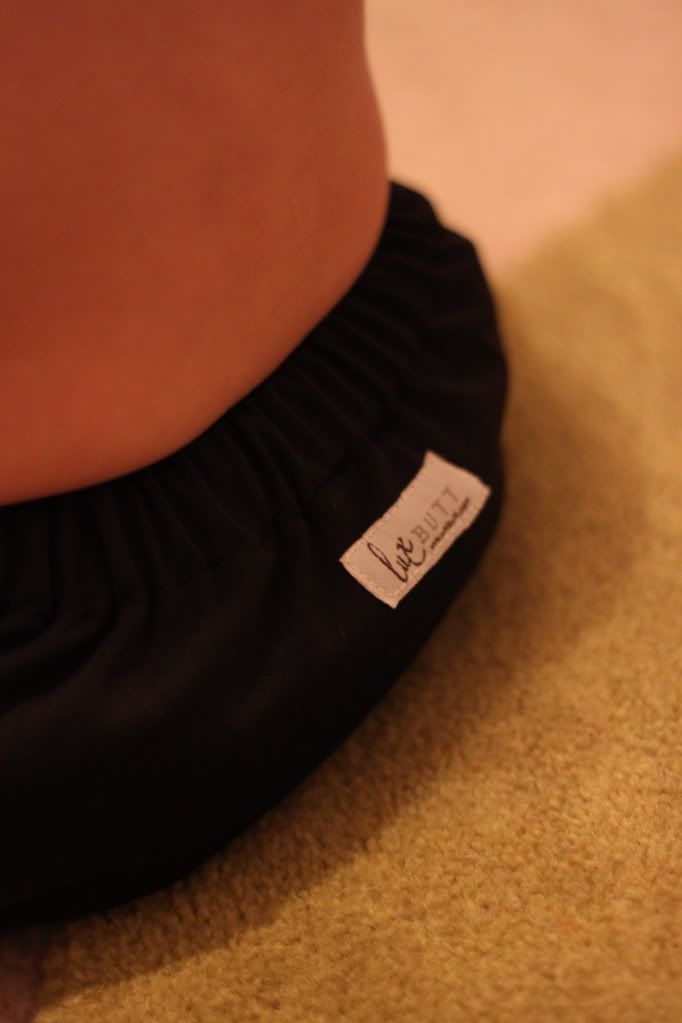 As for the interior of the diaper, you'll immediately notice the "LUX" feel of the diaper right away. The entire interior lining of the diaper is made of 100% certified organic cotton velour. The look and feel of it is simply luxurious! Who wouldn't want fabric like that on their butt??? Now, cotton velour isn't stay dry like microfleece and suede are, but if that's not a problem for your baby, then I love the velour option. Another feature you'll notice on the interior of the diaper is the pocket opening. I love the nice large pocket opening and interior flap that help to keep the insert in. Even dads can fit their hands inside these diapers to stuff (not like my husband will ever be doing the stuffing). Last, but certainly not least by any means, you'll notice the leg and back elastic gatherings. I how nice and soft the gatherings are so that they won't create marks on the baby's legs, and I LOVE LOVE LOVE the large size of the elastic along the back side of the diaper. No poop is getting past that barrier.
The diaper comes with one
LUX hemp insert
. It's made with two layers of hemp organic cotton fleece and two hidden layers of microfiber. You also have the option of ordering a
Lux hemp flattie insert
. The flattie insert is a 15" x 15" prefold diaper made with two layers of organic hemp cotton fleece. With this option you won't have to deal with the stink issues that sometimes come with microfiber, and because it's a prefold it will dry faster than a super thick hemp insert. You can also double the flattie up with the hemp insert for even more layers of wetness control. I'm also planning on trying my flattie out as just a regular prefold diaper. I love options! In the future LUXbutt will also have a bamboo insert, but it hasn't come out yet. I can't wait to try it out though.
As for the overall look of the diaper I really like the simple and organic look of these. The diaper collection has been appropriately labeled their "Chocolate Collection". It comes in three different colors; White Chocolate (White), Milk Chocolate (Brown), and Dark Chocolate (Black). First off, I LOVE chocolate. Second, I love natural earthy colors. This line is perfect for me. I also like the simple classy label that is on the back of the diaper. Sometimes you get a really nice looking diaper and they mess it all up with a really ugly tag hanging off of it. I'm so glad that
LUXbutt
didn't mess this one up.
__________________________________________________________________________________
PERFORMANCE REVIEW
Since Lincoln was not ready to test out this diaper, I had a good friend of mine who cloth diapers her son test them out for me. She was more than excited about the diaper and even said it was her favorite out of her entire diaper stash that includes several big name brands. Her son is 10 months old and weighs around 20 pounds. This review has been conducted by my mommy tester Melissa.
Ease Of Use:
♥♥♥♥
♥

-
Very simple to adjust and snap on. I was glad it was pretty quick to put on especially for my squirmy baby who always hates diaper changes.
Adjustability & Fit:
♥♥♥♥
♥
- Surprisingly easy to adjust the rise at the inner leg. I got it right on the first adjustment! Love that the rise adjusts without the look of all the snaps on the front. It fit wonderfully and non bulky. I do see that it might be a problem with families that have two children of different sizes in cloth though. The leg elastic would be a pain to change each time.
Leak Protection:
♥♥♥♥
♥
- I thought it did a great job with absorbency using the hemp. Never used a diaper with a hemp insert before and was surprised at how much it actually absorbed. It seemed to absorb near the same amount as my cotton inserts would, and the added benefit is you don't have the bulky bottom with hemp. The only reason I gave it a 4, is because I was not able to test it overnight, which is where I have the most trouble with leak protection.
Wash Routine:
♥♥♥♥
♥
-Washing it was a breeze and It did not seem to stain. I did notice a diff in the velour not being as soft after it was air dried vs. thrown in the dryer. If I put it in the dryer for about 5 min, it fluffed back to normal and original softness was restored.
Bang For The Buck:
♥♥♥♥
♥
- Although, I loved the look and feel, I would not be willing to spend $25 on one diaper, or any diaper for that matter. If it were more in the $21-$22 price range, I would feel more comfortable buying several at that price.
***I did want to add to this statement that I (Chana) think that the price is very well suited for the materials that are being used compared to other diapers that are offering the same. The only drawback I see is the shipping cost from Canada. I would like to see a US retailer pick this line up so that the shipping costs will be more manageable.***
The Look:
♥♥♥♥♥
- My initial impression was Luxurious! The lining is super soft and comfortable. I knew my son was in heaven when he wore them. He seemed to crawl around so comfortably. It was very flexible and not stiff and loaded with inserts that create a bulky appearance. My husband even noticed how nice the diaper was on the initial feel and appearance. It was nice to see a clean smooth front of the diaper instead of all the snaps you typically see for an adjustable rise.
Misc Comments - This diaper was by far my favorite diaper I've used. I wish I had more of them. Holding my baby in them felt really good, so I know he must have loved wearing them as well. I loved the ease of adjustability and the look with less snaps on the front. I loved the absorbency and the fact that my baby's bum did not look bulky for a change. Most of all, my husband thought it was outstanding and had an good opinion about it, which tells me a lot.
_________________________________________________________________________________
Overall I love this diaper and would recommend it to anyone. They only setback I see right now is that it's coming from Canada which means a high shipping cost, but hopefully an online retailer here in the U.S. will pick up the line soon. You can bet I'll be writing a few of them and asking them to carry the line. Till then check out their great sale that's going on right now on their
website
. They currently have shipping for a flat $3.95 fee in the US and Canada, accessories for 20% off, diapers for $21.95, and bulk diaper deals as well. Scoop these deals up while you can. Their grand opening specials only last till Nov 15th. Sign up for their
Facebook page
too so you will know when future sales are coming up.
I hope you enjoyed this review of the brand new
LUXbutt
diaper line. I know I'm really excited about it and so glad that I came across their products. They'll definitely be at the top of my diaper stash. Be sure to check back here again. I'll be having lots of reviews coming up now that Lincoln is here. So excited to finally test out all my fluff ... and other mommy stuff as I continue on my
Adventures In Fluff.
**This product was purchased at a discounted reviewer's price, but the review is comprised completely of my own and my tester's opinions and was not influenced by any other outside source.**