Lincoln is finally here!!!! I thought this day would never come. Well I knew it would eventually, but those last months, weeks, days ... just seem to drag on like an eternity.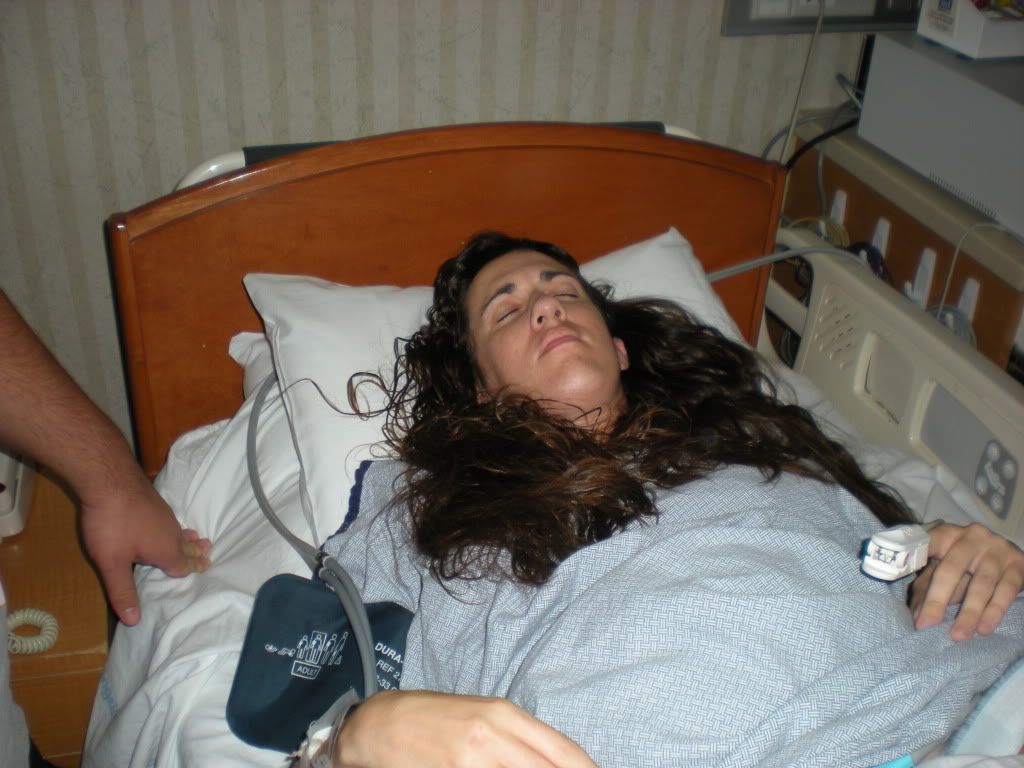 Ouch! Please take this pain away!!!
I went into labor
Sunday October 30th, 2011
. I can't really tell you quite when since I didn't really think I was in labor. It just started off as a dull ache in my back and progressed from there. Riley was at her grandparent's house and Reagan was with me at home.
12pm
- The back pain was now starting to come in waves but at that point I was in denial. Please don't make this like Riley's labor. Back labor is NO FUN!
1pm
- I'd already promised Reagan that I would walk her to the park so after lunch we walked down the street to the park where I proceeded to have more contractions. On the walk back home they started to get pretty close together and there was no denying it at that point. I was in labor.
Yay for pain free! : )
1:30pm
- I got home and told Brian that this was it and that he'd better go drop Reagan off with his parents. He didn't quite understand the urgency since I labored at home with my girls for so long, but I finally convinced him that we needed to move fast. While Brian dropped her off I picked up the house and finished packing my bags for the hospital. When he got home I took a shower to freshen up and shave my legs, but no such luck for that. My contractions were coming every minute or two and I was scared this baby would come in the shower. Time to get out and leave. I tried to fix my hair and put on make-up, but Brian wasn't having it. He shoved me out the door and in the car.
Lincoln is here!
3pm
- On the way to the hospital I was in lots of pain. Luckily the hospital is only 5-10min away. We met my best friend Dawn at the hospital and checked into our room. At my first dilation check I was already 7cm. I guessed it right on the dot. I was 7cm when I showed up at the hospital with both girls. Then the big question came ... "Do you want an epidural"? Now anyone that knows me well knows that I did not have an epidural with my girls and I did not plan on having one with Lincoln. My whole birth plan went out the door as soon as I knew it was back labor though. I'd had my natural birth experience already. This time I was going for an epidural. Give me the drugs!!!
Whoa! Now that's a big boy.
4:30pm
- I finally got my epidural after what seemed like an eternity. I guess I should have ordered it on my way to the hospital instead of waiting till I got there. It took awhile for my epidural to kick in but when it did I was in HEAVEN! Thank god the pain was gone. By this time I was 8cm dilated. Brian and Dawn commented at how nice it was to see me happy this time around instead of in pain. They even laughed that I was spending my time on Facebook and Fertility Friend instead of in deep concentration like I was with the girls. Yes, this was a different experience.
The happy parents.
4:55pm
- The doctor came in to check on me and break my water. I was now 8cm dilated. Time to get this show on the road! After this point my contractions were slowly getting stronger and stronger. What happened to my super drug??? What happened to my pain free labor???
My sweet baby boy.
5:45pm
- Feeling pressure and I knew it was time to push. Too bad my epidural was almost gone by this point. Booooo! It did give me the advantage that I knew what to do when I was pushing though. I could feel everything and we made progress very fast. I could have swore it was going to take forever, but my nurse said no. Lincoln could be here on the next push or two. OMG! My doctor came in, got suited up and it was all so fast after that. I gave a couple strong pushes and thought I was going to pass out when I could feel the bowling ball that was about to come out. One last push!
5:54pm
- Lincoln was born! It was the greatest sound to hear him crying and then see him laying on my belly that he once lived in. At 8lbs 4oz and 20", he was way bigger than I had expected. Both my girls were in the 7lb range so that's what I was expecting this time around. Hopefully I still get some use out of all my newborn clothes and newborn fluff. Another big surprise? He's got really light hair. Wasn't expecting that. I love it though. He is so cute and I just want to hug and kiss him all day and night long ... which is exactly what I got to do since he didn't sleep that much during the night.
Big sister's Riley and Reagan are so excited to meet their little brother.
Monday October 31st 3pm
- So happy to finally be home. The last 9 months have been a great journey, but the journey ahead of us is going to be even better. Can't wait to learn all about our little man and watch him grow over the days, months, and years. Welcome to the family Lincoln!!!
So good to be home!!!