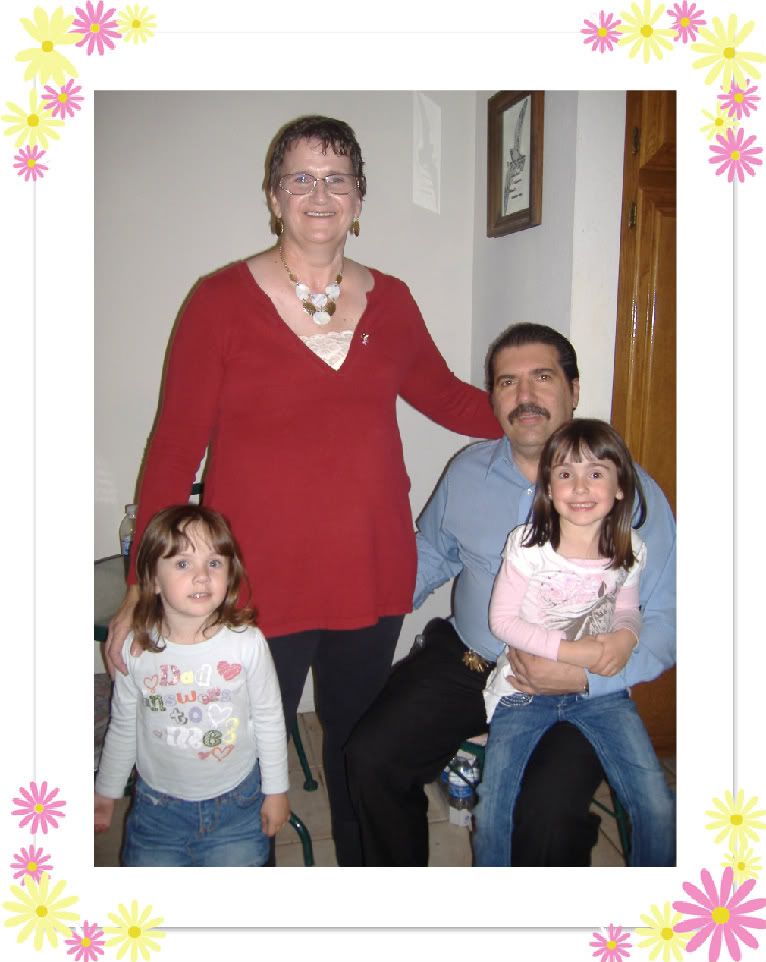 My Mom, Dad, Riley, & Reagan
Not sure if many of you know, but my mom was diagnosed with breast cancer 3 years ago on Christmas Eve. Not the most ideal of times to find out you have cancer, but then is there really an ideal time? My mom took it in stride though and was very strong. She went through 6 months of chemo to kill the cancer and 3 surgeries to reconstruct her breasts that were removed. It was a hard time for her and our family, but we're so happy to see it in the past and count our blessings every day that things have turned out as well as they have and the cancer has not come back.
Now that it's Breast Cancer Awareness Month, I think back upon that time and look around at how everyone honors and commemorates all those women and men that have had to struggle with breast cancer in the past and who are currently struggling with breast cancer right now. People wear ribbons, run races, donate money, and buy products that give proceeds to breast cancer foundations. You even see sports teams wear pink on their uniforms and businesses light up or paint their whole building pink, all in honor of Breast Cancer Awareness. Well, I wanted to do my part as well. It might be small, but having another child makes me value life all that much more and I'm sure that you all can understand that. I decided to honor Breast Cancer Awareness with some toys for Lincoln.
Haha! Toys you say? Yes, even toys can honor Breast Cancer Awareness. When I saw the
Bright Starts "Pretty In Pink"
line I thought they were soooooo cute! Not only were they cute, but a portion of the proceeds from this line goes to support breast cancer awareness and research. They have toys, bouncy seats, play gyms, and even high chairs in this line. It's a pink dream for anyone that has or is expecting a girl. Now I know you're probably saying, "But you're having a boy!". I know I'm having a boy, but that doesn't mean that even a boy can't have just a little bit of pink for a good cause.
Pretty In Pink
product line and sent us their
Rattle & Shake Barbell
, as well as their
Play-a-Lot Petals
toy. I love both of them. The Rattle & Shake Barbell is colorful, bright, and textured on all parts. I love toys that are textured because it awakens your baby's senses as well as makes the toy more interesting and easy to hold. The Play-a-Lot Petals is also really cute. It can clip onto your stroller, high chair, shopping cart cover, or any other items that can have toys clipped on. I love this feature because dropping toys in public on the dirty ground is not cool. This toy is also brightly colored and textured like the rattle. It also has crinkle tabs which babies seem to love, and a mirror on the back. I do admit, I kind of look like an alien in the mirror, but that makes the toy even more fun to look at (even for mommies). I broke out the toys for my friend's son last week and although he's only 2 mos old, he still couldn't take his eyes off the brightly colored toys.
Some other items you might want to check out if you're wanting to show your support for Breast Cancer Awareness ...
Love this onesie. Kind of a rocker take on Breast Cancer Awareness.
I'm sure you all know by now that I'm totally into owls right now. This bib is sooooo cute!
LOL! Ok, I just had to add this funny little beenie into the mix. Would be totally funny if you had twins.
Love this cute little blanket and the little ribbons on the sides that are twisted like the breast cancer awareness ribbons.