I'm usually pretty good at having things prepared and ready to go. I LOVE writing lists and checking them twice... LOL! I should have been Santa Clause. Anyways, for some reason I've been slacking on the hospital bags this go around. I'm not sure if it's because I have so many other things that I'm working on, or if it's third baby syndrome, but I keep putting it off. Well last weekend I finally set my priorities straight and packed my bags ... well for the most part.
This is my third time around at this so I already have a system for what I like to bring and how I like to pack it. I always pack three bags. This is because I'll need certain things at different times and might not need other things at all depending on the circumstances. The first bag I pack is for the Labor and Delivery Room. This bag holds everything I'll need while at the hospital in the labor and delivery room. I try and keep this bag small and usually bring it with me to the recovery room as well. The second bag I pack is for the Recovery Room. This bag holds everything I will only need in the recovery room. I usually leave it in the car till after delivery so that I don't have a whole bunch of stuff in the L&D Room. The third bag I pack is for Brian. I pack his stuff separately because we'll only need it if we get a private room (we've yet to ever get a private room). This time around I won't be packing a third bag for Brian. We've decided that he will sleep at home with the girls. I still included the list on here though so you would know what I would have packed. Lastly, I have a few things in the car. Not a bag, but still very important.
Here is a list of the three bags I'll be taking to the hospital and what I have packed in them as well as what I have in my car. The items that I couldn't put in my bag right away because I use them on a daily basis, I just put on a list right on top of my bag and will make sure to add them to my back before I head out the door.
Labor and Delivery Room Bag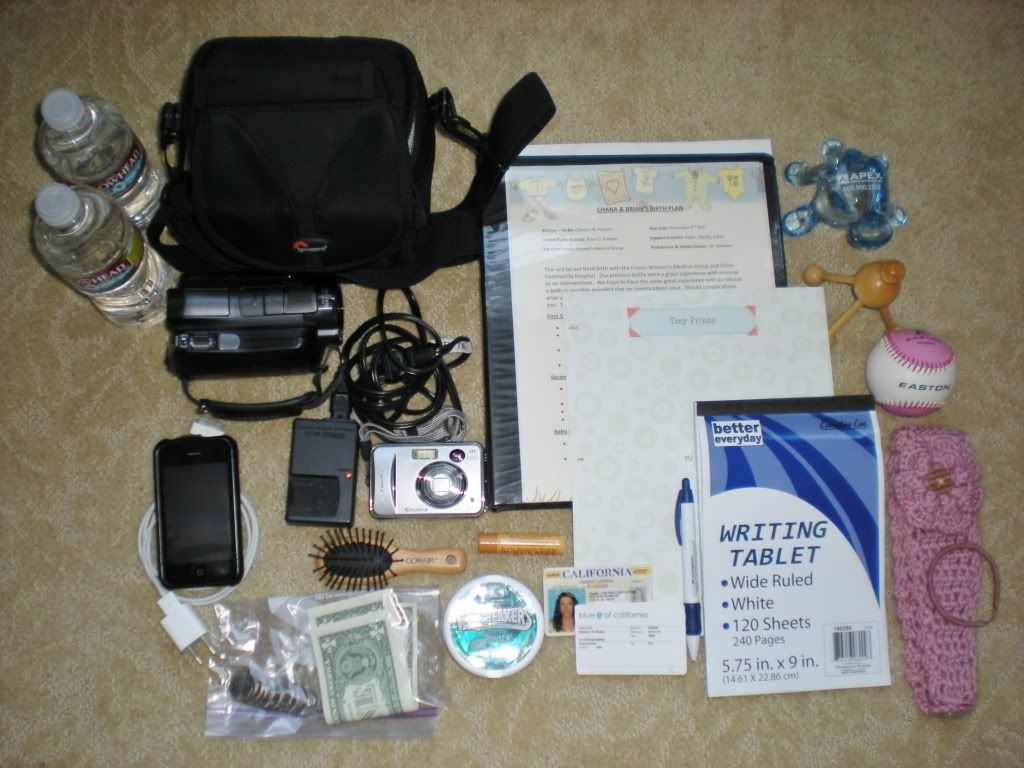 - Chapstick
(With all that breathing your lips will get dry)
- Brush
(Laying in that bed for awhile really does a number on your hair. I also like to fix it after delivery)
- Headband / Ponytail Holder / Hair Clips
(With long hair like mine you really need to pull your hair back)
- Money for Vending Machines
($1 & Quarters)
- Tennis Ball, Softball, or Massager
(Great for your partner to massage your lower back during contractions)
- Baby Book
(So nurse can put footprints in it. You can also just bring a blank piece of paper or the footprints page only.)
-
Pad Of Paper & Pen
(Great for taking notes for your memory book or questions you want to remember to ask your doctor or pediatrician).
- Camera & Charger
- Video Camera & Charger
- Cell Phone & Charger
- Driver's License
- Health Insurance Card
- Pre-Registration Forms
- Birth Plan
- Snacks and Drinks
(So your partner doesn't have to leave the room as often)
- Mints
(For your partner in case they have bad breadth or myself in case I barf)
Recovery Room Bag
- Lanolin
(For those tender first days breast feeding)
- Breast Pads
(Even if you're not going to breast feed because you may still leak)
- Nursing Bra
(I like to bring a super comfy crossover sleeping bra. Comfort is so important)
- My Going Home Outfit
(Pregnancy Pants & Shirt. You'll still look about 5-6 months preggo)
- Going Home Shoes
(I like sandals or flats that I can just slip on)
- Baby's Going Home Outfit
(Think about the weather. I'll have a onesie, pants, sweater w/ hood, baby hat socks, and shoes)
- Mittens
(So baby doesn't scratch their face)
- Baby Going Home Blanket
- Makeup Bag
(I like to look nice for those first pictures with baby)
- Toiletries Bag
(Travel Size: Toothbrush, toothpaste, deodorant, shampoo, conditioner, soap, lotion, face wash, nail clippers, nail file)
- Snacks
(After all that work pushing the baby out you WILL be hungry!)
Partner's Recovery Room Bag
- Change Of Clothes
- Pajamas
- Toiletries Bag
In The Car
- Infant Car Seat Installed
(VERY IMPORTANT ! ! !)
- Towel & Large Trash Bag
(In case your water breaks before you head to the hospital you'll want to place the trash bag on your seat with a towel on top so that you don't get your seat all wet)
I remember with Riley (my oldest), I packed everything!!! I had a regular size suitcase plus my labor and deliver bag. I ended up using hardly anything in it. I also didn't realize just how small the recovery rooms would be. I had no room for a big suitcase full of things... that I didn't even need. Here is a list of things that I brought with me the first time and never ended up using. Try and pack light. Hopefully you won't be there long. If you're like me then you're there 24 hours max.
**THINGS YOU WON'T NEED**
- Underwear (You'll get some lovely nylon cutoff briefs to wear. So sexy!)
- Sanitary Pads (You'll get a ton of them at the hospital ... including super huge diaper looking ones)
- Pajamas (Why get your own pajamas all bloody? If you don't care then at least get a gown you can breastfeed in)
- Robe (You can just use another hospital gown turned backwards)
- Slippers (The hospital will give you some non-skid socks to wear)
- Diapers & Wipes (The hospital will most likely supply you with diapers and wipes)
- Nursing Pillow (I didn't wait to get my nice pillow all dirty. I just use hospital pillows)
- Your Own Pillow (I know this is debatable. I don't want to mess up my own pillow and I'm just not that picky)
So there's my take on packing for the hospital. One thing you should do before creating your own list is to contact your hospital and find out what they will already have in your room. Some hospitals will give you most of the toiletries as well as lanolin so you might be able to cross those off your list as well. The less you need to bring the better. I know everyone's necessities are different so I'm sure your own list was / or will be different from mine, but hopefully this list gave you some things to think about. I know I myself looked at many lists before creating mine the first time and I have refined it more each time. Let's see if I hit it right on the button this time around. I'm sure we'll find out REALLY soon when Lincoln comes and I'll let you all know how it went with a rundown of my labor, delivery, and the stay in the hospital. Till then (and I hope it's soon) keep checking back for more tips, tutorials, reviews, and giveaways as I continue on with my
Adventures In Fluff ... and other mommy stuff.