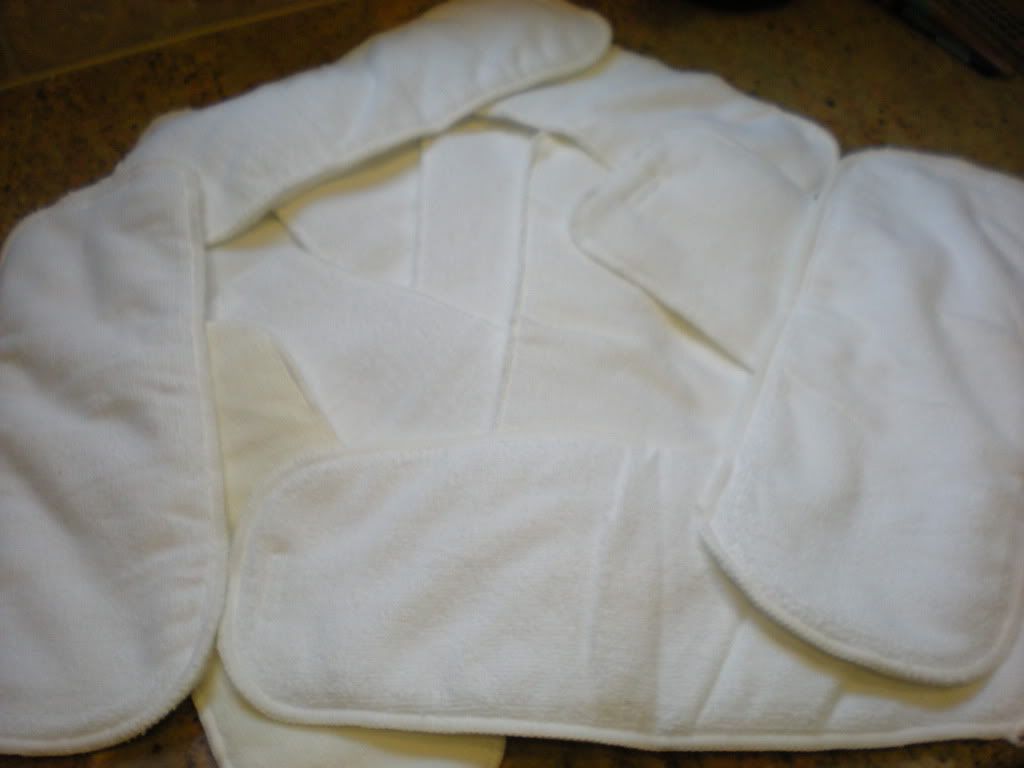 Inserts BEFORE
This got me thinking. How can I label all of these accessories so that I know where they go when they come out of the dryer? I've heard of people sewing a colored dot on each insert in order to distinguish which diaper they go with. Sounds like a good idea ... only I have soooooo many types of diapers that I'd need to pick a lot of different colors and then remember what color meant what. I've heard of other people just writing right on the insert, doubler, or liner. I'm not sure how they do this with microfiber though. It's pretty fuzzy stuff. I also wanted whatever I did to look nice or easily removeable in case I decided to sell the items in the future.
What I finalized on doing was adding a label to each insert with a shorthand description of what the insert, doubler, or liner is. The information I list can include brand, size, type, etc. Whatever will help me remember what it is and where it goes. Listed below is how you too can go about adding labels to your diaper accessories.
What You Will Need:
White Cotton Woven Fabric (any smooth white cotton scraps will do)
Thin Tipped Permanent Fabric Marker
White Thread
Washable Fabric Pencil / Marker / Chalk
Scissors
Sewing Machine
Step By Step:
- Measure and mark out 1/2" x 1" rectangles on your fabric using a ruler and a washable pencil, marker, or chalk. Using a fabric cutting board would make this really easy. Unfortunately I don't own one.
HH-OS-L (Happy Heiny's - One Size - Large Insert)
HH-OS-S (Happy Heiny's - One Size - Small Insert)
FB-XS (FuzziBunz - Perfect Size Extra Small)
FB-S (FuzziBunz - Perfect Size Small)
FB-OS-L (FuzziBunz - One Size - Large Insert)
FB-OS-S (FuzziBunz - One Size - Small Insert)
KW-OS (KaWaii - One Size)
AB-OS (AlvaBaby - One Size)
I hope this tutorial has helped you in your quest for organization. I know it's helped me out tons! Now if I could only figure out how to organize my changing station before Lincoln gets here. I guess that's next on my list of things to do. Join me again soon for more tips, tutorials, reviews, and giveaways on
Adventures In Fluff ...

and other mommy stuff

.