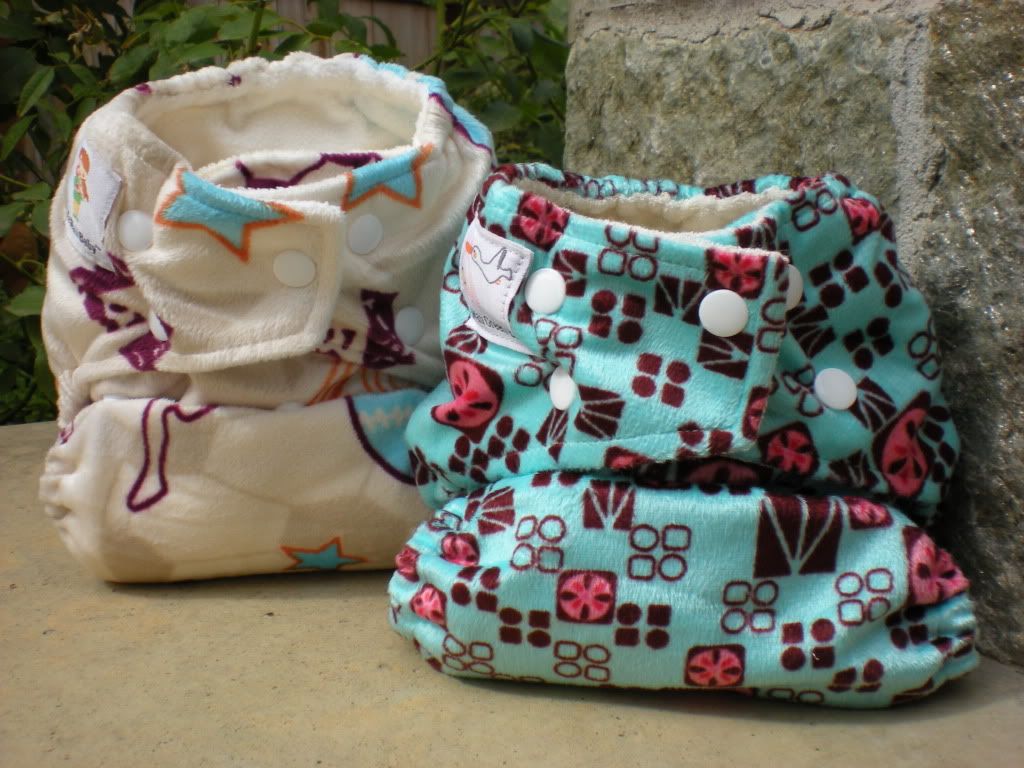 I
'd heard of Kawaii Baby very early on in my cloth diaper research. Everyone was talking about the diaper line that was so cute, well priced, and worked well. I knew from the beginning that I would be testing some of these out on our newest addition. There was no question about that. The question was, which ones should I try. Kawaii Baby has many different types of diapers in their line and I was overwhelmed by the choices. In the end though, I finalized on two diapers from their line to test out, the Snazzy Minky, and the Bamboo Minky (Mom Label). These are the diapers I will be showing you today.
Kawaii Baby Snazzy Minky
Print: Bat and Ball Beige Team $10.25
*Pricing is from Sweetbottoms Baby Boutique*
Kawaii Baby Bamboo Minky: Mom Label
Print: Red Square In Blue $13.25
*Pricing is from Sweetbottoms Baby Boutique*
In some ways the two diapers are totally the same. In other ways the diapers are totally different. Obviously both diapers are minky diapers. I LOVE the feel of a minky diaper! I could just rub them for days. Both diapers are pocket diapers. I like pocket diapers in that you can adjust their absorbency very easily, they clean up well, and they are quick to dry. I also like that the pocket is quite large on the Kawaii Baby diapers making them very easy to stuff and that they have a flap to keep the inserts in place. Both diapers are also One Size diapers. They are labeled to fit babies from 8-36 pounds, but I know that Kawaii diapers are known for running big so I don't expect this diaper to fit until closer to 10-12 pounds. They definitely look like they will fit up till potty training though. I tried this diaper on my 5 year old and she can still fit in it. Obviously she does not need a diaper anymore though. Both diapers are adjusted with a snap down rise able to adjust to three different sizes. I like that they have three rows of snaps instead of only two. It helps to keep the diaper nicely folded over. Each wing of the diaper has three snaps (two for the waist and one for the hips/legs). This means more snapping, but also a better fit. I also love that they have a cross-over snap so that even skinny babies (like Reagan was) can fit in this diaper. Last, but not least, both diapers have a very soft and comfortable encased elastic band in both the back and the legs to keep messes where the should be ... inside the diaper.
Kawaii Baby Snazzy Minky
As for the differences between the two diapers, there are many. The main difference is the lining and inserts used in the diapers. The
Snazzy Minky Pocket Diaper
has a micro fleece interior lining and includes two 3-layer micro fiber inserts. Micro fleece lining is great because it creates a stay dry interior for the diaper making sure that your baby's bum feels dry to the touch. It's also very soft and comfortable. The micro fiber inserts soak up 40x more than cotton will, clean up easily, and dry quickly. The only downside is the bulk they create. This diaper is definitely a lot bulkier than the bamboo diaper. You do have the option of only using one of the inserts during the day to cut down on bulkiness and then use both at night so you can span longer amounts of time without a diaper change.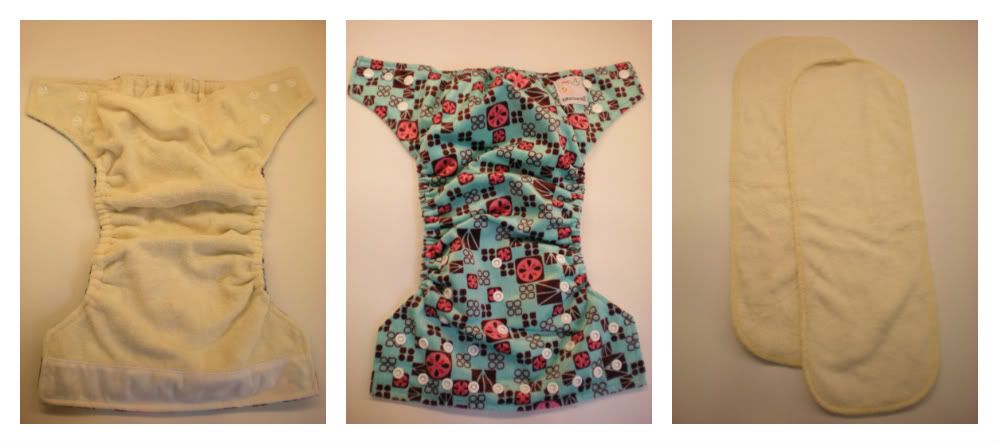 Kawaii Baby Bamboo Minky: Mom Label
The
Bamboo Minky: Mom Label Pocket Diaper
has a 100% bamboo fiber lining. I love the feel of the lining. It's soft, silky, and cool to the touch. Bamboo is not stay dry though so your baby will feel the wetness after they've pee'ed in their diaper. This is a great feature for early potty training, but you must keep this in mind if your baby's skin is sensitive to wetness on their bum. Bamboo is also a natural fiber so it's more prone to staining than micro fleece would be. The Bamboo diapers also come with two 4-layer 100% bamboo fiber inserts. These are the softest, thinnest, most pliable inserts I've seen. This means a very trim fitting diaper (Yay!) They're so thin that if you were using this diaper for a newborn then you could easily fold the inserts in half to create twice the absorption and fit a smaller diaper. Another plus is that since these are a natural fiber insert, they can be used in the pocket or just laid inside the diaper without stuffing (this option might shift around a lot more though). Some other pluses to note about bamboo is that it's hypoallergenic (great for sensitive skin), thermal regulating (great for both summertime and wintertime), very absorbent (60% more than cotton), breathable, and anti-bacterial (odor free!).
Overall I love both diapers and can't wait to try them out!!! Which one will become my favorite? I guess we'll have to wait till this coming fall/winter to find out. Either way I know Lincoln will look great in them both. I love the prints I've chosen and Kawaii has a million other super cute prints to choose from should we choose to purchase more later on. Don't forget to join me later on this year after we've given these diapers a test run after which I will post a performance review on both of these diapers. Can't wait to see how they perform! Till then keep checking in for more reviews, DIY projects, information, and just an overall look at my
Adventures In Fluff.
If you would like to purchase Kawaii diapers to test out on your little one, then please visit
Kawaii Baby's website
or help support this blog by visiting one of my affiliate stores:
Sweetbottoms Baby Boutique
,
Kelly's Closet
,
Diaper Junction
, or
Thanks Mama
.
**This review is comprised of my own opinions and was not influenced by any outside source. The product was purchased by myself and was not given to me or asked to be reviewed by any outside source. No advertising was purchased in order to feature this product. **